Solidarité Japon & veilleurs de Fukushima
Des explosions d'hydrogènes se sont produites sur plusieurs réacteurs, libérant de fortes doses de radioactivité. D'autres réacteurs semblent être aussi dans une situation critique, notamment les piscines de refroidissements de combustibles, situées sur les toits de chacun des réacteurs. Le Japon est durement éprouvé par ce séisme de grande ampleur, les conséquences pour la population sont terribles. Le Rainbow Warrior, navire étendard de Greenpeace, n'a pas eu l'autorisation des autorités japonaises d'effectuer des mesures de radioactivité dans les eaux territoriales autour de la centrale de Fukushima. Le Japon empêche donc des mesures indépendantes et transparentes sur la contamination marine. C'est un aveu clair des craintes des autorités sur les éventuels résultats…
Japon – Crise nucléaire : suivi et veille quotidienne
When I was 16 my "foster" parents through me out on the streets in the middle of the Blizzard of '96 and I spent the next 8 years battling homelessness. I worked so hard to never have to face that threat again. Sandy just destroyed my house and we don't have flood insurance. The Ex will be in court first thing filing to get custody back of our son. My wife doesn't want to have to deal with that as we struggle to rebuild everything.
Alexander Higgins Blog - The Latest Buzz, Analysis, and News Without the Snooze!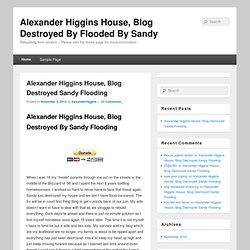 ENENEWS.COM
Welcome to YouTube! The location filter shows you popular videos from the selected country or region on lists like Most Viewed and in search results.To change your location filter, please use the links in the footer at the bottom of the page. Click "OK" to accept this setting, or click "Cancel" to set your location filter to "Worldwide". The location filter shows you popular videos from the selected country or region on lists like Most Viewed and in search results. To change your country filter, please use the links in the footer at the bottom of the page. Uploaded videos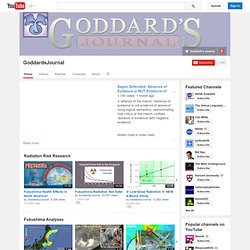 Chaîne de GoddardsJournal
Fukushima Update | Tracking Japan's nuclear crisis
Tepco is going to reduce their regular press conference from 3 times to twice a week from this July. Tepco's spokesman announced on 4/4/2014. Among the two press conferences, one conference will be in Fukushima, and the other conference will be in Tokyo, therefore it will be only once in Tokyo practically. They used to hold the press conference every weekday, but they reduced it to only 3 times a week in December of 2012.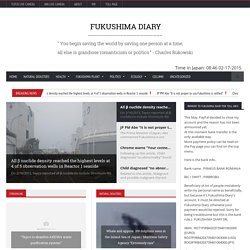 Fukushima Diary
Nuclear News
SimplyInfo
Latest Fukushima Unit 3 MSIV Room Door Blown In News 24 is reporting that TEPCO has admitted that the steel door for the MSIV room was found to be blown inward. Due to high radiation levels humans can not go in to retrieve the door and robots are incapable of removing the object.

Nuclear Power Plants and WMD Series
Energy Policy / Japan METI - Ministry of Economy,Trade and Industry (Japan)11/04/2014 - エネルギー基本計画>> document in Japanese - press release - page (Basic Energy Plan) All documents in Japanese Nuclear / Japan
Earthquake in Japan & Nuclear Facilities - March 2011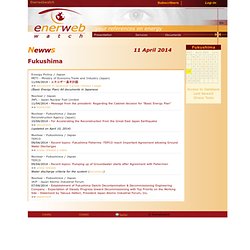 Spécial Japon
Explosion à Fukushima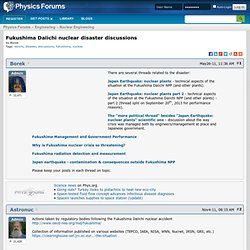 Fukushima Daiichi nuclear disaster discussions
There are several threads related to the disaster: Japan Earthquake: nuclear plants - technical aspects of the situation at the Fukushima Daiichi NPP (and other plants). Japan Earthquake: nuclear plants part 2 - technical aspects of the situation at the Fukushima Daiichi NPP (and other plants) - part 2 (thread split on September 20th, 2013 for performance reasons). The "more political thread" besides "Japan Earthquake: nuclear plants" scientific one - discussion about the way crisis was managed both by engineers/management at place and Japanese government.
After the Fukushima Daiichi Nuclear Accident, Japan's Nuclear Power Plants were shutdown for extensive testing. After months of inspections and scandals, the only sure thing, is that Japan's nuclear industry was not operated or regulated effectively or honestly. Tohoku, Chubu, Kyushu, three companies are falling into the red, Hokuriku, Kansai, and Okinawa are three companies whose income declined. TEPCO is also expected to announce financial results in early November. Because these companies can not operate a nuclear power, thermal power generation has increased the proportion of high fuel costs. But instead of investing in alternative options for production, the Utilities appear to prefer using any methods necessary to restart their nuclear force, without addressing the critical issues at hand.
Fukushima Daiichi Nuclear News
Les articles des grands quotidiens nationaux ne seront pas repris ici, sauf exception, il est facile de les trouver sur un moteur de recherche. Histoire d'une propagagande annoncée, suite. Source: Ex-SKFhttp://ex-skf.blogspot.com/2011/09/japanese-government-to-invite.html traduction partielle depuis l'anglais: ...Le ministère des affaires étrangères du Japon compte utiliser Tweeter et Facebook pour convaincre le monde entier que tout va bien à Fukushima en invitant des étrangers ayant de nombreux suiveurs sur les réseaux sociaux au Japon contre la promesse de relayer des message du type: "le Japon est sûr""Dans le 2e budget supplémentaire pour 2011, le ministère a obtenu 1,5 billions de yens pour prendres des mesures pour contrer les "rumeurs sans fondement".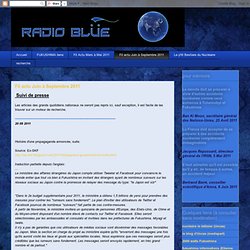 Fil actu Japon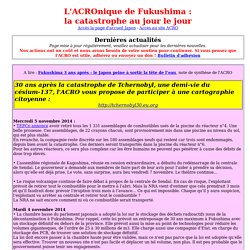 Dimanche 13 avril : • Tous les 48 réacteurs nucléaires japonais sont arrêtés. Il n'y a eu que 17 demandes de redémarrage et les inspections sur site ne pourront commencer que pour deux. Les partisans les plus optimistes du nucléaire espèrent leur redémarrage avant l'été 2014. Combien de réacteurs pourront fonctionner in fine, personne ne le sait. Beaucoup moins qu'avant la catastrophe. Et même si quelques réacteurs redémarrent, ils ne pourront pas utiliser du combustible MOx.
Informations Japon
Citizens' Nuclear Information Center)
Below are links to CNIC's press releases and Ustream Press Conferences Press Releases and Statements CNIC Newsletter "Nuke Info Tokyo" 10 Million People's Action to say Goodbye to Nuclear Power Plants
Uranium 238 (Uranus); U; at. mass 238,0289; at. n° 92; m.p. 1135°C; b.p. 4131°C; sp. gr. ~18,95; half-life 4,49 billions years; 3,35E-7 Ci/gr; 2,99 tons/Ci; α decay; 4,184 MeV; alpha 4,184 MeV particle range in tissues ~50 μ. The uranium 238 have a physical half-life of 4,49 billions years, a biological half-life for insoluble form (industrial depleted uranium) of 5 years and a effective half-life of 5 years. (λ physic 4,895E-18, λ biologic 4,396E-9, λ effective 4,396E-9.) The IRCP inhalation dose factor for U238 is 7,3E-6 Sv/Bq or 7,3 μSv/Bq. Assessing the irrationality of official internal dose factor.
AIPRI
http://www.criirad.org
私たちは、全国に出来るだけ多くの「市民の市民による市民のための放射線観測所」を設置するべきだと考え「測定器47台プロジェクト」を創設しました。 全都道府県に最低でも1カ所の市民観測所を設置したいという目標を掲げたいと思いますが、現時点では東電福島原発を中心とした重要地点での放射線測定が急務であるとの認 識に立ち、順次入手した測定器を該当するエリアに測定場所及び測定者を設定し、放射線の可視化を実現することとします。
測定器47台プロジェクト | 47プロジェクト
Uh... what does that mean, you may ask? And why is TEPCO apologizing? Because, apparently, TEPCO's announcement that the company would double the risk benefit for the workers hired by the subcontractors to work at Fukushima I Nuclear Power Plant from 10,000 yen a day to 20,000 yen a day has caused anxiety and confusion among TEPCO's primary contractors and subcontractors. Why are TEPCO's primary contractors (1st tier) and subcontractors (and subcontractors of the subcontractors... to the nth degree) anxious and confused?
EX-SKF Financial and Economic News, Data, Links, Analysis and Commentary
The # fukushima Daily
EVACUATE FUKUSHIMA 福島の子供を守れ
Safecast
Oni Oni Dialogue
Le blog de Fukushima
Bistro Bar Blog
blog | fukushima news realtime
Catastrophe nucléaire majeure au Japon
Le nucléaire, bilan et perspectives: Fukushima
LE BLOG DE L'ASSOCIATION KOKOPELLI
LA SITUATION À FUKUSHIMA (XIX)
http://catastrophe-de-fukushima.fr
NEWS - Nucléaire Radioprotection et Internet - Ensemble des mesures prises pour assurer la protection de l'homme et de son environnement
Une toile pour vous
Bigorneau 2
Kibô-Promesse
L'appel de Fukushima
News 2011
Réfugiés japonais