Web sites
Tech Talk: 3 easy steps to self-sign a Applet Jar file
jsoup Java HTML Parser, with best of DOM, CSS, and jquery
Required JAR: itextpdf-5.3.0.jar
Pankil Patel « Enlightensoft's Blog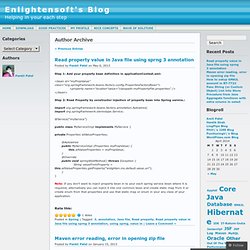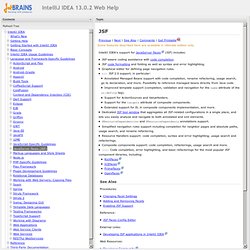 JSF
Some features described here are available in Ultimate edition only. IntelliJ IDEA's support for JavaServer Faces
Add Restrictions.sqlRestriction to Criteria : Criteria « Hibernate « Java Tutorial
Tomahawk DataScroller Introduction
DevloperBook.com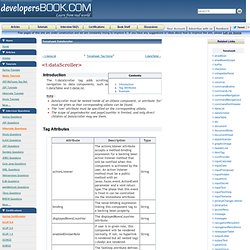 Introduction The Spring Framework, commonly referred to as Spring, is an open source project that aims to make the J2EE™ environment more accessible. Spring provides a framework for simple Java™ objects that enables them to make use of the J2EE container via wrapper classes and XML configuration. Spring's objective is to deliver significant benefits to projects by increasing development productivity and runtime performance, while also improving test coverage and application quality. Hibernate is an open source persistence and query framework that provides object-relational mapping of POJOs (Plain Old Java Objects) to relational database tables, as well as data query and retrieval capabilities. While many organisations are interested in discovering what benefits they can obtain from using these frameworks, IBM wants customers who do use them to know that they can do so with WebSphere Application Server in a robust and reliable way.
Using Spring and Hibernate with WebSphere Application Server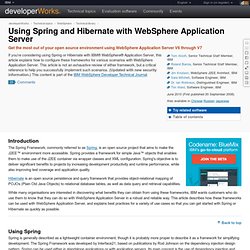 Javascript Basics Part 6
This is the sixth in a series that will introduce you to the JavaScript language. If you've read the previous 5 articles, you should have a good grasp on JavaScript by now.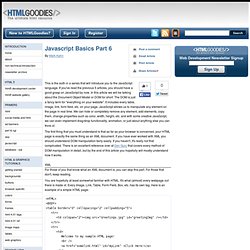 Dynamic datatable in jsf (JSF forum at JavaRanch)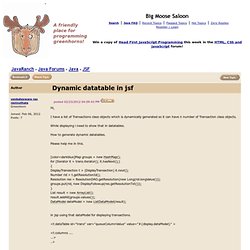 The other day, I believe pompously declared that I'd never used an actionListener in JSF. Which only goes to show that:
First free JSF implementation Is an oustanding environment for development of web-applications.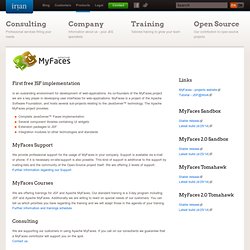 MyFaces - Irian
html editor-2
html editor-1
MyFaces -implimentation
Java Forums at the Big Moose Saloon
Getting ipv4 remote address from FacesContext (JSF forum at JavaRanch)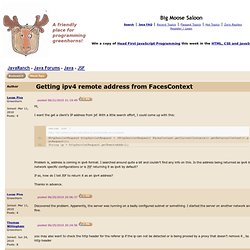 Hi,
How to get client's IP address, Domain using Java (JSP forum at JavaRanch)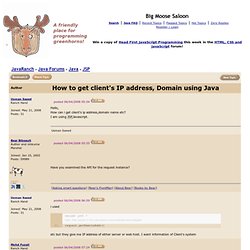 Hi, My setup is like Squid reverse-proxy -- sends request to--> Apache-server ---.--> JBoss app server (using mod_jk) I want to get the clients IP address in my java application, running in JBoss.
Immediate Event Handling Example Event Handling is one of the important concepts in JSF.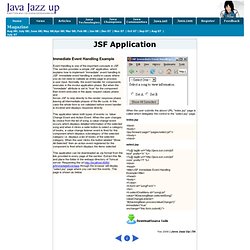 javajazzup.com
(Exadel)
RichFaces - Open Source Rich JSF Components - jQuery Extension
JavaServer Faces (JSF) 2.0, is an MVC web framework which focus on simplifies building user interfaces (comes with 100+ ready UI tags) for Java web application and make reusable UI component easy to implement. Unlike JSF 1.x, almost everything is declared in faces-config.xml, with JSF 2.0, you are allowed to use annotation to declare navigating, managed bean or CDI bean, which make your development easier and faster. In this tutorial, it provides many step by step examples and explanations on using JavaServer Faces (JSF) 2.0 framework. Happy learning JSF 2.0 :) Quick Start
Recently, I had the good fortune of training and mentoring a group of novice Java developers as we implemented a complex Web application using Struts, Enterprise JavaBeans (EJB), servlets, JavaServer Pages (JSP), and the JSP Standard Tag Library (JSTL). As it turned out, the project was a success; it came in under budget and on time, and had numerous features not originally envisioned.
A first look at JavaServer Faces, Part 1
A first look at JavaServer Faces, Part 2
Recall from Part 1 that JavaServer Faces (JSF) is conceptually a mixture of Struts (Apache's popular open source JSP framework) and Swing (Java's standard desktop application framework). Like Struts, JSF provides a well-defined lifecycle, shown in Figure 1, for processing requests. In Part 1, the JSF lifecycle was discussed in detail and therefore is not discussed here; however, this article refers to the JSF lifecycle, and Figure 1 is repeated for convenience.