Web sites
Tech Talk: 3 easy steps to self-sign a Applet Jar file. Jsoup Java HTML Parser, with best of DOM, CSS, and jquery. Pankil Patel « Enlightensoft's Blog. Required JAR: itextpdf-5.3.0.jar itext-xtra-5.3.0.jar File: PDFCreator.java package co.cc.enlightensoft.pdf; import java.io.FileOutputStream;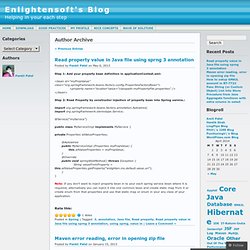 JSF. Some features described here are available in Ultimate edition only.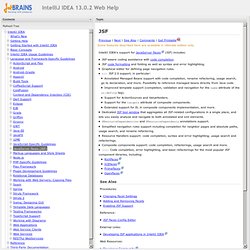 IntelliJ IDEA's support for JavaServer Faces (JSF) includes: JSF-aware coding assistance with code completion. JSF code formatting and folding as well as syntax and error highlighting. Graphical editor for defining page navigation rules. 9.0+JSF 2.0 support, in particular: Annotated Managed Beans support with code completion, rename refactoring, usage search, go to declaration, and more. Tutorials for Maven, Scala, Spring, Struts 2, HTML5, ANT, iBATIS, log4j, Hibernate, JSP, JAVA, JDBC, AJAX, WAP, SQL, MySQL, C/C++, PERL, PHP, Ruby, Ruby on Rails, Python, HTML, XHTML, CSS, CGI, Shell, Unix, JavaScript, jQuery, Radius, UML, GPRS, GSM,i-Mod.
Add Restrictions.sqlRestriction to Criteria : Criteria « Hibernate « Java Tutorial. DevloperBook.com. Tomahawk DataScroller Introduction The t:dataScroller tag adds scrolling navigation to data components, such as t:dataTable and t:dataList.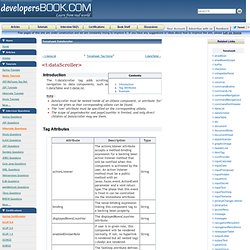 Note : DataScroller must be nested inside of an UIData component, or attribute "for" must be given so that corresponding uiData can be found. The "row" attribute must be specified on the corresponding uiData. Using Spring and Hibernate with WebSphere Application Server. Introduction The Spring Framework, commonly referred to as Spring, is an open source project that aims to make the J2EE™ environment more accessible.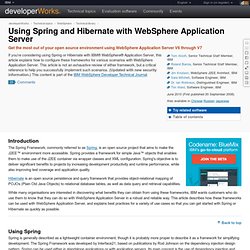 Spring provides a framework for simple Java™ objects that enables them to make use of the J2EE container via wrapper classes and XML configuration. Spring's objective is to deliver significant benefits to projects by increasing development productivity and runtime performance, while also improving test coverage and application quality. Hibernate is an open source persistence and query framework that provides object-relational mapping of POJOs (Plain Old Java Objects) to relational database tables, as well as data query and retrieval capabilities.
While many organisations are interested in discovering what benefits they can obtain from using these frameworks, IBM wants customers who do use them to know that they can do so with WebSphere Application Server in a robust and reliable way. Javascript Basics Part 6. This is the sixth in a series that will introduce you to the JavaScript language.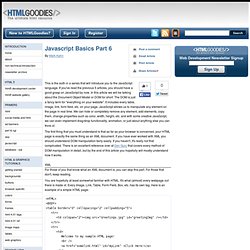 If you've read the previous 5 articles, you should have a good grasp on JavaScript by now. In this article we will be talking about the Document Object Model or DOM for short. The DOM is just a fancy term for "everything on your website". It includes every table, image, link, form field, etc. on your page. JavaScript allows us to manipulate any element on the page in real time. Dynamic datatable in jsf. The other day, I believe pompously declared that I'd never used an actionListener in JSF.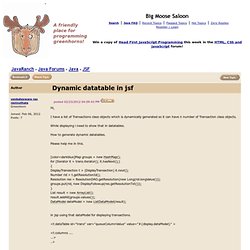 Which only goes to show that: 1. I'm senile 2. I'm an idiot. Google. MyFaces - Irian. First free JSF implementation Is an oustanding environment for development of web-applications.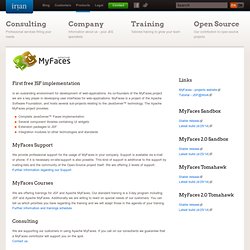 As co-founders of the MyFaces project we are a key player in developing user interfaces for web-applications. MyFaces is a project of the Apache Software Foundation, and hosts several sub-projects relating to the JavaServer™ technology. The Apache MyFaces project provides: Complete JavaServer™ Faces implementation Several component libraries containing UI widgets Extension packages to JSF Integration modules to other technologies and standards. Html editor-2. /* * Licensed to the Apache Software Foundation (ASF) under one * or more contributor license agreements.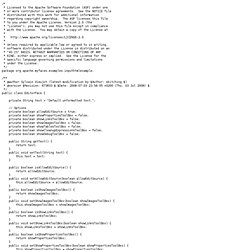 See the NOTICE file * distributed with this work for additional information * regarding copyright ownership. The ASF licenses this file * to you under the Apache License, Version 2.0 (the * "License"); you may not use this file except in compliance * with the License. You may obtain a copy of the License at * * * * Unless required by applicable law or agreed to in writing, * software distributed under the License is distributed on an * "AS IS" BASIS, WITHOUT WARRANTIES OR CONDITIONS OF ANY * KIND, either express or implied. Html editor-1. MyFaces -implimentation.
Java Forums at the Big Moose Saloon. Getting ipv4 remote address from FacesContext. Hi, I want the get a client's IP address from jsf.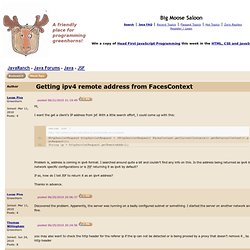 With a little search effort, I could come up with this: view plainprint? How to get client's IP address, Domain using Java (JSP forum at JavaRanch) Hi, My setup is like Squid reverse-proxy -- sends request to--> Apache-server ---.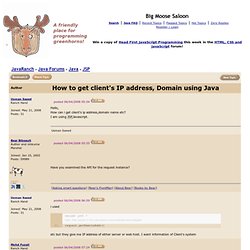 --> JBoss app server (using mod_jk) I want to get the clients IP address in my java application, running in JBoss.
Jsf kenai
Roseindia. Www.jsftutorials.net. Javajazzup.com. Immediate Event Handling Example Event Handling is one of the important concepts in JSF. This section provides a simple JSF application, which explains how to implement "immediate" event handling in JSF. Immediate event handling is useful in cases where you do not need to validate an entire page to process a user input. Normally, the event handler for components executes in the invoke application phase.
But when the "immediate" attribute is set to "true" for the component then event executes in the apply request values phase and forces JSF to skip directly to the render response phase leaving all intermediate phases of the life cycle. (Exadel) RichFaces - Open Source Rich JSF Components - jQuery Extension. Mkyong.com. JavaServer Faces (JSF) 2.0, is an MVC web framework which focus on simplifies building user interfaces (comes with 100+ ready UI tags) for Java web application and make reusable UI component easy to implement. Unlike JSF 1.x, almost everything is declared in faces-config.xml, with JSF 2.0, you are allowed to use annotation to declare navigating, managed bean or CDI bean, which make your development easier and faster.
In this tutorial, it provides many step by step examples and explanations on using JavaServer Faces (JSF) 2.0 framework. Happy learning JSF 2.0 :) Quick Start. JavaWorld. A first look at JavaServer Faces, Part 1. Recently, I had the good fortune of training and mentoring a group of novice Java developers as we implemented a complex Web application using Struts, Enterprise JavaBeans (EJB), servlets, JavaServer Pages (JSP), and the JSP Standard Tag Library (JSTL). As it turned out, the project was a success; it came in under budget and on time, and had numerous features not originally envisioned.
As you might imagine, we faced many technical challenges along the way; the most significant were: Implementing custom components, which included a tree/table viewer and a query builder that lets users dynamically add and remove fundamental components such as text fields and drop-down lists used to build database queries.Supporting hand-held devices, such as PDAs and radio frequency devices.Lack of an IDE for effective rapid application development (RAD). Implementing custom components and supporting hand-held devices—especially the latter—consumed a great deal of our time and effort. A first look at JavaServer Faces, Part 2. Recall from Part 1 that JavaServer Faces (JSF) is conceptually a mixture of Struts (Apache's popular open source JSP framework) and Swing (Java's standard desktop application framework). Like Struts, JSF provides a well-defined lifecycle, shown in Figure 1, for processing requests. In Part 1, the JSF lifecycle was discussed in detail and therefore is not discussed here; however, this article refers to the JSF lifecycle, and Figure 1 is repeated for convenience.
Ibm jsf
---