Apps & Tools
VMware Front Experience: Free backup for free ESXi: Thinware vBackup vs. Trilead VM Explorer. VMware ESXi with the free license (also known as vSphere Hypervisor) is a great way to get started with server virtualization and run your own hypervisor at home or in small environments.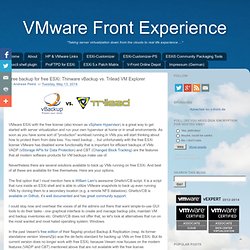 As soon as you have some sort of "production" workload running in VMs you will start thinking about how to protect them from data loss. You need backup ... but unfortunately with the free ESXi license VMware has disabled some functionality that is important for efficient backups of VMs: VADP (vStorage APIs for Data Protection) and CBT (Changed Block Tracking) are the features that all modern software products for VM backups make use of. Nevertheless there are several solutions available to back up VMs running on free ESXi. And best of all these are available for free themselves. 30 Cool Open Source Software I Discovered in 2013. These are full-featured open source software products, free as in beer and speech that I started to use recently.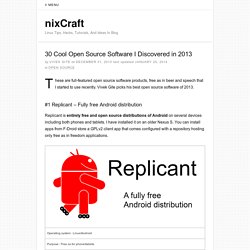 Vivek Gite picks his best open source software of 2013. #1 Replicant - Fully free Android distribution Replicant is entirely free and open source distributions of Android on several devices including both phones and tablets. I have installed it on an older Nexus S. You can install apps from F-Droid store a GPLv2 client app that comes configured with a repository hosting only free as in freedom applications. Mantis Bug Tracker. Original Inbox Zero Articles (2006) | Inbox Zero. Looking for the Inbox Zero video?
The full 1-hour video for Merlin's Inbox Zero pre­sen­ta­tion at Google is avail­able for free over here — or check out this 43 Folders post for more infor­ma­tion about the video. What's "Inbox Zero?" These links point to the orig­i­nal Inbox Zero Series that Merlin wrote for 43 Folders in 2006. They cover the skills, tools, and atti­tudes that can help empty your email inbox — and then keep it that way. Taille et résolution d'écran statistique. Les services de Libstat. 1.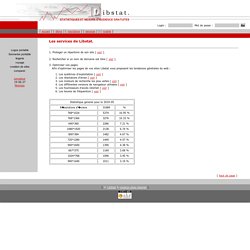 Proteger un répertoire de son site [ voir ]. Top 10 Screen Resolutions in France from Jul 10 to Jul 11. The Best Free VPN Clients. OB Roundup Protect your data and your identity no matter where you are connecting to the Internet with one of these virtual private network services.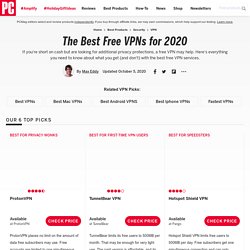 While paid services generally give you better performance and advanced features, if you need VPN protection in a pinch, check out the following VPN services. 5 more free tools for Windows 7 you have to try | Microsoft Windows. Every couple of months, it's both entertaining and useful to revisit the tools and toys available to make our desktop experience smoother, more flexible, and, yes, more fun.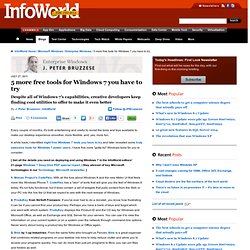 A while back, I identified eight free Windows 7 tools you have to try and later revealed some truly awesome tools for Windows 7 power users. I have five more "gotta try" Windows tools for you to consider: Office 365 vs. Google Apps: The InfoWorld review | Cloud Computing. Everything's going to the cloud, but only the hopelessly naïve would believe it's a stairway to heaven.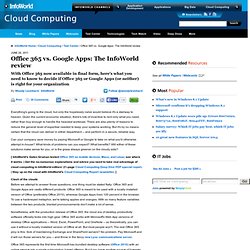 Given the current economic situation, there's lots of incentive to rent only what you need, rather than buy enough to handle the heaviest workload. There are also plenty of reasons to reduce the general level of expertise needed to keep your systems working. But it's by no means certain that the cloud can deliver in either department -- and perform in a secure, reliable way. Can your company save money by paying Microsoft or Google to take on what you'd otherwise attempt in-house?
What kinds of problems can you expect? SparkleShare – Un clone de Dropbox open source qui fonctionne ! Bon on commence tôt ce matin, car j'ai enfin trouvé un remplaçant open source qui fonctionne et qui roxx à Dropbox !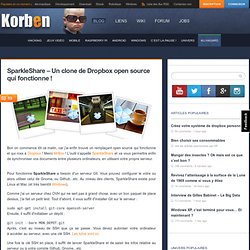 Merci MrBoo ! L'outil s'appelle SparkleShare et va vous permettre enfin de synchroniser vos documents entre plusieurs ordinateurs, en utilisant votre propre serveur. Pour fonctionne SparkleShare a besoin d'un serveur Git. Slide - slideshows, slide shows, photo sharing, image hosting, widgets, MySpace codes, Facebook apps. Pool Party: Google Has Their Own Secret Photo-Sharing App Too — Built By Slide. Back in March, we first exposed Disco, a group messaging app that the Slide team within Google had built.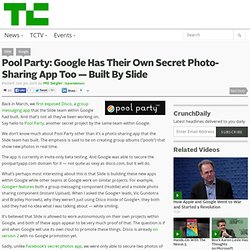 And that's not all they've been working on. Say hello to Pool Party, another secret project by the same team within Google. We don't know much about Pool Party other than it's a photo-sharing app that the Slide team has built. 5 Twitter Tools To Boost Your Productivity. Twitter has been strongly growing ever since it's release back in July 2006.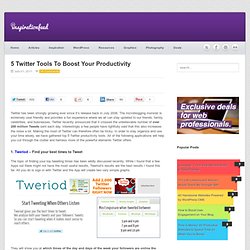 The microblogging monster is extremely user friendly and provides a fun experience where we all can stay updated to our friends, family, celebrities, and businesses. Twitter recently announced that it crossed the unbelievable number of over 200 million Tweets sent each day. Interestingly a few people have rightfully said that this also increases the noise a lot. Making the most of Twitter can therefore often be tricky. Feature Requests - Google Moderator.
---