Graphic
Icônes ui-radio-button-uncheck, icônes gratuits de Fugue , (Moteur de recherche d'icônes) 28 High Resolution Wood Textures For Designers. Once in a while, you may want to try a different approach in design.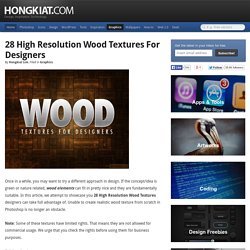 If the concept/idea is green or nature related, wood elements can fit in pretty nice and they are fundamentally suitable. In this article, we attempt to showcase you 28 High Resolution Wood Textures designers can take full advantage of. 60 Creative Header Design. InShare1 A good header design are both creative and consistence with a website's theme.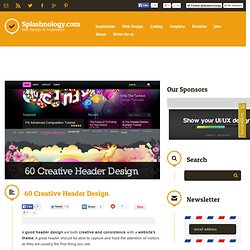 A great header should be able to capture and hold the attention of visitors as they are usually the first thing you see. The examples we have chosen are big and bold that gives the design character while also making sure that it will linger in visitors mind long after they had gone. 30 Beautiful Wood Inspired Websites and 200+ "Woody" Resources. Jul 06 Using wooden background, patterns , cardboard background, table-top design is really a cool trend among web designers.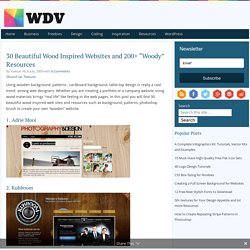 Whether you are creating a portfolio or a company website using wood materials brings "real life" like feeling in the web pages. In this post you will find 30 beautiful wood inspired web sites and resources such as background, patterns, photoshop brush to create your own "wooden" website. Scroll Down to see the brushes. 25 Examples of Footers in Web Design. As a user I really like to find a well designed footer in a website.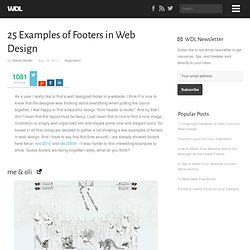 I think it is nice to know that the designer was thinking about everything when putting the layout together, I feel happy to find a beautiful design "from header to footer." And by that I don't mean that the layout must be fancy, I just mean that is nice to find a nice image, illustration or simply well organized info and maybe some nice and elegant icons. So based in all that, today we decided to gather a list showing a few examples of footers in web design.
---