Tone
Be human - the first rule of social media for organisations has now been proven. Unless your social media presence is an unashamed RSS feed of your 'news' (something pretty much only the BBC, weather forecasters and sports results types get away with) it's pretty obvious that you should be using a human voice when connecting with people on Twitter, Facebook, your blog and beyond.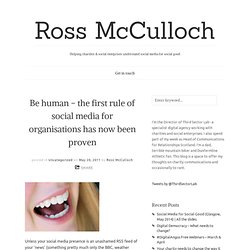 You wouldn't turn up at a conference and suddenly become Corp-bot 4000, you would have conversations with people, you would chat about what you do, what your company/charity does and you might even chat about the fact that you build scale replicas of the Ark Royal out of matchsticks in your spare time. Despite this, the norms of face-to-face communication seem to have been thrown out the window when you look at the one-way traffic coming out of lots of organisations' social media accounts. Use of human voice in social media can help organizations build relationships. As the proliferation of social media in society continues, companies and organizations are taking advantage of online platforms such as Facebook and Twitter to communicate interactively with their customers and the public.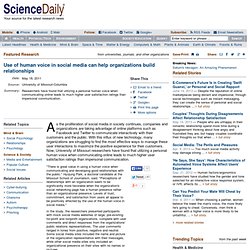 With this influx of new technology, many organizations are struggling to find the most effective ways to manage these user interactions to maximize the positive experience for their customers. Now, University of Missouri researchers have found that utilizing a personal human voice when communicating online leads to much higher user satisfaction ratings than impersonal communication. "There is great value in using a human voice when communicating and developing good relationships with the public," Hyojung Park, a doctoral candidate at the Missouri School of Journalism, said. Companies should be themselves in social media | Online tone of voice. I'm always amused by the savage beatdowns that are meted out to firms who are perceived to have failed in social media (see this page on Nestlé and Facebook for a recent example).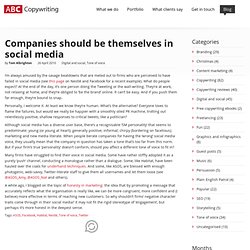 What do people expect? At the end of the day, it's one person doing the Tweeting or the wall-writing. They're at work, not relaxing at home, and they're obliged to 'be the brand' online. Social media, conversation, and writing style | Just Write Click. What are some pointers for developing a style guide for writing on the social web or for certain social mediums?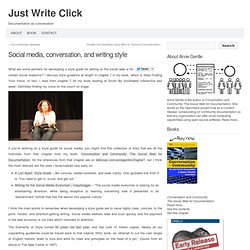 I discuss style guidance at length in chapter 7 in my book, which is titled Finding Your Voice. In fact, I read from chapter 7 for my book reading at South By Southwest Interactive last week! Definitely finding my voice on the couch on stage. HOW-TO: Write Effectively for Twitter & the Social Web. Are you using content marketing as part of your digital strategy to grow your business?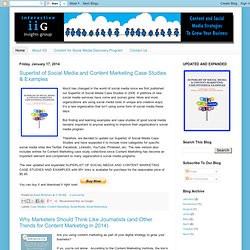 If so, you're not alone. According to the Content Marketing Institute, the lion's share of marketers (some 92%) report using content marketing. In the fast moving world of digital strategy, things are always changing. What should you expect in 2014 to change in the world of content marketing? Hana Abaza of Uberflip has put together an infographic detailing five key content marekting trends for the coming year. How Users Read on the Web. They .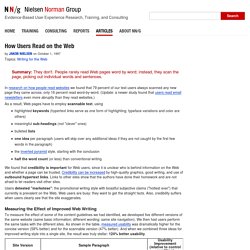 People rarely read Web pages word by word; instead, , picking out individual words and sentences. In research on how people read websites we found that 79 percent of our test users always scanned any new page they came across; only 16 percent read word-by-word.
---