Case studies
Think Like a Rock Star: Katy Perry and YouTube, Marketing to Fans. Mack Collier is a Guest Contributor to the HootSource blog, and author of "Think Like a Rock Star."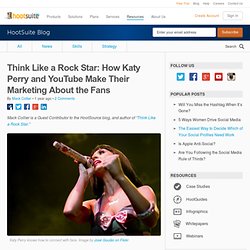 In the last couple of years, there's been an added emphasis by brands on connecting with their brand advocates, or fans. Yet rock stars have always understood the importance of not only connecting with their fans, but trusting them and giving them ownership of their promotional efforts. Rock stars do this because they understand that the best marketing comes from a passionate fan, not a commercial that runs while you're in the bathroom. A great example of embracing and empowering fans came with how Katy Perry structured a video contest she ran to promote her song Firework.
Katy created the contest and gave away a trip for 4 to see Katy perform in concert, plus $10,000 cash. Applebee's Overnight Social Media Meltdown: A Photo Essay « R.L. Stollar, Journalist. Hell hath no fury like a Facebook scorned.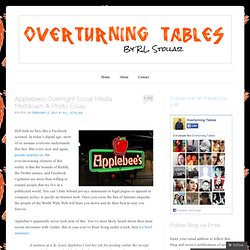 In today's digital age, most of us assume everyone understands this fact. But every now and again, people surprise us. An ever-increasing element of this reality is that the hounds of Reddit, the Twitter armies, and Facebook vigilantes are more than willing to remind people that we live in a publicized world. You can't hide behind privacy statements or legal jargon or appeals to company policy to pacify an Internet mob. 7 Twitter Marketing Campaigns to Learn From. While marketing activities on Twitter are often described by silly, Twitterized words — like tweetathon, twontest and tweetchat — these types of campaigns have proven successful for marketers and brands of all sizes.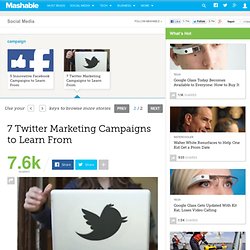 There are a number of winning Twitter strategies used by top brands, but those same companies tend to mix up the types of individual marketing campaigns they run on Twitter, whether paid or organic. Here are seven successful Twitter marketing campaigns from American Airlines, Network Solutions, UNICEF India, IBM, USA for UNHCR, McDonald's Canada and appbackr. Read about their successes below and share your brand's Twitter campaign victories in the comments. 1.
What we can all learn about social media from @ClassroomTweets. Lots of people I meet and talk to worry about how they should speak in social media – what their, or indeed their brand's, tone of voice should be.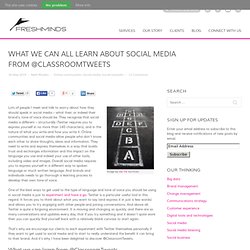 They recognise that social media is different – structurally (Twitter requires you to express yourself in no more than 140 characters), and in the nature of what you write and how you write it. Online communities and social media allow people who don't know each other to share thoughts, ideas and information. Writing Training from The First Word. Jive Case Studies, Social Business Case Studies and More. CSIRO.
---