OccupyWallStreet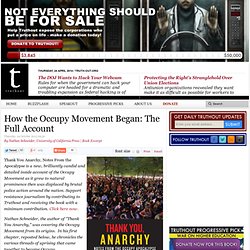 (Photo: University of California Press)Thank You Anarchy, Notes From the Apocalypse is a new, brilliantly candid and detailed inside account of the Occupy Movement as it grew to natural prominence then was displaced by brutal police action around the nation. Support resistance journalism by contributing to Truthout and receiving the book with a minimum contribution.
How the Occupy Movement Began: The Full Account
#AspenInstitute, #DHS, #PERF, #Occupy, #Kroll, #BillBratton
NYPD intelligence officers monitored liberal groups, files reveal | World news
Undercover officers attended meetings and kept files on liberal political groups, particularly those opposed to racial profiling Undercover New York police department officers attended meetings of liberal political organizations and kept intelligence files on activists who planned protests around the US, according to interviews and documents that show how police have used counter-terrorism tactics to monitor even lawful activities. The infiltration echoes the tactics the NYPD used in the run-up to New York's 2004 Republican national convention, when police monitored church groups, anti-war organizations and environmental advocates nationwide.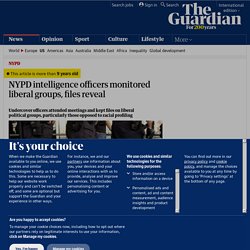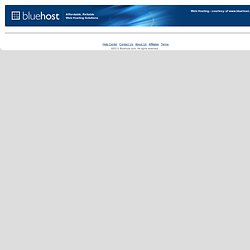 Occupy Evolver: Realize Your Potential
The global Occupy movement is much more than an economic or political movement.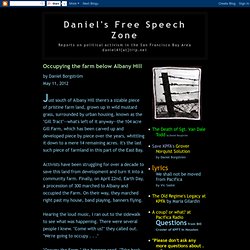 Occupying the farm below Albany Hill
by Daniel Borgström May 11, 2012 J ust south of Albany Hill there's a sizable piece of pristine farm land, grown up in wild mustard grass, surrounded by urban housing, known as the "Gill Tract"--what's left of it anyway--the 104 acre Gill Farm, which has been carved up and developed piece by piece over the years, whittling it down to a mere 14 remaining acres.
The Stars Hollow Gazette :: FOIA Revelations Reveal Administration Role In Occupy Crackdown
Documents reveal administration role in coordination of the crackdown on Occupy: Dave Lindorff, in his article " White House & Dems Back Banks Over Protests: Newly Discovered Homeland Security Files Show Feds Central to Occupy Crackdown " explains the administration's involvement, read the whole article, following are some excerpts: Another group of documents shows that on November 9, two days after a demonstration by 1000 Occupy activists in Chicago protesting social service cuts in that city, the NOC Fusion Desk relayed a request from Chicago Police asking other local police agencies what kind of tactics they were using against Occupy activists.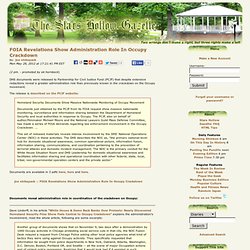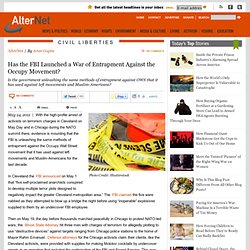 Photo Credit: Shutterstock
Has the FBI Launched a War of Entrapment Against the Occupy Movement? | Civil Liberties
The US Government Is Running A Massive Spying Campaign On The Occupy Movement
By Spencer Mandel on May 21, 2012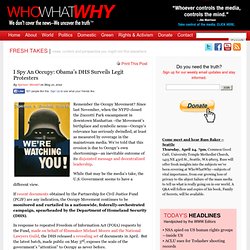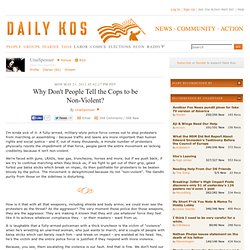 Why Don't People Tell the Cops to be Non-Violent?
How is it that with all that weaponry, including shields and body armor, we could ever see the protesters as the threat?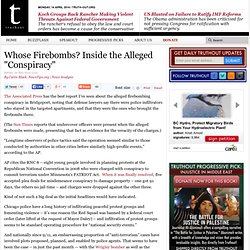 Whose Firebombs? Inside the Alleged "Conspiracy"
The Associated Press has the best report I've seen about the alleged firebombing conspiracy in Bridgeport, noting that defense lawyers say there were police infiltrators who stayed in the targeted apartments, and that they were the ones who brought the firebombs there. (The Sun Times reports that undercover officers were present when the alleged firebombs were made, presenting that fact as evidence for the veracity of the charges.)
As governments around the world, including our own, face more and more popular resistance, we're witnessing a revival of the use of agent provocateurs. An agent provocateur is the well-used tactic of using undercover military or police to join a dissenting group or protest in order to provoke others in the group to carry out illegal actions and violence.
How to Identify an #Agent #Provocateur | OpESR Auxiliary Database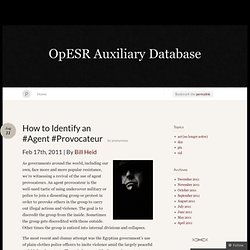 A top Israeli official has acknowledged that Iranian President Mahmoud Ahmadinejad never said that Iran seeks to "wipe Israel off the face of the map." The falsely translated statement has been widely attributed to Ahmadinejad and used repeatedly by U.S. and Israeli government officials to back military action and sanctions against Iran. But speaking to Teymoor Nabili of the network Al Jazeera, Israeli Deputy Prime Minister Dan Meridor admitted Ahmadinejad had been misquoted.
DN!
v. Department of Homeland Security: Media Monitoring
Seeking Disclosure of Records Detailing the Department of Homeland Security's Media Monitoring Activities
If you want to know where the real government of the United States is located, just check out one of the documents received by the Partnership for Civil Justice Fund in response to their Freedom of Information Act request to the Dept. of Homeland Security relating to surveillance of the Occupy Movement.
Lawyers Guild Expects More DHS Documents about Occupy Movement
Goldman Sachs Mobilizes Rapid Smear Campaign Against Whistleblower
Today, Goldman Sachs employee Greg Smith excoriated the investment bank in a New York Times op-ed, resigning due to the banks " toxic and destructive " culture, one in which the bank's trading profits took precedence over its customers' financial well-being. Goldman managers allegedly called customers " muppets ," and traders routinely asked how much was being made ripping off one customer or another. Goldman has been quick to push back on Smith's claims, portraying him as just a disgruntled employee.
New York City Subpoenas Twitter For Occupy Wall Street Protester Data
More than 40 states agree to foreclosure deal
The item you've requested, /cgi-bin/article.cgi?
Propaganda Times
Occupy Healdsburg protesters to target Bank of America
where is Obama as police brutalize citizens?
Aspen Institute, DHS, PERF, Occupy, Kroll, Bill Bratton
Strarfor emails Teaser 3 OCCUPY MOVEMENT first part
Aaron Barr, Cybersecurity Analyst Who Was Hacked By Anonymous And Infiltrated Occupy Wall Street, Gets Fired
Twitter subpoena social media Boston occupy movement
Teaser 2 Stratfor Calls Anon and Wikileaks hippie arseholes
p.ost
Officers disciplined for name-covering episode
Why 2012 is starting to look like 1984
Social media in protests: Study finds 'recruiters' and 'spreaders'
Occupy Wall Street Has a Drone: The Occucopter - National
Police Test Laser to Blind Protesters
OpESR : "Ode To #A99" via @glitchgore for FSS34
MikePrysner: Jesus they are literally s
MikePrysner: Last tent left standing at
Occupy Oakland Live, Ustream.TV
Aigeanta: #OccupyWallStreet: You can
Occupy Oakland Live, Ustream.TV
Share photos and videos on Twitter
Missing the point: PERF and the surveillance industrial complex
FBI Claims It Does Not Have Any Documents on Occupy Wall Street | Truthout
A Report from the Frontlines: The Long Road to #OccupyWallStreet and the Origins of the 99% Movement | AmpedStatus
No, the Crackdown Against Occupy Wall Street is Not the Work of the Shadowy Elite
Build Up To A Raid: NYPD Planned Occupy Wall Street Eviction For Weeks
Anonymous targets cop group that coordinated calls on Occupy | San Francisco Bay Guardian
UC Davis Pepper Spray Incident, Four Perspectives
Occupy Memphis, tea party members meet
"What I'm looking at is fairly standard police procedure."
At Occupy Berkeley, Beat Poets Has New Meaning
PERF Round-Up
Confirmed: Police Executive Research Forum (PERF) coordinating Occupy raids
Criminal Justice Petition: UC Davis Chancellor Linda P.B. Katehi: Resign
Occupy Oakland: Iraq war veteran Kayvan Sabehgi beaten by police - video | World news
Tracking Journalist Arrests During the #Occupy Protests Around the Country · jcstearns
SEIU stands with a leader who doesn't stand with us.
the raid on zuccotti park
Create Assembly
Sgt Shamar Thomas Re-Enters Zuccotti Park
Breaking: Homeland Security, FBI, Others Advise Coordinated Occupy Crackdowns
Wall Street Wankers.mp4.flv
Hey, Facebook: Are You Really Censoring Political Free Speech in America?
long-term-unemployment-wreaks.html?storylink=addthis#.TkqQR8_Sghw
Is capitalism doomed? - By Nouriel Roubini
Is the SEC Covering Up Wall Street Crimes? | Rolling Stone Politics
Main Street Contract for America | National Nurses United
Mark Cuban, Dallas Mavericks Owner: Wealthy Should 'Pay Lots Of Taxes'
Occupy Oakland: second Iraq war veteran injured after police clashes | World news
Thousands Swarm To Massive Protest On Wall Street (PHOTOS)