Google
See what I mean?
Technology for Fun, Profit and Total Control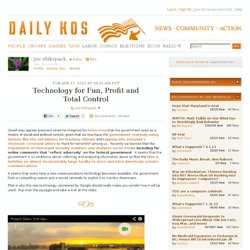 Hangouts
LIVE VIDEO: Occupy Oakland Move-in Day March
Hangouts API - Google+ Platform — Google Developers
Help : Add to Google button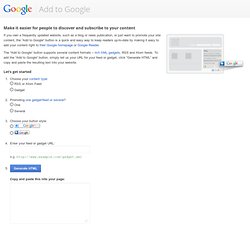 Si vous disposez d'un site Web fréquemment mis à jour, tel qu'un blog ou un site d'actualités, ou que vous voulez mettre en avant votre contenu, le bouton "Ajouter à Google" est une façon simple et rapide d'informer les lecteurs des dernières publications sur votre site en leur permettant d'ajouter votre contenu à leur page d'accueil Google ou à Google Reader. Le bouton "Ajouter à Google" est compatible avec plusieurs formats de contenu, tels que les gadgets XML enrichis et les flux RSS et Atom. Pour utiliser le bouton "Ajouter à Google", il vous suffit de nous indiquer l'URL du flux ou du gadget, de cliquer sur "Générer du code HTML", puis de copier-coller le texte obtenu sur votre site Web.