Employment
Check out this Resume Reference Sample Page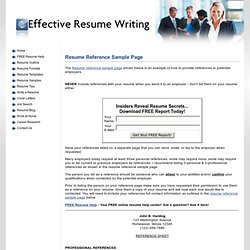 The Resume reference sample page shown below is an example of how to provide references to potential employers. NEVER include references with your resume when you send it to an employer - Don't list them on your resume either. Have your references listed on a separate page that you can send, email, or fax to the employer when requested. Many employers today request at least three personal references, some may require more, some may require you to list current or previous employers as references.
Cover Letter Etiquette from Monster Career Advice
Aptitude Test, Employment Screening, Assessment...