Drupal
Drupal 7 on nginx + php + postgres on Ubuntu 11.10 | Bryce Hamrick. After dealing with nginx for some time I loathe the thought of going back to Apache.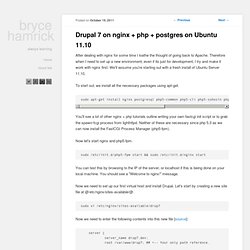 Therefore when I need to set up a new environment, even if its just for development, I try and make it work with nginx first. We'll assume you're starting out with a fresh install of Ubuntu Server 11.10. Going Mobile with Drupal. Paul Chason | Managing Partner Fresh off the heels of DrupalCon Chicago 2011, the overriding buzz around the community is making Drupal mobile-compatible.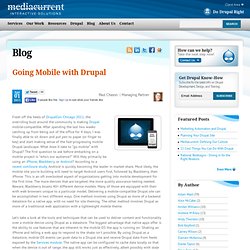 After spending the last two weeks catching up from being out of the office for 4 days, I was finally able to sit down and put pen to paper (or finger to key) and start making sense of the fast-progressing mobile Drupal landscape. What does it take to "go mobile" with Drupal? The first question to ask before embarking on a mobile project is "who's our audience? " Build Open Atrium For Development. On this page : kyle leon customized fat loss review Note: This build process was tested against Open Atrium 1.1 Open Atrium uses an install profile and a Drush make based build system.
Complete and ready to install downloads are offered at but it's also possible to build Open Atrium yourself. You may want to do this to participate in Open Atrium development, or to simply check out the bleeding edge. Developers, or other users, who wish to build Open Atrium themselves will need to have Drush, Drush make, and Git installed. Drupal. Drupal is a robust Content Management System that runs on a LAMP server.
The LAMP server uses MySQL by default, but PostgreSQL can also be used with Drupal. It can host blogs, forums, and a variety of other content. It has a huge selection of add-ons modules for other functionality, such as advertising, chatbox, e-commerce, multimedia tools, instant messenger, customer relationship management, printer-friendly pages, and web-cams. Recent releases of Ubuntu include both Drupal6 and Drupal7 in the repositories, which are the only two supported releases of Drupal. Bay Area Drupal Camp. Drupal: Using imagecache with Views and CCK imagefields | 2BITS.com - Drupal Development, Customization and Consulting. A while ago, Angela Byron of Lullabot wrote an article comparing Image and Image Exact Sizes with CCK Imagefield and Imagcache.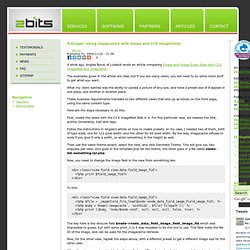 The examples given in the article are clear, but if you are using views, you will need to do some more stuff to get what you want. What my client wanted was the ability to upload a picture of any size, and have a preset size of it appear in one place, and another in another place. These business requirements translate to two different views that end up as blocks on the front page, using the same content type. Here are the steps necessary to do this: Javascript Tools. Javascript Tools provides a common set of methods extending those available in Drupal core (drupal.js) for Javascript and AJAX module development in Drupal.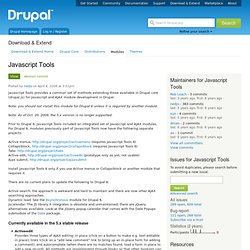 Note: you should not install this module for Drupal 6 unless it is required by another module. Note: As of Oct. 20, 2009, the 5.x version is no longer supported. Prior to Drupal 6, Javascript Tools included an integrated set of Javascript and AJAX modules. For Drupal 6, modules previously part of Javascript Tools now have the following separate projects: Active menus, (requires Javascript Tools 6) Collapsiblock, (requires Javascript Tools 6) Tabs: Active edit, (prototype only as yet, not usable) Ajax submit, Node Reference CCK field does not show thumbnails??? Here is what I need: - I need to create a custom node type that will allow the users to attach already uploaded images (Image nodes) to it.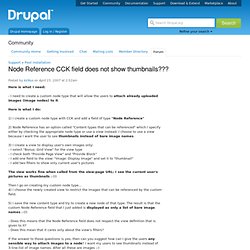 Here is what I do: 1) I create a custom node type with CCK and add a field of type "Node Reference" 2) Node Reference has an option called "Content types that can be referenced" which I specify either by checking the appropriate node type or use a view instead. I choose to use a view because I want the user to see thumbnails instead of bare image names. Drupal/PHP Developer Tools for Mac OS X | WorkH... Mapping with Drupal: GMap, Location & Views | groups.drupal.org. Summary These are very rough notes from tom_o_t's session at DrupalCampNYC6 on how to use Drupal for mapping.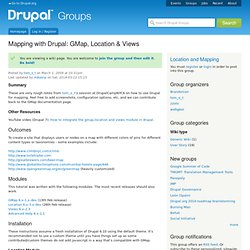 Feel free to add screenshots, configuration options, etc, and we can contribute back to the GMap documentation page. Other Resources. Lucidly Drupal: Setting up Ubuntu 10.4 Lucid LAMP stack for your Drupal site | PINGV Creative Blog. [Update: We've recently posted steps for setting up Ubuntu 12.04 Pangolin for Drupal 7.]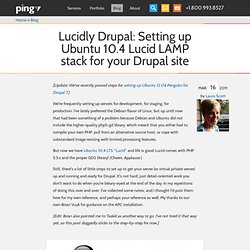 We're frequently setting up servers for development, for staging, for production. I've lately preferred the Debian flavor of Linux, but up until now that had been something of a problem because Debian and Ubuntu did not include the higher-quality php5-gd library, which meant that you either had to compile your own PHP, pull from an alternative source host, or cope with substandard image resizing with limited processing features. But now we have Ubuntu 10.4 LTS "Lucid" and life is good. Lucid comes with PHP 5.3.x and the proper GD2 library!
IMCE. IMCE is an image/file uploader and browser that supports personal directories and quota.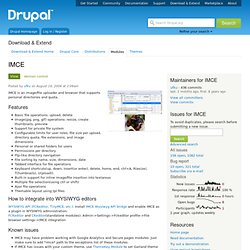 Features Basic file operations: upload, deleteImage(jpg, png, gif) operations: resize, create thumbnails, previewSupport for private file systemConfigurable limits for user roles: file size per upload, directory quota, file extensions, and image dimensionsPersonal or shared folders for usersPermissions per directoryFtp-like directory navigationFile sorting by name, size, dimensions, dateTabbed interface for file operationsKeyboard shortcuts(up, down, insert(or enter), delete, home, end, ctrl+A, R(esize), T(humbnails), U(pload)).Built-in support for inline image/file insertion into textareasMultiple file selection(using ctrl or shift)Ajax file operationsThemable layout using tpl files. HOWTO: Node Listings with Thumbnails using Drupal 5.1, CCK and ImageCache. I needed to apply the concepts outlined at to create a listing of node teasers that contained thumbnail images. That article was written for 4.7 and was useful, but not completely helpful for Drupal 5.1 which I am running.
Here's a way to create a teaser list with thumbnails ... keep in mind I am also not a Drupal expert, but a Drupal learner. This is just what worked for me. Note: Currently (4/17/2007), the ImageCache module only works when the "Download method" setting in Drupal's site configuration is set to "Public. " Install the Modules. Site map. This module provides a site map that gives visitors an overview of your site. It can also display the RSS feeds for all blogs and categories. Drupal generates the RSS feeds automatically but few seems to be aware that they exist. The site map can display the following items: A message to be displayed above the site mapThe latest blogs.Any books.Any menus that will be displayed fully expanded.Any categories, i.e vocabulary, with all the terms expanded. Optionally with node counts and RSS feeds.A syndication block, the "more" link goes to the site map.
Sitemap PostgreSQL patch. Hi, I see : query: SELECT DISTINCT u.uid, u.name FROM users u INNER JOIN node n ON u.uid = n.uid WHERE n.type = 'blog' AND n.status = 1 ORDER BY n.created DESC LIMIT 10 OFFSET 0 in /www/default/drupal-4.7.3/includes/database.pgsql.inc on line 103. In the drupal admin error log. Views. You need Views if You like the default front page view, but you find you want to sort it differently. You like the default taxonomy/term view, but you find you want to sort it differently; for example, alphabetically.
You use /tracker, but you want to restrict it to posts of a certain type. You like the idea of the 'article' module, but it doesn't display articles the way you like. Context-sensitive embedded views. Zen. Helping with development. Paths | groups.drupal.org. Separate aliasing for forums and forum containers AND... Drupal. Styling the selected menu item. Content Construction Kit (CCK) Banners and buttons. Issues for SMTP Authentication Support. Video. XML Sitemap. HOW TO: Create an image gallery using CCK and Views (not Image Module) Imagefield. Reviewing patches. Issues for Pathauto. What's the best way to integrate images ? A/B/C Taxonomy Dual Views Sitemap. Image Gallery Per User | groups.drupal.org.
Script Install 4 Free | Free PHP/MySQL script i... Simple Images | groups.drupal.org. Bug in column alters for pgsql. IE6: text not in admin boxes. jQuery: The Write Less, Do More, JavaScript Lib... Postgresql error: field must appear in the GROUP BY. Imagecache. Drupal 6 on OS X 10.6 | drewish.com. Strategies for Patch Management. Image and Image Exact Sizes vs. Imagefield and ... What is the Content Construction Kit? A View fr... How to build Flickr in Drupal. The Drupal Song. IE6: content floats under left sidebar. Backup and restore using bash shell scripts. Installer script does not work for pgsql. Groups.drupal.org. Drupal SEO: How Duplicate Content Hurts Drupal ... What's the best way to integrate images ? Views Bonus Pack. Web Developer for Rock Stars and Progressive Po... Creating patches. SMTP Authentication Support. Akismet. Pgsql db queries give errors.
---