Drupal
Drupal 7 on nginx + php + postgres on Ubuntu 11.10 | Bryce Hamrick
After dealing with nginx for some time I loathe the thought of going back to Apache.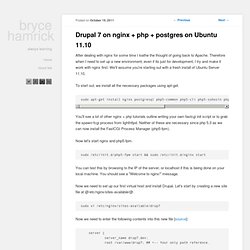 Paul Chason | Managing Partner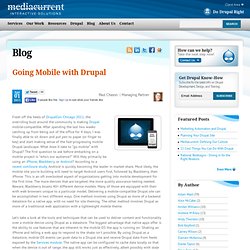 Going Mobile with Drupal | Mediacurrent Blog Post
On this page Note: This build process was tested against Open Atrium 1.1
Build Open Atrium For Development | Open Atrium Community
Drupal is a robust Content Management System that runs on a LAMP server.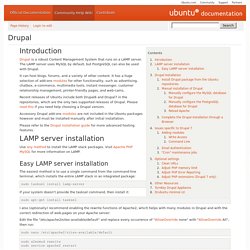 Drupal
Bay Area Drupal Camp
A while ago, Angela Byron of Lullabot wrote an article comparing Image and Image Exact Sizes with CCK Imagefield and Imagcache .
Drupal: Using imagecache with Views and CCK imagefields | 2BITS.com - Drupal Development, Customization and Consulting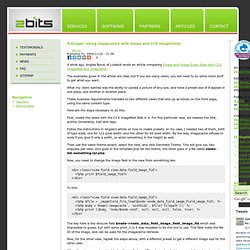 Javascript Tools provides a common set of methods extending those available in Drupal core (drupal.js) for Javascript and AJAX module development in Drupal. Note: you should not install this module for Drupal 6 unless it is required by another module. Note: As of Oct. 20, 2009, the 5.x version is no longer supported.
Javascript Tools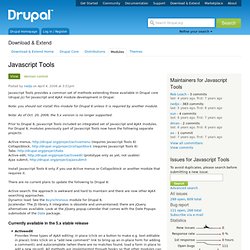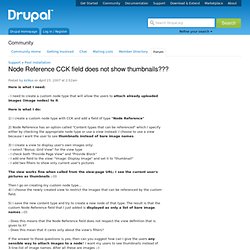 Here is what I need: - I need to create a custom node type that will allow the users to attach already uploaded images (Image nodes) to it . Here is what I do:
Node Reference CCK field does not show thumbnails???
Drupal/PHP Developer Tools for Mac OS X | WorkH...
Summary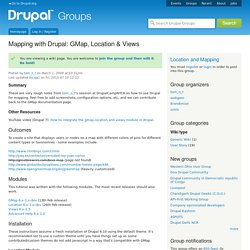 Mapping with Drupal: GMap, Location & Views | groups.drupal.org
[Update: We've recently posted steps for setting up Ubuntu 12.04 Pangolin for Drupal 7 .]
Lucidly Drupal: Setting up Ubuntu 10.4 Lucid LAMP stack for your Drupal site | PINGV Creative Blog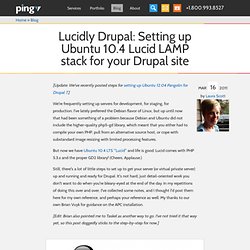 IMCE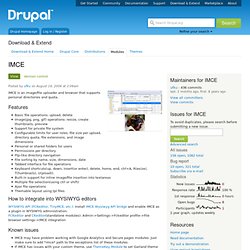 IMCE is an image/file uploader and browser that supports personal directories and quota. Features
HOWTO: Node Listings with Thumbnails using Drupal 5.1, CCK and ImageCache
Last updated January 5, 2008.
This module provides a site map that gives visitors an overview of your site.
Site map
Hi, I see : query: SELECT DISTINCT u.uid, u.name FROM users u INNER JOIN node n ON u.uid = n.uid WHERE n.type = 'blog' AND n.status = 1 ORDER BY n.created DESC LIMIT 10 OFFSET 0 in /www/default/drupal-4.7.3/includes/database.pgsql.inc on line 103. In the drupal admin error log.
sitemap PostgreSQL patch
You need Views if You like the default front page view, but you find you want to sort it differently. You like the default taxonomy/term view, but you find you want to sort it differently; for example, alphabetically. You use /tracker, but you want to restrict it to posts of a certain type. You like the idea of the 'article' module, but it doesn't display articles the way you like.
context-sensitive embedded views
Zen
Helping with development
Paths | groups.drupal.org
separate aliasing for forums and forum containers AND...
Styling the selected menu item
Installing Drupal
Banners and buttons
Issues for SMTP Authentication Support
Video
XML Sitemap
HOW TO: Create an image gallery using CCK and Views (not Image Module)
imagefield
Reviewing patches
Issues for Pathauto
What's the best way to integrate images ?
A/B/C Taxonomy Dual Views Sitemap
Image Gallery Per User | groups.drupal.org
Script Install 4 Free | Free PHP/MySQL script i...
Simple Images | groups.drupal.org
Bug in column alters for pgsql
IE6: text not in admin boxes
postgresql error: field must appear in the GROUP BY
imagecache
Drupal 6 on OS X 10.6 | drewish.com
Strategies for Patch Management
Image and Image Exact Sizes vs. Imagefield and ...
What is the Content Construction Kit? A View fr...
How to build Flickr in Drupal
The Drupal Song
IE6: content floats under left sidebar
Backup and restore using bash shell scripts
Installer script does not work for pgsql
groups.drupal.org
Drupal SEO: How Duplicate Content Hurts Drupal ...
What's the best way to integrate images ?
Views Bonus Pack
Web Developer for Rock Stars and Progressive Po...
Creating patches
SMTP Authentication Support
Akismet
pgsql db queries give errors
Hacking Drupal for Postgresql | chardros:/blog