Fonts
10 Best New Free Fonts. We've been on the prowl for some new free fonts to share with you.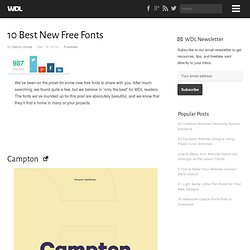 After much searching, we found quite a few, but we believe in "only the best" for WDL readers. The fonts we've rounded up for this post are absolutely beautiful, and we know that they'll find a home in many or your projects. The 100 best free fonts | Typography. We've scoured the web to present you with a fine and varied selection of free fonts.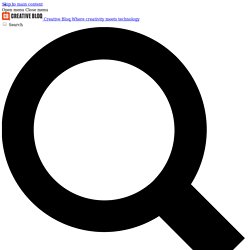 Including scripts, serifs, and a range of ligatures, these fonts will give you greater flexibility in your designs, and add to your arsenal of design tools. This list represents the 100 best free fonts we've found in a variety of styles. However, for specialist fonts that won't cost you a penny, read these: 28 Fresh Free Fonts.
Get the FlatPix UI Kit for only $7 - Learn More or Buy Now Designers love to have a lot of quality fonts available to them, and fortunately there are some very good free fonts out there.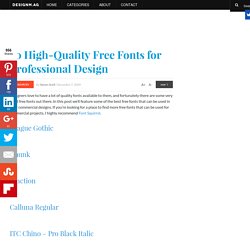 In this post we'll feature some of the best free fonts that can be used in your commercial designs. If you're looking for a place to find more free fonts that can be used for commercial projects, I highly recommend Font Squirrel. League Gothic. 30 New Free Fonts for Headlines. Today's round-up focuses on clean, distinctive and easy-to-read free fonts that designers may not necessarily crave, but will always need.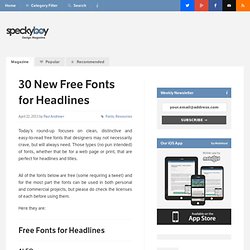 Those types (no pun intended) of fonts, whether that be for a web page or print, that are perfect for headlines and titles. All of the fonts below are free (some requiring a tweet) and for the most part the fonts can be used in both personal and commercial projects, but please do check the licenses of each before using them. Here they are: Free Fonts for Headlines ALEO (Free for Personal & Commercial Use) 9 Fresh Free Fonts for your Projects. Here at WDL, we like to gather all types of freebies for our readers.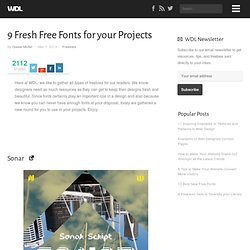 We know designers need as much resources as they can get to keep their designs fresh and beautiful. Since fonts certainly play an important role in a design and also because we know you can never have enough fonts at your disposal, today we gathered a new round for you to use in your projects. Enjoy. 50+ Fonts for Big, Bold Headlines. 25 Excellent Handwritten Fonts. Get the FlatPix UI Kit for only $7 - Learn More or Buy Now The use of certain fonts is an easy way to give a design a hand-drawn effect.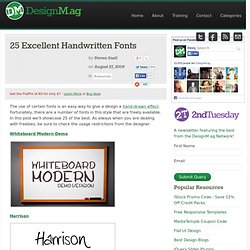 Fortunately, there are a number of fonts in this style that are freely available. In this post we'll showcase 25 of the best. As always when you are dealing with freebies, be sure to check the usage restrictions from the designer. Whiteboard Modern Demo. 28 Free High-Quality Fonts at DzineBlog. Learn how to earn $125 or more per hour as a freelancer - Click Here Looking for hosting?.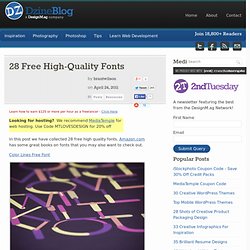 We recommend MediaTemple for web hosting. Use Code MTLOVESDESIGN for 20% off In this post we have collected 28 free high quality fonts. Amazon.com. 30 Free And High Quality Fonts - Web Design Blog – DesignM.ag. Get the FlatPix UI Kit for only $7 - Learn More or Buy Now In this post we have put together some free high quality fonts.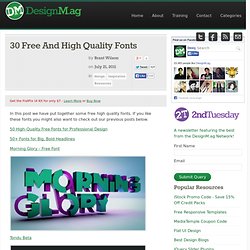 If you like these fonts you might also want to check out our previous posts below. 50 High-Quality Free Fonts for Professional Design. Friday Fresh Free Fonts #93. Fontes) 50 Incredible Fonts for Professional Web & Print Design - Noupe Design Blog.
---