Light and sun
The Physics of Light: What Is Light?
Why is sunlight so hot while the tube light light's hardly warm
Kinetic energy? No. Not even close. Light is a form of electromagnetic radiation. The warmth it produces is not the result of kinetic energy, but the result of the radiation depositing energy into physical particles it hits, causing their electrons to move into higher energy states. The excitation causes heat.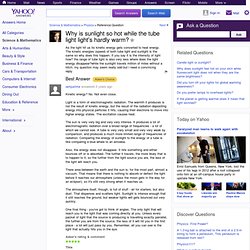 Sunlight is a portion of the electromagnetic radiation given off by the Sun, in particular infrared, visible, and ultraviolet light. On Earth, sunlight is filtered through the Earth's atmosphere, and is obvious as daylight when the Sun is above the horizon. When the direct solar radiation is not blocked by clouds, it is experienced as sunshine, a combination of bright light and radiant heat. When it is blocked by the clouds or reflects off other objects, it is experienced as diffused light.
Sunlight