EARTH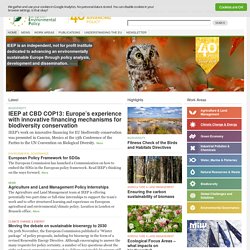 Climate Change & Energy Important decisions on future EU energy and climate policy ahead Existing targets relating to renewable energy and energy efficiency appear at risk in Europe's future energy and climate package. /More Biodiversity Europe's role in feeding the world in 2050 IEEP presents views on how Europe should respond to the increased demands on our food and agriculture systems arising from global population growth, changing diets, and competing demands on agricultural land. /More Climate Change & Energy Ministers place biofuels in a policy vacuum Energy Ministers today failed to agree reforms to the EU laws that promote the use of biofuels for transport. Current EU legislation is flawed and unfit for the purpose of delivering verifiable greenhouse gas emission reductions from the transport sector. /More Climate Change & Energy Time to decide – What's at stake as European energy ministers vote on biofuels?
IEEP - Institute for European Environmental Policy - Home
Home | Environmental Research Foundation
Interviewed by Doug Gavel on May 1, 2008 Controlling risks, or harms, is a central challenge for government regulators charged with the task of reducing societal ills and preventing bad things from happening. Understanding and unraveling the chain of components that comprise risk is the focus of Malcolm Sparrow's current research. Sparrow is professor of the practice of public management and author of "The Character of Harms: Operational Challenges in Control." Q: In your research you advocate the systematic disaggregating of broad generalities of risk into specific well-defined problems so that smaller-scale specific interventions can be attempted. Please elaborate.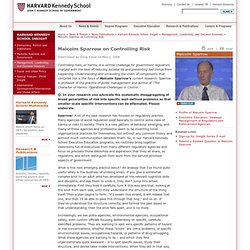 Malcolm Sparrow on Controlling Risk
Managing Regulation, Enforcement and Compliance