UX
Applications of usability principles on a social network | creative briefing. In October 2008 I joined a great group of guys over at Daily Challenge to lend some creative firepower to an already blazing group of talented young individuals.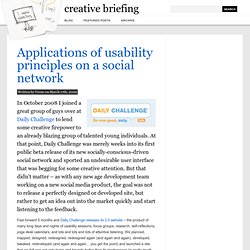 At that point, Daily Challenge was merely weeks into its first public beta release of its new socially-conscious-driven social network and sported an undesirable user interface that was begging for some creative attention. But that didn't matter – as with any new age development team working on a new social media product, the goal was not to release a perfectly designed or developed site, but rather to get an idea out into the market quickly and start listening to the feedback. So you wanna be a user experience designer — Step 1: Resources. Pretty much every single day I get a tweet, email, or in person request for information on how to get started in the field of user experience.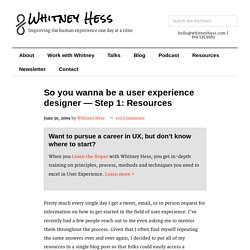 I've recently had a few people reach out to me even asking me to mentor them throughout the process. Given that I often find myself repeating the same answers over and over again, I decided to put all of my resources in a single blog post so that folks could easily access a consolidated version of my advice. Interface Element Blog. When I was a teenager, I always felt like my design heroes had some kind of special sixth sense.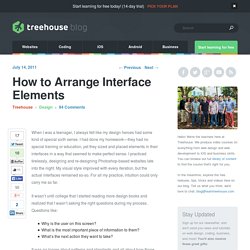 I had done my homework—they had no special training or education, yet they sized and placed elements in their interfaces in a way that seemed to make perfect sense. I practiced tirelessly, designing and re-designing Photoshop-based websites late into the night. My visual style improved with every iteration, but the actual interfaces remained so-so. For all my practice, intuition could only carry me so far.
---