Dados internet
JPMorgan. Enterprises Should Implement Change, Not Applications. Posted on behalf of contributing author, management consultant and speaker Dave Gardner.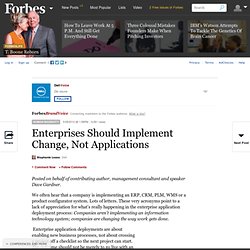 We often hear that a company is implementing an ERP, CRM, PLM, WMS or a product configurator system. Lots of letters. These very acronyms point to a lack of appreciation for what's really happening in the enterprise application deployment process: Companies aren't implementing an information technology system; companies are changing the way work gets done. Enterprise application deployments are about enabling new business processes, not about crossing a project off a checklist so the next project can start. "Os investidores falavam que estávamos loucos", diz fundador da Airbnb. Não foram só os investidores que duvidaram da sanidade de Brian Chesky.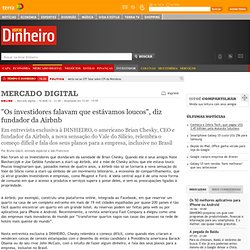 Quando ele e seus amigos Nate Blecharczyk e Joe Gebbia fundaram a start-up Airbnb, até a mãe de Chesky achou que ele estava louco. Poucos imaginariam que, passados menos de quatro anos, a Airbnb não só se tornaria a nova sensação do Vale do Silício como a start-up símbolo de um movimento bilionário, a economia do compartilhamento, que já atrai grandes investidores e empresas, como Peugeot e Ford.
A ideia central aqui é de uma nova forma de consumo em que o acesso a produtos e serviços supera a posse deles, e sem as preocupações ligadas à propriedade. A Airbnb, por exemplo, construiu uma plataforma online, integrada ao Facebook, em que reservar um quarto na casa de um completo estranho em mais de 19 mil cidades espalhadas por quase 200 países é tão fácil quanto encontrar um quarto em um grande hotel. As reservas podem ser feitas pela web ou por aplicativos para iPhone e Android.
Google Signs Deal With Paramount, Adds 500 Movies To The Play Store, Many Of Them Actually Good. In case you were wondering if a rebrand was the only thing Google was doing to set itself up as a content provider, rest easy.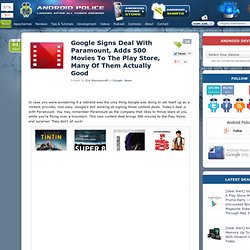 Google's still working at signing those content deals. Today's deal is with Paramount. You may remember Paramount as the company that likes to throw stars at you while you're flying over a mountain. This new content deal brings 500 movies to the Play Store, and surprise! Cloud Could Cut $12 Billion from US Government Annual Deficit: Study. Mac Malware Outbreak Is Bigger than 'Conficker' An estimated 600,000 or more Macs are currently compromised and part of a massive botnet thanks to the Flashback Trojan horse.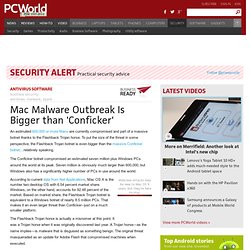 To put the size of the threat in some perspective, the Flashback Trojan botnet is even bigger than the massive Conficker botnet…relatively speaking. The Conficker botnet compromised an estimated seven million plus Windows PCs around the world at its peak. Seven million is obviously much larger than 600,000, but Windows also has a significantly higher number of PCs in use around the world. According to current data from Net Applications, Mac OS X is the number two desktop OS with 6.54 percent market share. One-third of O2 staff "more productive" working from home. An experiment conducted by O2 has found that 88 percent of its staff are just as productive working remotely, whilst one-third claimed that they actually got more work done when they aren't in the office.
Some 3,000 employees based at O2's head office in Slough took part in a pilot that required them to work from home for one day, as practice for problems that may occur during the summer's Olympic Games. In preparation, O2 upgraded its virtual private network (VPN) as well as its network infrastructure, which saw a 155 percent increase in users on the day, and a 110 percent increase in VPN data sent across the network. The company automatically redirected traffic between servers in the north and south of its offices to ensure that the load was spread efficiently and that there were no local bottlenecks. O2 also accelerated the deployment of a new Microsoft Lync system ahead of the pilot, an enterprise collaboration tool.
Chrome já bate o Internet Explorer no Brasil, diz Navegg - Tecnologia. Reprodução O Chrome, do Google, é mais usado no Brasil, na Índia e na Rússia São Paulo — Dados da empresa de publicidade na web Navegg confirmam que o Chrome, do Google, já é o navegador mais usado no Brasil, superando o Internet Explorer, da Microsoft.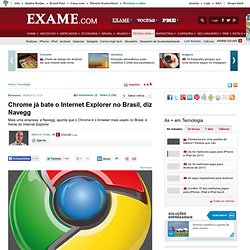 A liderança do Chrome no país já havia sido apontada antes por outra empresa, a StatCounter. A Navegg – do grupo que também possui o comparador de preços Buscapé – diz que monitora a navegação de 75 milhões de usuários em 5 mil sites da web. Em março, o Chrome foi responsável por 35% dos acessos a esses sites, contra 33% do Internet Explorer. Silvio Meira na UTFPR. TEDxSP 2009 - Silvio Meira. INFOGRAPHIC: A Day In The Internet.
---