Graphic design tips
Improve your photography with classical art. Adjusting your photographs to get the color 'just right' can be a chore.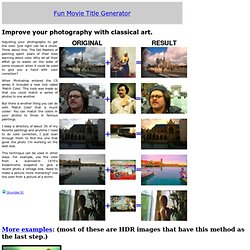 Think about this: The Old Masters of painting spent years of their lives learning about color. Why let all their effort go to waste on the walls of some museum when it could be used to give you a hand with color correction? When Photoshop entered the CS series it included a new tool called 'Match Color.' This tools was made so that you could match a series of photos to one another.
Adobe TV
jQuery MagicLine Navigation. These "sliding" style navigation bars have been around a while, I just thought I'd take a crack at doing it myself as the opportunity came up recently.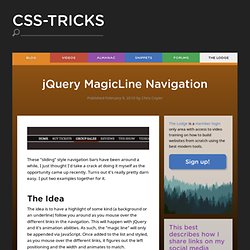 Turns out it's really pretty darn easy. I put two examples together for it. The Idea. 45 Fresh Useful JavaScript and jQuery Techniques and Tools - Sma. Advertisement Yes, this is another round-up of fresh and useful Javascript techniques, tools and resources.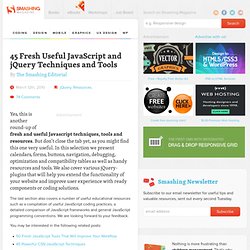 But don't close the tab yet, as you might find this one very useful. Fresh Set of CSS-only Menus. Here is a set of fresh CSS-only menus for your website – no images, no JavaScript.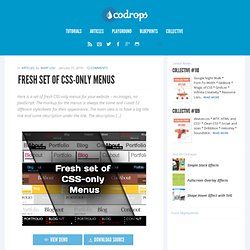 The markup for the menus is always the same and I used 12 different stylesheets for their appearance. The main idea is to have a big title link and some description under the link. The description […] View demoDownload source Here is a set of fresh CSS-only menus for your website – no images, no JavaScript. jQuery for Absolute Beginners: The Complete Series. jQuery Background Test. Using jQuery for Background Image Animations.
After reading Dave Shea's article on CSS Sprites using jQuery to produce animation effects, I felt like playing around with things to see what could be done but accomplish it with a simpler HTML structure (no need for adding superfluous tags) and simpler code, too.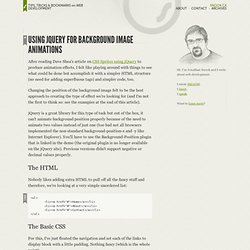 Changing the position of the background image felt to be the best approach to creating the type of effect we're looking for (and I'm not the first to think so: see the examples at the end of this article). jQuery is a great library for this type of task but out of the box, it can't animate background position properly because of the need to animate two values instead of just one (too bad not all browsers implemented the non-standard background-position-x and -y like Internet Explorer).
---