Graphic Design Resources
Community Translation Your transcript request has been submitted. Adobe TV does its best to accommodate transcript requests. It can take a few weeks for the transcript to become available in the Community Translation Project, so keep checking back. Join the Community Translation Project Thanks for your interest in translating this episode!
CSInsider | Design - Creating Interactive Documents
Learn how to earn $125 or more per hour as a freelancer - Click Here There are plenty of highly-useful resources and web apps that have been created with freelance designers and developers in mind. But for many freelancers, especially those who are just getting started, pricing can be an issue . In this post we'll feature 29 resources that are not only very useful fore freelancers, but also extremely affordable . Many of them are free or offer a free plan, and the others are priced below the competition.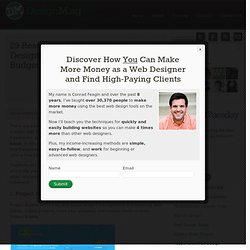 HTML ISO-8859-1 Reference
Modern browsers supports several character-sets: ISO-8859-1 is the default character set in most browsers. The first 128 characters of ISO-8859-1 is the original ASCII character-set (the numbers from 0-9, the uppercase and lowercase English alphabet, and some special characters).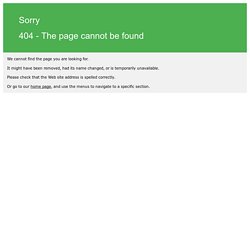 PrestoVisual
PrestoVisual
18 Beautiful and High Quality Fonts for Your Designs | Web Desig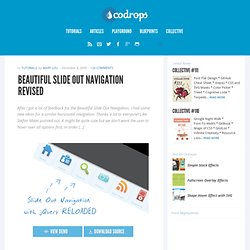 After I got a lot of feedback for the Beautiful Slide Out Navigation, I had some new ideas for a similar horizontal navigation. Thanks a lot to everyone! Like Stefan Matei pointed out, it might be quite cute but we don't want the user to hover over all options first, in order ... View demo Download source After I got a lot of feedback for the Beautiful Slide Out Navigation , I had some new ideas for a similar horizontal navigation.
So normally I make my weekend post on Saturday, but this freebie took a bit longer than expected to wrap up. But here it is! It is 230 free vector marker brushes. The pack includes all shapes, sizes and colors. I tried to include as many colors as possible, but elected for mostly toned down colors, so that they could have a wider range of uses.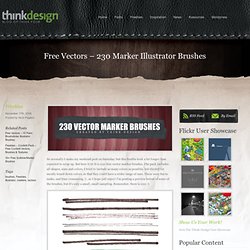 Think Design Blog - Free Vectors - 230 Marker Illustrator Brushe
15 Amazing jQuery Image Gallery/photo gallery/Slideshow Plugins
Paper Browser on the Behance Network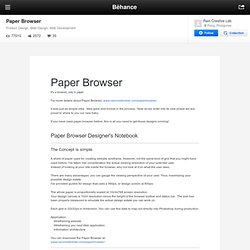 The Concept is simple. A sheet of paper used for creating website wireframe. However, not the same kind of grid that you might have used before.
Sketching and wireframing are a specialized style of drawing, used for fleshing out preliminary complex ideas, group brain-storming, a lo-fi method for evaluating interaction concepts, and as a way of roughly perfecting a design technique. Sketch and wireframe paper is essentially drawing paper that is designed specifically for this purpose. You could use it for web page design, web app design, architectural or structural design, graphic design, movie direction, animation… basically any type of design that needs a physical creative outlet or group collaboration. Not all sketch and wireframe sheets are universal, most are specialized for a particular medium, such as storyboards and specialized grid paper (axonometric perspective templates). Below you will find a concise collection of ready to print sketching, wireframing and note-taking templates .
Free Printable Sketching, Wireframing and Note-Taking PDF Templa
I find it so important as a designer to have an awesome library of fonts at your fingertips. Choosing the correct one can make or break a design. The resources are out there to find some great free fonts, but sometimes the search can be a bit overwhelming.
10 Awesome Free Sans Serif Fonts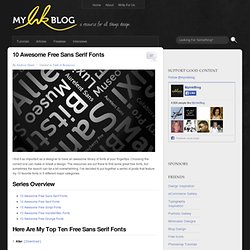 Here you will find the 100 most interesting icon related tutorials I've found on the web. If you are a icon enthusiast, a GUI designer, or a plain graphics freak, won't have to type in your browser anything else than Iconshock. Enjoy this list, and don't forget to check out our own tutorials, where we show users the process behind our unique brand styles. You can access our tutorials via the link "Iconshock Tutorials" you can find at the right. 1. Create a cool Yellow helmet icon – PS 2.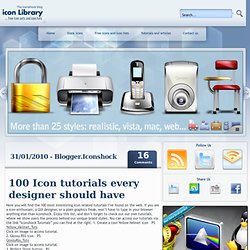 100 Icon tutorials every designer should have | Icon Library