Musique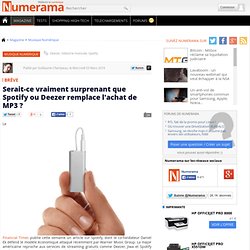 Le Financial Times publie cette semaine un article sur Spotify, dont le co-fondateur Daniel Ek défend le modèle économique attaqué récemment par Warner Music Group. La major américaine reproche aux services de streaming gratuits comme Deezer, Jiwa et Spotify qu'ils ont pourtant autorisé de "cannibaliser" le marché de la vente de musique en ligne. Musically indique à ce propos qu'une étude du cabinet NPD démontre que les utilisateurs de services de musique en ligne gratuits achètent moins de musique en ligne. Spotify s'en défend. "Nous sommes très prometteurs. Nous sommes déjà l'un des plus gros comptes de beaucoup de maisons de disques", assure ainsi Daniel Ek qui se dit "convaincu" que Spotify "prend des pirates et les fait bouger vers un service légal".
Serait-ce vraiment surprenant que Spotify ou Deezer remplace l'achat de MP3 ?
Hécatombe
PULP FUSION Vol. 1- 9 - Rapidshare, Hotfile, Megaupload torrent direct download
Résultats de recherche » mc solaar
Après « bouge de là », « victime de la mode » et « Caroline » voici un autre article dédié à MC Solaar, le sample de « Qui sème le vent récolte le tempo » (1991), emprunté à « One cylinder » (1967) de Lou Donaldson. Les extraits : • « Qui sème le vent récolte le tempo » de MC Solaar (1991) • « One cylinder » […] Après « Bouge de là » et « Victime de la mode« , voici la présentations d'un troisième titre signé Mc Solaar. « Caroline » (1991) est construit sur un sample de « Save the world » (1974) d'un groupe soul & funk de Chicago : Southside Movement. Le sample en trois étapes : • « Save the world » de Southside Movement (1974) • […]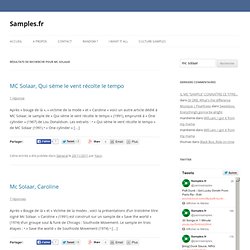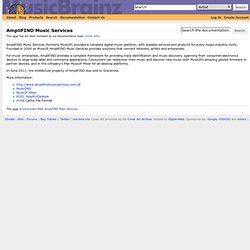 AmpliFIND Music Services (formerly MusicIP) provides a complete digital-music platform, with scalable services and products for every major industry niche. Founded in 2000 as MusicIP, AmpliFIND Music Services provides solutions that connect listeners, artists and enterprises. For music enterprises, AmpliFIND provides a complete framework for providing track identification and music discovery, spanning from consumer-electronics devices to large-scale label and commerce applications. Consumers can rediscover their music and discover new music with MusicIP's amazing playlist firmware in partner devices, and in the company's free MusicIP Mixer for all desktop platforms. In June 2011, the intellectual property of AmpliFIND was sold to Gracenote.
MusicIP
Music IP Mixer, ou comment enrichir son expérience musicale
Pour les vrais accros à la musique, qui la laissent s'immicer au quotidien dans leur existence, les différents systèmes d'écoute proposés aujourd'hui ont encore beaucoup de progrès à faire. Sur un baladeur gorgé de plusieurs milliers de titres, le principe de la lecture alléatoire (ou shuffle), par exemple, atteint vite ses limites. Et créer soi-même ses propres playlists devient à la longue fastidieux.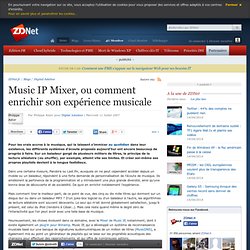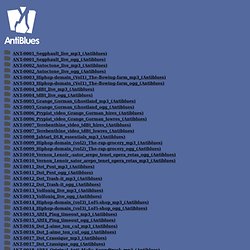 Antiblues
ANT-0001_Segphault_live_mp3_(Antiblues) ANT-0001_Segphault_live_ogg_(Antiblues) ANT-0002_Autoctone_live_mp3_(Antiblues) ANT-0002_Autoctone_live_ogg_(Antiblues) ANT-0003_Hiphop-domain_(Vol1)_The-flowing-farm_mp3_(Antiblues)