Career
http://www.linkedin.com/nhome/?goback=%2Eail%2Emml_inbox_invitat
Financial jobs search engine, financial job search
Hedge Funds Jobs Europe
This sector contains all our jobs in hedge funds. Hedge fund managers have traditionally been the outsiders of the financial services world. Most are highly successful former traders or fund managers who've decided to go it alone with a hedge fund career.
Public Appointments - Vacancy listing
This section contains all our quantitative analytics jobs related to the financial services sector.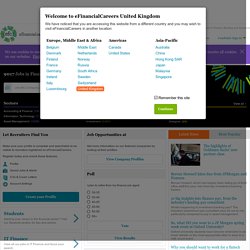 Europe Quantitative Analytics recruitment. Europe financial careers: eFinancialCareers.co.uk
My Jobs
Appointments Commission - Search for vacancies