Cloud Computing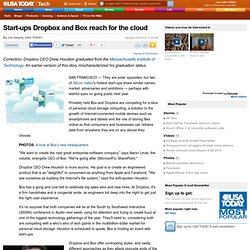 Correction: Dropbox CEO Drew Houston graduated from the Massachusetts Institute of Technology . An earlier version of this story mischaracterized his graduation status.
Start-ups Dropbox and Box reach for the cloud
The amount of data in our world has been exploding, and analyzing large data sets—so-called big data—will become a key basis of competition, underpinning new waves of productivity growth, innovation, and consumer surplus, according to research by MGI and McKinsey's Business Technology Office. Leaders in every sector will have to grapple with the implications of big data, not just a few data-oriented managers.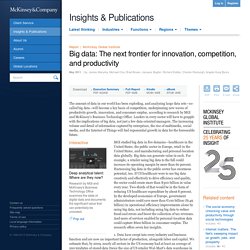 Sponsors Cloud Mafia, Founded by Loggly, DotCloud and NewRelic
PocketCloud Hits Emerging Mobile Cloud Market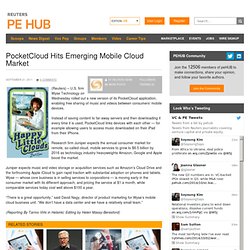 (Reuters) – U.S. firm Wyse Technology on Wednesday rolled out a new version of its PocketCloud application, enabling free sharing of music and videos between consumers' mobile devices.
Enterprise cloud storage startup Zetta has closed on $9 million in a third round from investors including Foundation Capital and Sigma Partners .
Zetta Seals $9M For Enterprise Cloud Storage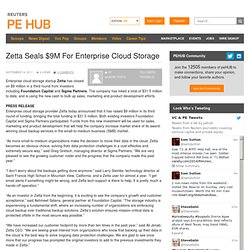 Wozniak-backed startup challenges storage giants
Cisco To Acquire Cloud Startup NewScale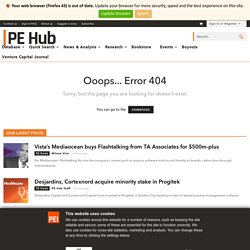 Cisco Systems said Tuesday it will acquire privately-held newScale Inc. , developer of a service catalog and portal for IT organizations to select cloud services.
Management Team
Cloudy with a chance of storage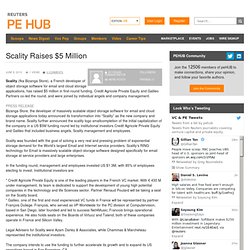 pehub
Scality (fka Bizanga Store), a French developer of object storage software for email and cloud storage applications, has raised $5 million in first-round funding. Credit Agricole Private Equity and Galileo Partners co-led the round, and were joined by individual angels and company management.
Cloud company Cirtas Emerges from Stealth with $10M from NEA, Lightspeed and Amazon
Further evidence that the cloud space is heating up comes this morning from Cirtas Systems. The San Jose, Calif.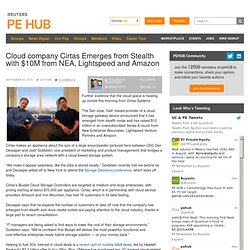 INTERVIEW-Start-up sector seen thriving on tech advances
Survey: Cloud computing confusion decreasing - 11/23/2010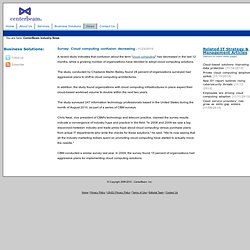 Inc News: Survey: Cloud computing confusion decreasing
Panzura scores $12M to make cloud apps better, faster, more productive