Cloud Computing
Start-ups Dropbox and Box reach for the cloud. Correction: Dropbox CEO Drew Houston graduated from the Massachusetts Institute of Technology.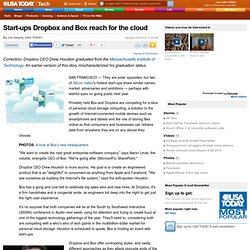 An earlier version of this story mischaracterized his graduation status. SAN FRANCISCO — They are polar opposites, but two of Silicon Valley's hottest start-ups share similar names, market, adversaries and ambitions — perhaps with wishful eyes on going public next year. Privately held Box and Dropbox are competing for a slice of personal cloud storage computing, a solution to the growth of Internet-connected mobile devices such as smartphones and tablets and the rise of storing files online so that consumers and businesses can retrieve data from anywhere they are on any device they choose. PHOTOS: A look at Box's new headquarters "We want to create the next great enterprise-software company," says Aaron Levie, the voluble, energetic CEO of Box. Company - Report - Big data: The next frontier for innovation, competition, and productivity - May 2011.
The amount of data in our world has been exploding, and analyzing large data sets—so-called big data—will become a key basis of competition, underpinning new waves of productivity growth, innovation, and consumer surplus, according to research by MGI and McKinsey's Business Technology Office.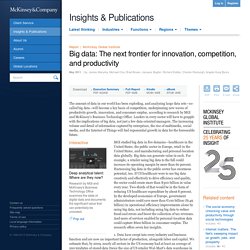 Leaders in every sector will have to grapple with the implications of big data, not just a few data-oriented managers. The increasing volume and detail of information captured by enterprises, the rise of multimedia, social media, and the Internet of Things will fuel exponential growth in data for the foreseeable future. MGI studied big data in five domains—healthcare in the United States, the public sector in Europe, retail in the United States, and manufacturing and personal-location data globally. Big data can generate value in each. For example, a retailer using big data to the full could increase its operating margin by more than 60 percent. Sponsors Cloud Mafia, Founded by Loggly, DotCloud and NewRelic. PocketCloud Hits Emerging Mobile Cloud Market. (Reuters) – U.S. firm Wyse Technology on Wednesday rolled out a new version of its PocketCloud application, enabling free sharing of music and videos between consumers' mobile devices.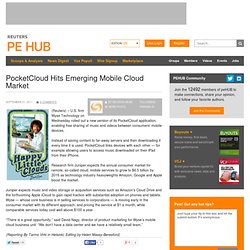 Instead of saving content to far-away servers and then downloading it every time it is used, PocketCloud links devices with each other — for example allowing users to access music downloaded on their iPad from their iPhone. Research firm Juniper expects the annual consumer market for remote, so-called cloud, mobile services to grow to $6.5 billion by 2016 as technology industry heavyweights Amazon, Google and Apple boost the market. Zetta Seals $9M For Enterprise Cloud Storage. Enterprise cloud storage startup Zetta has closed on $9 million in a third round from investors including Foundation Capital and Sigma Partners.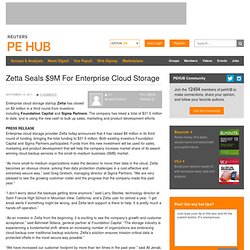 The company has inked a total of $31.5 million to date, and is using the new cash to bulk up sales, marketing and product development efforts. PRESS RELEASE Enterprise cloud storage provider Zetta today announced that it has raised $9 million in its third round of funding, bringing the total funding to $31.5 million. Both existing investors Foundation Capital and Sigma Partners participated. Funds from this new investment will be used for sales, marketing and product development that will help the company increase market share of its award-winning cloud backup services in the small-to-medium business (SMB) market. Wozniak-backed startup challenges storage giants. Cisco To Acquire Cloud Startup NewScale. Cisco Systems said Tuesday it will acquire privately-held newScale Inc., developer of a service catalog and portal for IT organizations to select cloud services.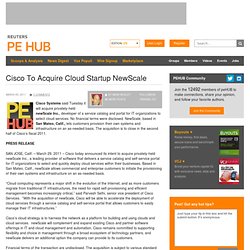 No financial terms were disclosed. NewScale, based in San Mateo, Calif., lets customers provision their own systems and infrastructure on an as-needed basis. Management Team. Pehub. Scality (fka Bizanga Store), a French developer of object storage software for email and cloud storage applications, has raised $5 million in first-round funding.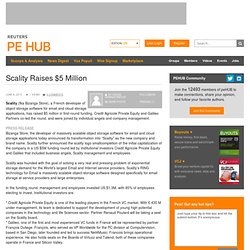 Credit Agricole Private Equity and Galileo Partners co-led the round, and were joined by individual angels and company management. PRESS RELEASE Bizanga Store, the developer of massively scalable object storage software for email and cloud storage applications today announced its transformation into "Scality" as the new company and brand name. Scality further announced the scality logo smallcompletion of the initial capitalization of the company in a US $5M funding round led by institutional investors Credit Agricole Private Equity and Galileo that included business angels, Scality management and employees.
Scality was founded with the goal of solving a very real and pressing problem of exponential storage demand for the World's largest Email and Internet service providers.
Cloud company Cirtas Emerges from Stealth with $10M from NEA, Lightspeed and Amazon. Further evidence that the cloud space is heating up comes this morning from Cirtas Systems.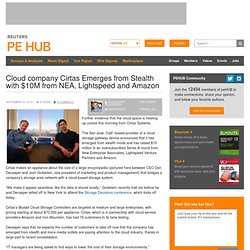 The San Jose, Calif. -based provider of a cloud storage gateway device announced that it has emerged from stealth mode and has raised $10 million in an oversubscribed Series A round from New Enterprise Associates, Lightspeed Venture Partners and Amazon. Cirtas makes an appliance about the size of a large encyclopedia (pictured here between CEO Dan Decasper and Josh Goldstein, vice president of marketing and product management) that bridges a company's storage area network with a cloud-based storage system. "We make it appear seamless, like the data is stored locally," Goldstein recently told me before he and Decasper jetted off to New York to attend the Storage Decisions conference, which kicks off today. INTERVIEW-Start-up sector seen thriving on tech advances. Inc News: Survey: Cloud computing confusion decreasing.
Survey: Cloud computing confusion decreasing - 11/23/2010 A recent study indicates that confusion about the term "cloud computing" has decreased in the last 12 months, while a growing number of organizations have decided to adopt cloud computing solutions.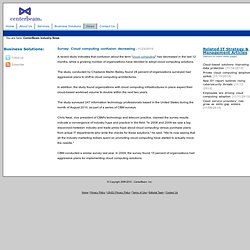 The study, conducted by Chadwick Martin Bailey, found 28 percent of organizations surveyed had aggressive plans to shift to cloud computing architectures. In addition, the study found organizations with cloud computing infrastructures in place expect their cloud-based workload volume to double within the next two years. Panzura scores $12M to make cloud apps better, faster, more productive.
---