Blogs of Interest
Tom Foremski: IMHO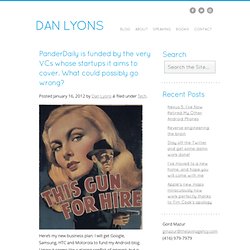 Here's my new business plan: I will get Google, Samsung, HTC and Motorola to fund my Android blog. I know it seems like a glaring conflict of interest, but is it really? I mean, really?
Real Dan Lyons Web Site » Blog Archive » PanderDaily is funded by the very VCs whose startups it aims to cover. What could possibly go wrong? » Real Dan Lyons Web Site
Richard Branson on Managing Your Business, Employees and More
Why I Go To CES
Every year my partners at Foundry Group and I go to CES. We aren't boondoggle guys – our expeditions together are limited to a quarterly offsite, often at Jason's house (10 minutes from our office), and one trip a year with spouses and significant others somewhere. So CES has been a nice tradition for us where we get to travel together for a few days, hang out in nerd and gadget heaven, and spend time with a bunch of entrepreneurs we work with who are here.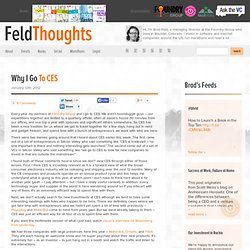 For many years I worked in palliative care. My patients were those who had gone home to die. Some incredibly special times were shared.
Top Five Regrets of The Dying « smart=sexy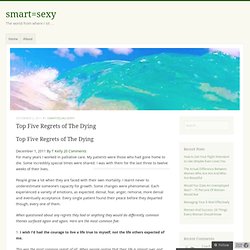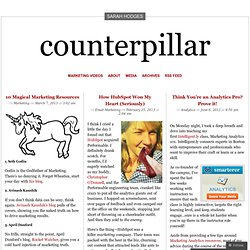 I think I cried a little the day I found out that HubSpot acquired Performable. I definitely drank scotch. For months, I'd eagerly watched as my buddy, Christopher O'Donnell, and the Performable engineering team, cranked like crazy to put all the analytics giants out of business.
counterpillar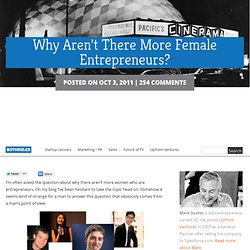 Why Aren't There More Female Entrepreneurs?
I'm often asked the question about why there aren't more women who are entrepreneurs. On my blog I've been hesitant to take the topic head on. Somehow it seems kind of strange for a man to answer this question that obviously comes from a man's point of view. But last week I noticed a blog post by a woman, Tara Tiger Brown, that asked the question, "Why Aren't More Women Commenting on VC Blog Posts?" [it's short, you should read it] .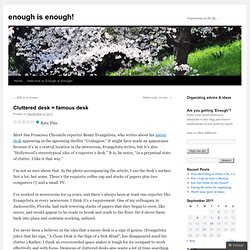 Meet San Francisco Chronicle reporter Benny Evangelista, who writes about his messy desk appearing in the upcoming thriller "Contagion." It might have made an appearance because it's in a central location in the newsroom, Evangelista writes, but it's also "Hollywood's stereotypical idea of a reporter's desk." It is, he notes, "in a perpetual state of clutter. I like it that way."
Cluttered desk = famous desk | enough is enough!
Journalism and the social media revolution
Jolie O'Dell of Mashable at "Journalism and Social Media." Last night I attended a nice gathering at the San Jose Mercury News, organized by Social Media Club Silicon Valley, called "Journalism and Social Media." The organizers put together a powerhouse panel made up of: • Kym McNicholas, anchor/reporter, Forbes Video Network. • Jolie O'Dell, reporter and editor, Mashable • Chris O'Brien, business columnist, San Jose Mercury News • Julie Watts, award-winning consumer reporter/anchor, CBS5 • Brian Shields, online news manager, KRON 4 I got a few nice photos in this Flickr set, though in general did a poor job with the settings on my new Canon 5D. (And a disclaimer: I'm friends with several of the panelists.)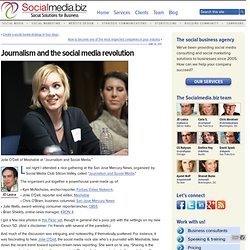 Misadventures in VC Funding: The $24 Million Moz Almost Raised
Dreamed. 7 Mar Dreamed about you last night. We were with the usual group of friends and you were the only one who would perform this stupid dance with me. I asked Megan to take a video of it, but when I watched the play back it was warped and altered and I didn't get to keep it.
Lauren Barnard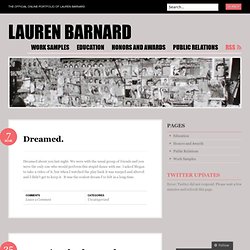 Lately, entrepreneurs reading the VC press have been seeing investment announcements that leave their mouths agape. Press releases featuring giddy investors justifying nosebleed valuations have sent them scrambling to the lucky company's website to figure out what product, team, and idea could possibly be worth that much. All this leads them to an overwhelming question: "WHY would anyone want to BUY that, much less finance it?"
When do VCs make mistakes? - Passionate Intensity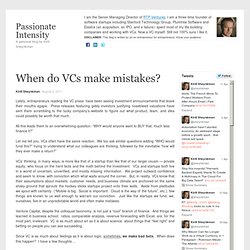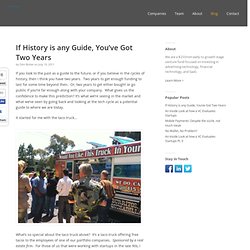 If History is any Guide, You've Got Two Years
If you look to the past as a guide to the future, or if you believe in the cycles of history, then I think you have two years. Two years to get enough funding to last for some time beyond then. Or, two years to get either bought or go public if you're far enough along with your company. What gives us the confidence to make this prediction?
It's hard to believe that Google+ is barely over one week old. Already, it is the most vetted new social media platform to be yet introduced and it also self-evident that G+, as insiders call it, has pushed its way into the very top tier of social networking. Way back, on July 1 or so, there were only two major social networks–Twitter and Facebook. Now there is a Big Three of social networks. In my view, this is disruption at its best.
How I'm Using Google+
An ode to independence from Facebook
Happy Independence Day! Continuing an age-old tradition, we patriotic Americans spent the weekend stuffing our faces with hot dogs, staring at firework explosions in the sky and spending a little quality time with family and friends, all to celebrate the day this country declared its independence. But, over the past week, I've been celebrating my own unique brand of independence: independence from Facebook. To understand what I'm talking about, you have to know a little back story, most importantly that I'm finally back on Facebook after having deactivated my account for a couple months.
David Spinks's CMX Summit did something rare yesterday. It gave us the usual community management tips and cheerleading, which are always appreciated…but it also gave us perspective. We learned from seasoned veterans and psychologists. We talked to people from every type of company and every size role.
Community Manager Says What? | Evan Hamilton on Community-building
Note to entrepreneurs: Your idea is not special | Entrepreneurial
– Brad Feld is a managing director at the Boulder, Colorado-based venture capital firm Foundry Group. He also co-founded TechStars and writes the popular blog, Feld Thoughts. The views expressed are his own.
Just a quick note to let you know that the blog reached another milestone today by passing 750,000 views! Thank you all SO MUCH for reading, commenting and sharing these posts. Your support is appreciated more than you know! :) If you ever have any questions you'd like answered or blog post suggestions, please don't hesitate to reach out!
@StacyZapar's Blog
Kate Scott
Harvey Gotliffe, Ph.D.: American Idle
Rebirth of the Wristwatch: Forget Tablets and Smartphones, I Want A Micro Computing Device Strapped to My Wrist
Mozilla Firefox
Super LP (www.superLP.com)
Uberdata: The Hidden Cost of Cabs
NYC's Top VC Fred Wilson Fails To Avoid Media Spotlight
Enterprise Infrastructure – What we are working on at Lightspeed in 2011
Who Has Time For This?
Disconnected in a Hyper-Connected World
Thyroid Cancer- "You Are Cured" | A Mama's Blog
Startup Boy
The Internet is forever |
13 hours to think
Do You Really Communicate, or Do You Just Tweet? | The Way of theMurr
Twitter PR chief unfollows journalist after unflattering article
anjelika
Mei Mei Fox » Home
David Rose on Enchanted Objects & Storification
Thoughts on breaking into VC
Startup Culture: Values vs. Vibe | ChrisMoody.com
Anatomy Of A Pirate
Will there ever be a shake-out in the Venture Capital industry?
A Wealth of Woman-Founded Startups, from a Twitter Shout-out
The Maverick Palate
Tami Smith - Tami Smith | Gallery
Almost Savvy
How much seed capital should you raise - bijansabet.com
5 Predictions for the Public Relations Industry in 2011