Sharing
Slideshare
Instant Screen Sharing | Screenleap. 4shared.com - partage et stockage gratuits de fichiers. 3 New & Superb Ways To Share Files Online. We'll take a look at some of the newer web-based storage and file-sharing sites that despite their simple looks, offer convenient drag-and-drop, as well as, shortened URLs and statistics (something that most desktop programs don't provide yet).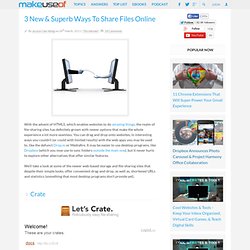 Crate With Crate, you get a beautiful and ad-free site where you can upload files of up to 50 MB by drag and dropping them onto the website and copy the shortened link to share with whomever. You can have up to 6 different crates or workspaces for a total of 200MB of storage space, which you can track if you sign up for a free account. Once signed in, you can see the number of views and downloads for your files. Though you can share an entire crate, you can't download it since you still have to click on each file to download it.
Sendoid: Finally, Sharing Big Files Isn't A Huge Pain. When it comes to files, we love to share.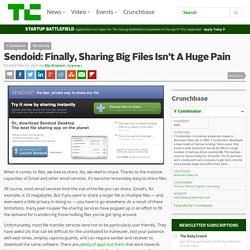 No, we need to share. Thanks to the massive capacities of Gmail and other email services, it's become remarkably easy to share files. We transfer - La meilleure façon d'envoyer des gros fichiers. BeamYourScreen: Desktop Sharing, Online Meetings and Web Conferences. Infinit - The easiest way to send files.
---