Photo | artists asia
stephanie jung
It's incredibly energizing to be in a big city, surrounded by crowds of people, flashing lights, and cars zipping past. It's a complete sensory overload! Things move quickly, though, and sometimes it can seem like you are caught in a big blur of commotion. In these Cityscapes, photographer Stephanie Jung has developed a way to prolong a single moment of this chaotic excitement, particularly along the streets of Japan.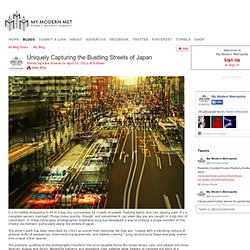 :: HENGKI KOENTJORO ::
Chinese Paintings Photography
Galerie de Hengki Koentjoro
:: HENGKI KOENTJORO ::
PORTFOLIO
Hiroshi Sugimoto
Galerie Priska Pasquer - Yutaka Takanashi
weng fen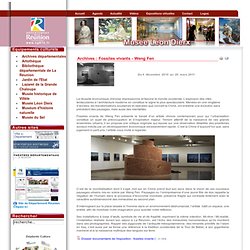 Fossiles vivants - Weng Fen | Expositions Léon Dierx | Expositions
La réussite économique chinoise impressionne et fascine le monde occidental. L'explosion des cités tentaculaires à l'architecture moderne en constitue le signe le plus spectaculaire. Menées en une vingtaine d'années, les transformations soudaines et radicales que connaît la Chine, ont entraîné une évolution sans précédent des paysages, mais aussi des mentalités. Fossiles vivants de Weng Fen présente le travail d'un artiste chinois contemporain pour qui l'urbanisation constitue un sujet de préoccupation et d'inspiration majeur.
陈曼 - 陈曼个人网站 - CHENMAN WEBSITE - 时尚摄影师: Home
][ ** La Galerie Maeght ** ][ CHEN Man - Présentation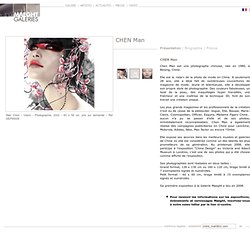 Chen Man est une photographe chinoise, née en 1980, à Beijing, Chine. Elle est la «star» de la photo de mode en Chine. A seulement 28 ans, elle a déjà fait de nombreuses couvertures de magazine de mode. Jeune et talentueuse, elle a développé son propre style de photographie. Des couleurs fabuleuses, un lissé de la peau, des maquillages hyper travaillés, une fraîcheur et une maîtrise de la technique 3D, font de son travail une création unique. Les plus grands magazines et les professionnels de la création n'ont eu de cesse de la plébisciter.
Ujin Lee
Yurikamome Rail Transit
Die Fotografin AppuruPai versteht es hier mit ihrer Kamera mittels Langzeitbelichtung Licht und Bewegung so einzufangen, dass eine Symbiose zwischen Raum und Zeit entsteht. Die Bilder ihrer aktuellen Serie 'High Speed Photos of Yurikamome Rail Transit' ziehen den Betrachter in den Sog endloser Wurmlöcher Tokyos. Die Yurikamome-Linie ist die erste vollautomatisierte Bahnstrecke in Tokyo, die die künstliche Insel Odaiba mit dem Festland verbindet. Auf diesem Weg passiert sie die Rainbow Bridge, die auf den Bildern zu sehen ist. Yurikamome bedeutet im übrigen 'Lachmöwe', die der Präfekturvogel von Tokyo ist.