Jan 17
Wikipedia founder defends SOPA blackout; Twitter has other protest plans in the works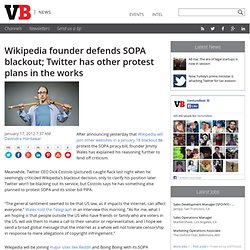 After announcing yesterday that Wikipedia will join other websites in a January 18 blackout to protest the SOPA piracy bill, founder Jimmy Wales has explained his reasoning further to fend off criticism. Meanwhile, Twitter CEO Dick Costolo (pictured) caught flack last night when he seemingly criticized Wikipedia's blackout decision, only to clarify his position later.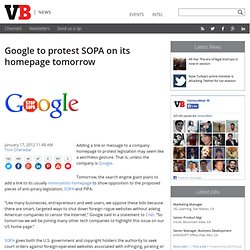 Google to protest SOPA on its homepage tomorrow
Adding a link or message to a company homepage to protest legislation may seem like a worthless gesture. That is, unless the company is Google.
SOPA initiative/Take action
This page is for taking action against SOPA/PIPA and for background information.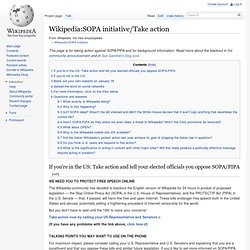 English Wikipedia anti-SOPA blackout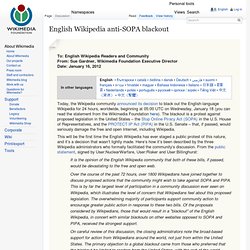 English Wikipedia anti-SOPA blackout
Obama Administration Responds to We the People Petitions on SOPA and Online Piracy
Etats-Unis : la Maison Blanche et un jour noir contre « Sopa »