Jan 17
Wikipedia founder defends SOPA blackout; Twitter has other protest plans in the works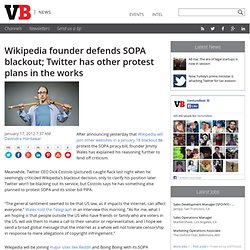 After announcing yesterday that Wikipedia will join other websites in a January 18 blackout to protest the SOPA piracy bill, founder Jimmy Wales has explained his reasoning further to fend off criticism. Meanwhile, Twitter CEO Dick Costolo (pictured) caught flack last night when he seemingly criticized Wikipedia's blackout decision, only to clarify his position later. Twitter won't be blacking out its service, but Costolo says he has something else planned to protest SOPA and its sister bill PIPA. "The general sentiment seemed to be that US law, as it impacts the internet, can affect everyone," Wales told the Telegraph in an interview this morning. "As for me, what I am hoping is that people outside the US who have friends or family who are voters in the US, will ask them to make a call to their senator or representative, and I hope we send a broad global message that the internet as a whole will not tolerate censorship in response to mere allegations of copyright infringement."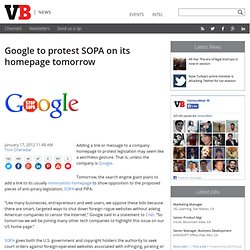 Google to protest SOPA on its homepage tomorrow
Adding a link or message to a company homepage to protest legislation may seem like a worthless gesture. That is, unless the company is Google. Tomorrow, the search engine giant plans to add a link to its usually minimalistic homepage to show opposition to the proposed pieces of anti-piracy legislation, SOPA and PIPA. "Like many businesses, entrepreneurs and web users, we oppose these bills because there are smart, targeted ways to shut down foreign rogue websites without asking American companies to censor the Internet," Google said in a statement to Cnet. "So tomorrow we will be joining many other tech companies to highlight this issue on our US home page." SOPA gives both the U.S. government and copyright holders the authority to seek court orders against foreign-operated websites associated with infringing, pirating or counterfeiting intellectual property.
SOPA initiative/Take action
This page is for taking action against SOPA/PIPA and for background information. Read more about the blackout in the community announcement and in Sue Gardner's blog post. If you're in the US: Take action and tell your elected officials you oppose SOPA/PIPA[edit] The Wikipedia community has decided to blackout the English version of Wikipedia for 24 hours in protest of proposed legislation — the Stop Online Piracy Act (SOPA) in the U.S. House of Representatives, and the PROTECTIP Act (PIPA) in the U.S.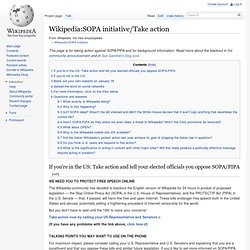 English Wikipedia anti-SOPA blackout From the Wikimedia Foundation Jump to: navigation, search To: English Wikipedia Readers and Community From: Sue Gardner, Wikimedia Foundation Executive Director Date: January 16, 2012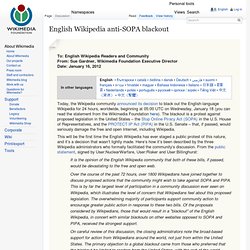 English Wikipedia anti-SOPA blackout
Obama Administration Responds to We the People Petitions on SOPA and Online Piracy
Etats-Unis : la Maison Blanche et un jour noir contre « Sopa »