Html5
Export to HTML5 from Flash Professional | Creative Layer
What would you do with Adobe Creative Cloud , an empty studio space, and 24 hours? The possibilities are endless, but Jessica Walsh and Stefan Sagmeister of S agmeister & Walsh have decided to reinterpret our Adobe MAX logo in a 24-hour creative session that will be live streamed, which they're endearingly calling "play" (sounds like hard-work to us). The 24-hour creative session will be live streamed on a Times Square billboard in New York City and our Adobe Creative Cloud Create Now Facebook app . Be sure to tune in, the live stream starts Thursday, March 28, 2013 at 9:45 a.m.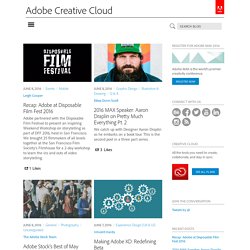 Export to HTML5 from Flash Professional by agnesdelmotte Mar 4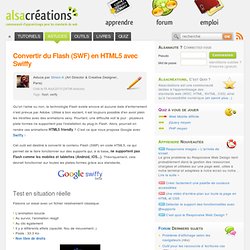 Qu'on l'aime ou non, la technologie Flash existe encore et aucune date d'enterrement n'est prévue par Adobe. Utilisé à bon escient, il est toujours possible d'en avoir plein les mirettes avec des animations sexy . Pourtant, une difficulté voit le jour : plusieurs plate-formes ne supportent pas l'installation du plug-in Flash.
Convertir du Flash (SWF) en HTML5 avec Swiffy
JavaScript and HTML5 Forms Testing for Support If you intended to write JavaScript to mimic the functionality of HTML5 forms, you may want to first test the current browsers capability and write the JavaScript as a fallback. On the right is how you might test for attribute support.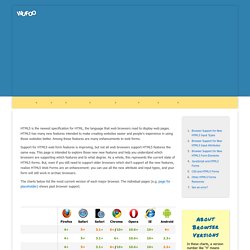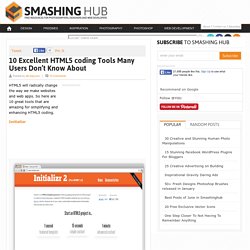 HTML5 will radically change the way we make websites and web apps. So here are 10 great tools that are amazing for simplifying and enhancing HTML5 coding. Initializr If you are just going to start with a HTML5-based website, then visit Initializr to get started. It will create a neat customizable template based on Boilerplate with all that you require to begin. Advertisement
10 Excellent HTML5 coding Tools Many Users Don't Know About
5 Reasons to Watch Out for HTML5 | Digital Publishing Platform | Zmags Blog
"The coming HTML5 standard promises to leverage websites running video, animations or interactive features, without requiring technologies like Flash or DirectX. In other words, the new engine will have more power and more gears, and the smooth interior will now come as standard equipment" by agnesdelmotte Mar 9
pugpig beta
Assurez-vous de savoir ce qui va changer avec HTML5 | NetZ.fr
Assurez-vous de savoir ce qui va changer avec HTML5. Si Jacques Séguéla était blogueur il nous dirait : « si on est blogueur et qu'on a jamais entendu parler de HTML5, c'est qu'on a raté son blog! ». by agnesdelmotte Mar 25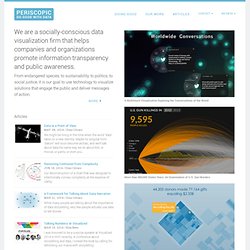 Our Research into Flash and HTML5: Which One is Right For Your Project?
Although it's still early in the evolution of HTML5, we've started to receive many requests to develop data visualization projects in HTML5 instead of Flash. In most cases, these requests have been related to a desire to reach a wider audience, and the belief that HTML5 will be more compatible than Flash. We've also heard a lot of people mention that they need to have their visualizations work on the iPad.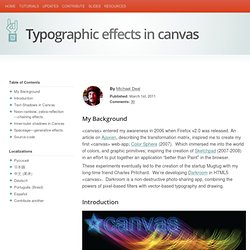 My Background <canvas> entered my awareness in 2006 when Firefox v2.0 was released. An article on Ajaxian , describing the transformation matrix, inspired me to create my first <canvas> web-app; Color Sphere (2007). Which immersed me into the world of colors, and graphic primitives; inspiring the creation of Sketchpad (2007-2008) in an effort to put together an application "better than Paint" in the browser. These experiments eventually led to the creation of the startup Mugtug with my long-time friend Charles Pritchard. We're developing Darkroom in HTML5 <canvas>.
html5 Typographic effects in canvas by agnesdelmotte Mar 16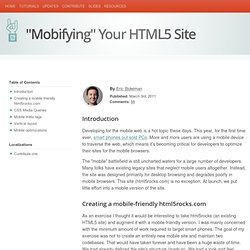 Introduction Developing for the mobile web is a hot topic these days. This year, for the first time ever, smart phones out sold PCs . More and more users are using a mobile device to traverse the web, which means it's becoming critical for developers to optimize their sites for the mobile browsers. The "mobile" battlefield is still uncharted waters for a large number of developers. Many folks have existing legacy sites that neglect mobile users altogether.