Html5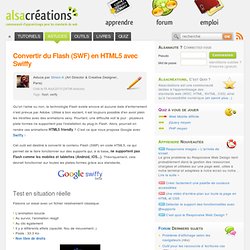 Qu'on l'aime ou non, la technologie Flash existe encore et aucune date d'enterrement n'est prévue par Adobe. Utilisé à bon escient, il est toujours possible d'en avoir plein les mirettes avec des animations sexy. Pourtant, une difficulté voit le jour : plusieurs plate-formes ne supportent pas l'installation du plug-in Flash.
Convertir du Flash (SWF) en HTML5 avec Swiffy
JavaScript and HTML5 Forms Testing for Support If you intended to write JavaScript to mimic the functionality of HTML5 forms, you may want to first test the current browsers capability and write the JavaScript as a fallback. On the right is how you might test for attribute support.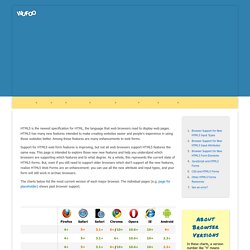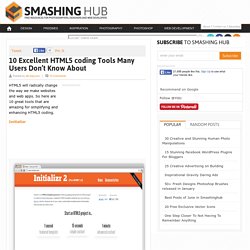 HTML5 will radically change the way we make websites and web apps. So here are 10 great tools that are amazing for simplifying and enhancing HTML5 coding. Initializr If you are just going to start with a HTML5-based website, then visit Initializr to get started. It will create a neat customizable template based on Boilerplate with all that you require to begin. Advertisement
10 Excellent HTML5 coding Tools Many Users Don't Know About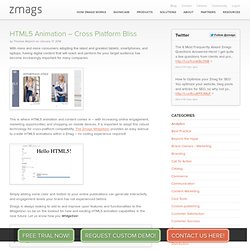 5 Reasons to Watch Out for HTML5 | Digital Publishing Platform | Zmags Blog
With more and more consumers adopting the latest and greatest tablets, smartphones, and laptops, having digital content that will reach and perform for your target audience has become increasingly important for many companies. This is where HTML5 animation and content comes in – with increasing online engagement, marketing opportunities and shopping on mobile devices, it is important to adopt this robust technology for cross-platform compatibility. The Zmags Widgetizer provides an easy avenue to create HTML5 animations within a Zmag – no coding experience required! Simply adding some color and motion to your online publications can generate interactivity and engagement levels your brand has not experienced before. Zmags is always looking to add to and improve upon features and functionalities to the Widgetizer, so be on the lookout for new and exciting HTML5 animation capabilities in the near future.
Pugpig is a hybrid publishing platform which combines the power of a native app: customizable, rich, fast, smooth and stable, with the added benefits of HTML: interactivity, readability, accessibility, searchability, personalization and super fast downloads. By taking this approach, you can massively reduce your editorial overhead, while delivering beautiful, interactive apps tailored to your readers needs. Keep reading if you want to know more! ->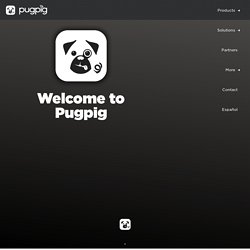 pugpig beta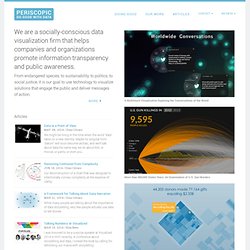 Our Research into Flash and HTML5: Which One is Right For Your Project?
Although it's still early in the evolution of HTML5, we've started to receive many requests to develop data visualization projects in HTML5 instead of Flash. In most cases, these requests have been related to a desire to reach a wider audience, and the belief that HTML5 will be more compatible than Flash. We've also heard a lot of people mention that they need to have their visualizations work on the iPad.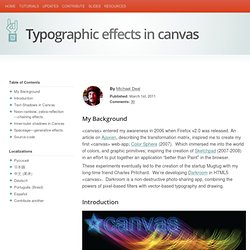 My Background Ajaxian, describing the transformation matrix, inspired me to create my first Color Sphere (2007). Which immersed me into the world of colors, and graphic primitives; inspiring the creation of Sketchpad (2007-2008) in an effort to put together an application "better than Paint" in the browser. These experiments eventually led to the creation of the startup Mugtug with my long-time friend Charles Pritchard. We're developing Darkroom in HTML5 <canvas>. Darkroom is a non-destructive photo-sharing app, combining the powers of pixel-based filters with vector-based typography and drawing.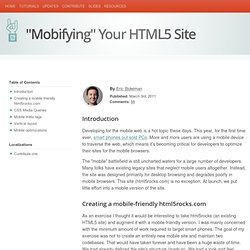 Introduction Developing for the mobile web is a hot topic these days. This year, for the first time ever, smart phones out sold PCs. More and more users are using a mobile device to traverse the web, which means it's becoming critical for developers to optimize their sites for the mobile browsers. The "mobile" battlefield is still uncharted waters for a large number of developers. Many folks have existing legacy sites that neglect mobile users altogether.