Fashion and technology
Make It Wearable Part 3: Human Expression
When we last left off, our five part documentary series, Make It Wearable (in support of Intel's Make It Wearable challenge), dove into the possibilities for wearable technology to improve health and medicine—a look into how we can improve our insides with tech that comes from the outside world. For part three, Human Expression, we're looking at our exteriors, at how wearables are pushing fashion and clothing design into new frontiers.
Washing Wearable Electronics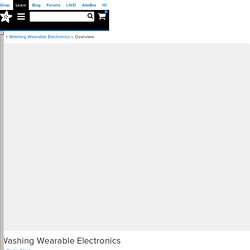 The most common question we get regarding wearable electronics is "how do you wash that?"
As Google and other companies begin to build wearable technology like glasses and watches, an industry not known for its fashion sense is facing a new challenge — how to be stylish. Design has always been important to technology, with products like Apple's becoming fashion statements, but designing hardware that people will wear like jewelry is an entirely different task. In a sign of how acute the challenge is for Google, the company is negotiating with Warby Parker , an e-commerce start-up company that sells trendy eyeglasses, to help it design more fashionable frames, according to two people briefed on the negotiations who were not authorized to speak publicly because the partnership has not been made official. Google and Warby Parker declined to comment. They join other companies that are grappling with these design challenges, including big companies like Apple, Nike and Jawbone and smaller ones like Pebble, MetaWatch and Misfit Wearables.
Google Looks to Make Its Computer Glasses Stylish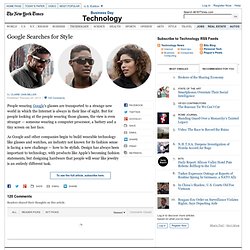 Wearable technology, la technologie InStyle !
La Wearable Technology, tout le monde en parle, mais le concept reste encore un peu abstrait. D'abord parce que la technologie se perfectionne à peine ; 2012 a vu naître les premiers projets réellement aboutis, fonctionnels et commercialisables. Ensuite parce que la Wearable Technology, c'est bien, c'est beau mais c'est cher !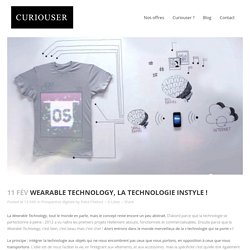 tshirtOS :: The world's first programmable t-shirt
Internet-connected LED T-shirt lets you flash the world | Crave - CNET
Talk about a fashion statement. (Credit: Video screenshot by Amanda Kooser/CNET) T-shirts have long been used to express opinions, assert individuality, and spread messages. The tshirtOS prototype is trying to become the first commercially available programmable, Internet-connected digital T-shirt. The shirt is a joint venture between high-tech fashion company CuteCircuit and Scotch whisky maker Ballantine's.
T-shirts are great outerwear, especially in the summer. But they're just so, you know, analog. That may change, though. Ballantine's, the brand behind the tattoo-based "Human API," has a new idea it calls "T-Shirt OS." The concept: A T-shirt with an ultrathin LED screen that's connected to the Internet (via your smartphone) and can display tweets, your Intstagram feed and even take photos.
Would You Wear an Internet-Connected T-Shirt?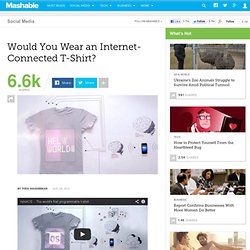 CUTECIRCUIT | future fashion now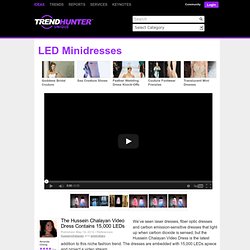 We've seen laser dresses, fiber optic dresses and carbon emission-sensitive dresses that light up when carbon dioxide is sensed, but the Hussein Chalayan Video Dress is the latest addition to this niche fashion trend. The dresses are embedded with 15,000 LEDs apiece and project a video stream. You can see the Hussein Chalayan Video Dress in action above. The dress on the left shows the opening and closing of a rose, while the dress on the right shows sharks moving through water.
LED Minidresses - The Hussein Chalayan Video Dress Contains 15,000 LEDs (VIDEO)
The Hussein Chalayan Video Dress Contains 15,000 LEDs by agnesdelmotte May 13
Video Dresses
Nieuwe Heren
Fashion and Technology
solarcoterie.com
The Future of Wearable Technology | Off Book | PBS
Microsoft Hits New York Fashion Week With Twitter Dress at Bloomingdale's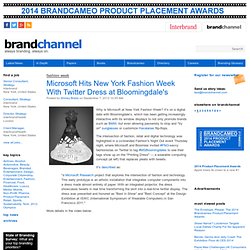 fashion week Posted by Shirley Brady on September 7, 2012 10:35 AM Why is Microsoft at New York Fashion Week?
Microsoft's Twitter Dress Is Way More Appealing Than it Should Be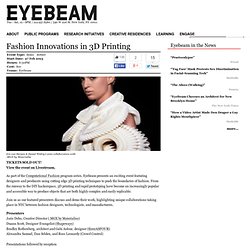 Iris van Herpen & Daniel Widrig's 2010 collaboration with .MGX by Materialise TICKETS SOLD OUT!View the event on Livestream. As part of the Computational Fashion program series, Eyebeam presents an exciting event featuring designers and producers using cutting edge 3D printing techniques to push the boundaries of fashion. From the runway to the DIY hackerspace, 3D printing and rapid prototyping have become an increasingly popular and accessible way to produce objects that are both highly complex and easily replicable. Join us as our featured presenters discuss and demo their work, highlighting unique collaborations taking place in NYC between fashion designers, technologists, and manufacturers.
Fashion Innovations in 3D Printing