DIY
Some of you may have spent yesterday morning in search for the Peter Pilotto line at Target. Well, that was our morning. I was out of town and visited a remote location around noon and was able to find tonsss of stock. I ended up visiting 4 Targets throughout the day to get some more preferable sizing.
Syl and Sam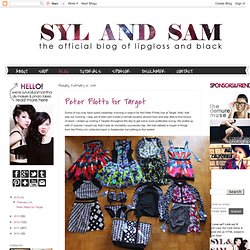 So today I thought it would be a fun challenge to work with paperclips. You can't get much more mundane than a paperclip! After much thought, I came up with paperclip earrings. If you have paperclips and some pretty cotton string, you can create these beauties. They'd probably look pretty cool as a necklace too.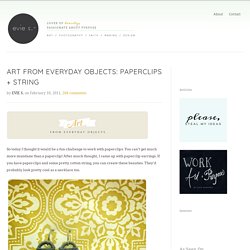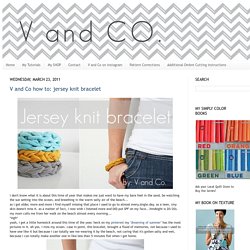 i don't know what it is about this time of year that makes me just want to have my bare feet in the sand, be watching the sun setting into the ocean, and breathing in the warm salty air of the beach...as i get older, more and more i find myself missing that place i used to go to almost every.single.day. as a teen. (my skin doesn't miss it. as a matter of fact, i now wish i listened more and DID put SPF on my face...hindsight is 20/20). my mom calls me from her walk on the beach almost every morning...*sigh*yeah, i get a little homesick around this time of the year. heck on my pinterest my "dreaming of summer" has the most pictures in it. ah yes. i miss my ocean. case in point. this bracelet, brought a flood of memories, not because i used to have one like it but because i can totally see me wearing it by the beach, not caring that it's gotten salty and wet, because i can totally make another one in like less than 5 minutes flat when i get home.
Search - FN-DECO - Arts and Crafts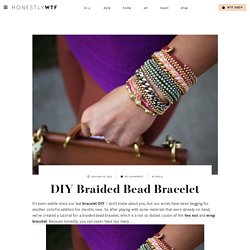 It's been awhile since our last bracelet DIY. I don't know about you, but our wrists have been begging for another colorful addition for months now. So after playing with some materials that were already on hand, we've created a tutorial for a braided bead bracelet, which is a not so distant cousin of the hex nut and wrap bracelet.
By Kate on November 19, 2011 This has got to be one of my favourite projects to date…which is a good job because I nearly broke my brain putting the templates together!! I'm not so good at maths and figuring out angles (my lovely Mum is a retired maths teacher so I should know better!). By the way this project is quite fiddly so more aimed at grown-ups or older kids. My paper gems were very influenced by these wonderful crayons (via Deborah's Pinterest board). You can use these paper gems as hanging decorations (for your Christmas tree) or you can incorporate them into a mobile or garland.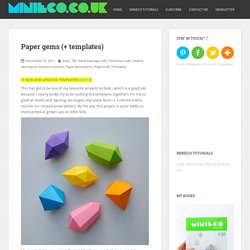 You know how friendship bracelets are totally back? Well, I can't quite bring myself to get into it after 15 years but I love the bright colors, the patterns, the idea of it....It got me thinking where else I could apply the process and I thought it'd be fun to make a huge friendship bracelet that you could walk on. You know, given my love of all things oversized.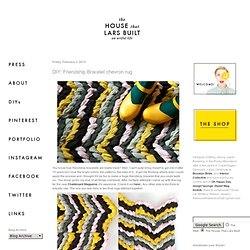 I really love flokati rugs. I have two that are safely tucked away in my parents basement awaiting our reunion. When I learned that I would be having a child and building a nursery for him, I wanted a flokati. A gray one. Being a flokati snob though, I knew that I couldn't afford the price tag ( ), and I knew that I would be too precious about the rug ( ).
This is a great project for kids, or adults. I first saw the idea on the blog found here. All you need are some Sharpies, rubbing alcohol and something to drip it from (I had a syringe), and a t-shirt, or other clothing. I put a piece of cardboard in my tank top to prevent bleeding. Step 1: Use the Sharpies to make marks on your t-shirt. Step 2: Drip some drops of rubbing alcohol.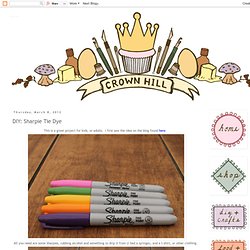 This photo originally appeared in FamilyFun Magazine Total Time 2 to 3 hours Ages school-age What does it take to transform a pile of old T-shirts into spectacular works of woven art? Just a spare hula hoop or embroidery hoop and the techniques we'll show you here.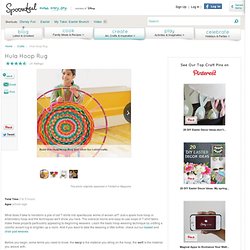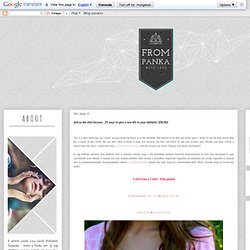 Recovered And so the shirt became...20 ways to give a new life t
This is a story about old, sad T-shirts, laying around the house or in the wardrobe who wanted to be new, and useful again. I think I'm not the only person who has a bunch of old t-shirts, but you don't have to throw it away just because you don't use them! So get your scissors, pins, threads, and glue, choose a project from the many I listed here from my pinterest collection, and let's recycle old shirts! (Tutorial link below each photo!)
Why not spruce up the way you serve coffee or (iced) tea? Last night I played around with sugar a little and made my own sugar cubes. It's really easy to make and so cute to look at!
A fun and easy project with a beautiful payoff. Learn how to make these Balloon Luminaries. You will need: High-Melt Paraffin Wax (IGI 1260)Party BalloonsDouble BoilerCookie Sheet Instructions: 1.