Html5
If you are a web designer, I am sure you already know the power of programming language and how successive of every popular language is changing the era of web designing and development. One of the recent examples are CSS3 (successive of CSS) and HTML5 (successive of HTML). Both these languages came up with great features and started to make things easy for web designers. But, in this article, we will focus on HTML5 – update of HTML language that is bring modern standards to web design. HTML5 is a powerful version of HTML that brings various great functionality like true semantic capabilities, metadata and augmenting human-readable content with machine-readable content.
Top 10 Free HTML5 WordPress themes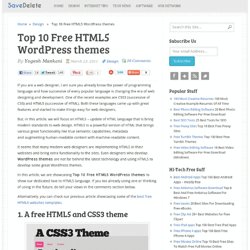 If you need a WordPress theme that uses the modern technologies of HTML5 and CSS3 then you've come to the right place, in today's post I am listing the best free complete themes and blank themes / theme frameworks that you can use as a base to build you own. Busby My very own Busby theme is built with HTML5 and CSS3, it's a clean blogging theme for personal sites. Features » Demo » Download » Yoko Yoko is a modern and flexible WordPress theme.
20 Free HTML5 WordPress Themes and Theme Frameworks | WPLift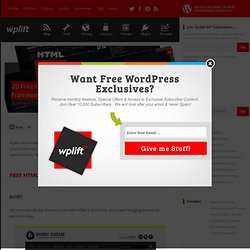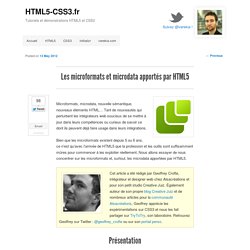 Microformats, microdata, nouvelle sémantique, nouveaux éléments HTML… Tant de nouveautés qui perturbent les intégrateurs web soucieux de se mettre à jour dans leurs compétences ou curieux de savoir ce dont ils peuvent déjà faire usage dans leurs intégrations. Bien que les microformats existent depuis 5 ou 6 ans, ce n'est qu'avec l'arrivée de HTML5 que la profession et les outils sont suffisamment mûres pour commencer à les exploiter réellement. Nous allons essayer de nous concentrer sur les microformats et, surtout, les microdata apportées par HTML5. Cet article a été rédigé par Geoffrey Crofte, intégrateur et designer web chez Alsacréations et pour son petit studio Creative Juiz.
HTML5 Template Generator
New York Web Design Company, Custom Web Design in NY, Website Redesign - Dizzain.com