Outils
Quels sont les outils les plus pertinents et les plus efficaces pour faciliter le quotidien du community manager ? Comment suivre toutes les conversations, assurer sa veille, mesurer les actions ? Voici ma sélection de services web – testés et approuvés – pour gérer toutes les tâches du community management en quelques clics. Les outils de reporting et d'analyse Chiffrer, répertorier, analyser les actions menées sur les réseaux sociaux peut s'avérer être un vrai casse-tête. Voici mes outils de prédilection pour analyser les résultats atteints.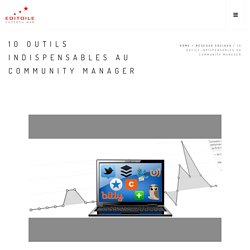 10 outils indispensables au community manager
Works with Office/PDF How to make colleagues access our mind map if they don't have XMind? With some simple operations, we can export our mind map into about 10 universal formats by the export functionality. By this way, your team can collaborate seamlessly. We support exporting to Microsoft Word, Microsoft PowerPoint, Microsoft Excel (NEW), PDF, RTF, Plain Text, HTML, PNG, JPEG, GIF, BMP, SVG (NEW), Freemind, Mindjet MindManager.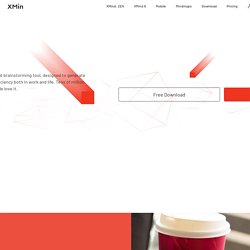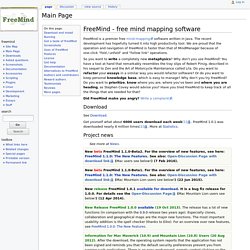 FreeMind is a premier free mind-mapping software written in Java. The recent development has hopefully turned it into high productivity tool. We are proud that the operation and navigation of FreeMind is faster than that of MindManager because of one-click "fold / unfold" and "follow link" operations. So you want to write a completely new metaphysics? Why don't you use FreeMind?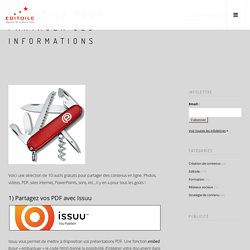 10 outils pour partager ses informations
Voici une sélection de 10 outils gratuits pour partager des contenus en ligne. Photos, vidéos, PDF, sites internet, PowerPoints, sons, etc., il y en a pour tous les goûts ! 1) Partagez vos PDF avec Issuu Issuu vous permet de mettre à disposition vos présentations PDF. Une fonction embed (pour « embarquer » le code html) donne la possibilité d'intégrer votre document dans n'importe quelle page web sous forme d'un livre à feuilleter.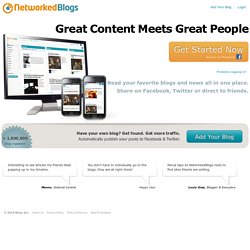 Get Started Now Access via Facebook Problems logging in? Are you using AdBlock, Facebook Disconnect, or another browser extension that blocks Facebook Connect? Try disabling it.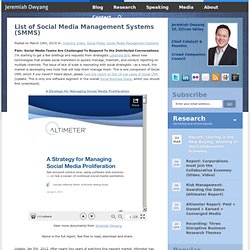 Pain: Social Media Teams Are Challenged To Respond To the Distributed Conversations I'm starting to get a few briefings and requests from strategists LaSandra Brill, about new technologies that enable social marketers to quickly manage, maintain, and conduct reporting on multiple channels. The issue of lack of scale is resonating with social strategists –as a result, the market is developing new tools that will help them manage them. This is one component of Social CRM, which if you haven't heard about, please read the report on the 18 use cases of Social CRM.
Sign in "All our customers, tasks and conversations are in Highrise. We couldn't run our business without Highrise." — Mari, Owner of Foiled Cupcakes Save and organize notes and email conversations for up to 30,000 customers and contacts.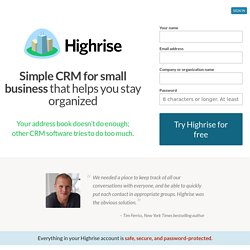 Twitter Images - http://twitterimag.es
Problem Twitter has an amazing API and a great developer ecosystem, but there is one pain point: avatars are transient . The profile_image_url attribute in the /users/show endpoint is a direct link to an S3 URL that includes the original file name. This is a problem for a number of reasons.