Outils
Quels sont les outils les plus pertinents et les plus efficaces pour faciliter le quotidien du community manager ? Comment suivre toutes les conversations, assurer sa veille, mesurer les actions ? Voici ma sélection de services web – testés et approuvés – pour gérer toutes les tâches du community management en quelques clics. Les outils de reporting et d'analyse Chiffrer, répertorier, analyser les actions menées sur les réseaux sociaux peut s'avérer être un vrai casse-tête. Voici mes outils de prédilection pour analyser les résultats atteints.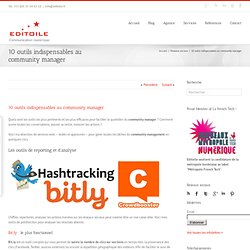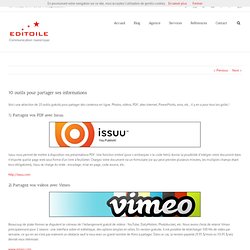 10 outils pour partager ses informations
Voici une sélection de 10 outils gratuits pour partager des contenus en ligne.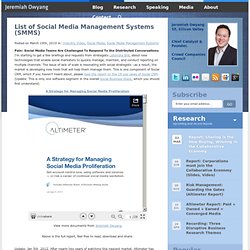 Pain: Social Media Teams Are Challenged To Respond To the Distributed Conversations I'm starting to get a few briefings and requests from strategists LaSandra Brill, about new technologies that enable social marketers to quickly manage, maintain, and conduct reporting on multiple channels. The issue of lack of scale is resonating with social strategists –as a result, the market is developing new tools that will help them manage them. This is one component of Social CRM, which if you haven't heard about, please read the report on the 18 use cases of Social CRM.
Twitter Images - http://twitterimag.es