Internet
Sign in to Diigo | Diigo. Meebo.com. Live Spaces ioria1971 - Windows Live.
Login. Read It Later: Log In. Inviare Fax Gratuitamente con MyFax. Se avete bisogno di inviare un fax ma non disponete a casa di un terminale per la spedizione e magari non avete tempo per recarvi in un centro per inviare un documento potrete utilizzare un servizio online.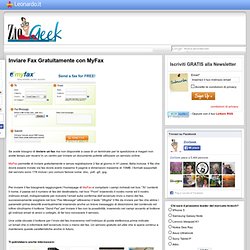 MyFax permette di inviare gratuitamente e senza registrazione 2 fax al giorno in 41 paesi, Italia inclusa. Il file che dovrà essere inviato via fax dovrà avere massimo 9 pagine e dimensioni massime di 10MB. BeautifulPeople. Netlog. P2P. Net: Publishing is a matter of click. ITS HIDDEN. Inc. Book Recommendations, Book Reviews, Book Clubs, Similar Books - CrossLoop - Affordable Online Computer Help - Technical Support. TopTenREVIEWS Software Reviews - TopTenREVIEWS. Electronic notepad - PicoNote.
ArleighBurke's clipmarks. The Idea Swap.
---