Everything to be Vintage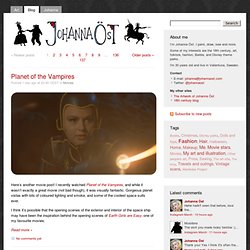 Here's another movie post! I recently watched Planet of the Vampires, and while it wasn't exactly a great movie (not bad though), it was visually fantastic. Gorgeous planet vistas with lots of coloured lighting and smoke, and some of the coolest space suits ever. I think it's possible that the opening scenes of the exterior and interior of the space ship may have been the inspiration behind the opening scenes of Earth Girls are Easy, one of my favourite movies. Read more »
Johanna's blog
Beauty is a thing of the past
1940s.org | 1940-1949 History Fashion Movies Music
Welcome to the 1940′s Neon signs flash through the darkness on a rainy night in the city. Halos form above dimly lit street lamps. From the rooftop ballroom of the Club Dahlia in 1940′s downtown Miami, you're listening to the sweet sounds of the Glenn Miller Orchestra. Jilted WWII Soldiers And The First Brush-Off Club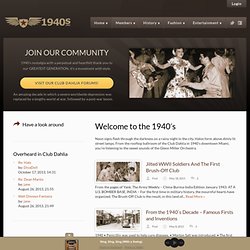 Start a blog or open a Facebook account and, after choosing passwords and a sceen name, you'll be faced with having to upload a photo to represent you online. This is what happened to me in the first weekend of March, 2007 when I simultaneously started this blog, as well as my @badbanana Twitter account. I had no real intention of keeping my Twitter account, so I just reached for a photo that I already had on my desktop.
bad banana blog
We've redesigned our packaging now that we have a hot foil letterpress, a rubber stamp maker, and a die cutting machine. The new (and sturdier) boxes are pressed with the new Wary Meyers logotype, then rubber stamped with all the type, then stuck with two stickers we made- one a cloud (or water), the other a sun (or moon). The cloud/moons are made of foil stickers (except in the case of Mainely Manly, where it's grey; and the moons are non-foil (except MM, where it's copper foil).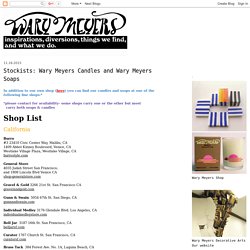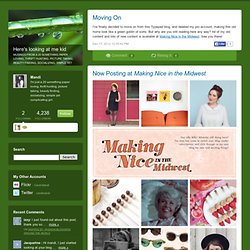 For a few months now, I've been dreaming of making my blog more than what it is, and basically starting over from scratch. I had made a long list of fun projects to make and share, had lots of dreams for creative maternity outfits, and other fantastic features I thought you guys would enjoy seeing on my blog. During that time, I suffered some pretty major hits to my momentum, what with my miscarriage, my month-long illness this Spring, and morning sickness with this pregnancy. Well, I finally had enough with excuses and started busting my butt designing and preparing a home for all of these projects I've been working on behind the scenes. And guess what?
Here's lookin at me kid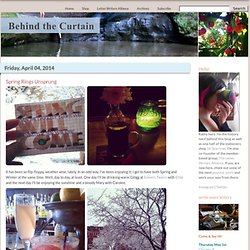 Black Series, Lithograph (1967) Frank Stella Last summer I experimented with doing daily meditations and I absolutely loved it. The daily part went down hill after I did three out of town trips in a row, throwing a wrench in my normal routine. I've tried to pick it up and dust it off again and this time I hope it will stick.
Behind the Curtain
There are some vintage sellers/bloggers whose enthusiasm is always catching and inspires me to no end. Sammy of Sammy Davis Vintage is one of those gals. I've collaborated with her in the past, and when she asked me to take a look at a new eBook she published–100 Best Vintage Shops Online–I knew I couldn't say no!
BLOG: http://elegantmusings.com FB: http://www.facebook.com/elegantmusings EMAIL: elegantmusings[at]gmail.com Hello!
Chaîne de elegantlyamused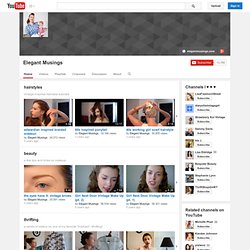 Thankfully everyone seems to be making a switch from plastic to lasting when it comes to shopping bags, so here's another fun little tutorial on customizing one to make it oh so cute. You might notice a lot of doilies in my recent diy projects. Since I was getting so many ready for A Christmas Gathering I used a lot of the same materials…monograms seems to be pretty popular now too. My friend Cindy called while I was working on this and suggested I just go ahead a put a "W" on it for her, I happily obligied.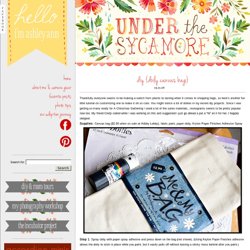 Cancel Edit Delete Preview revert Text of the note (may include Wiki markup) Could not save your note (edit conflict or other problem). Please copy the text in the edit box below and insert it manually by editing this page. Upon submitting the note will be published multi-licensed under the terms of the CC-BY-SA-3.0 license and of the GFDL, versions 1.2, 1.3, or any later version.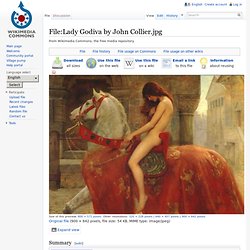 Fichier:Lady Godiva by John Collier.jpg - Wikipédia
Résultats Google Recherche d'images correspondant à http://4.bp.blogspot.com/_PctkNxjZVWw/S6nLI41lMUI/AAAAAAAAHoc/H6octrdLpfI/s1600/ikeda.JPG
kay nielsen snow queen