Design
Get flash to fully experience Pearltrees
Tunnel Back™ Cabinets
What does this calculator do?
This article is a tutorial to design a BJT amplifier circuit. After studing how this was done it you will be able to design circuits for any gain.
undefined
EE 320/320L Course Syllabus Personnel :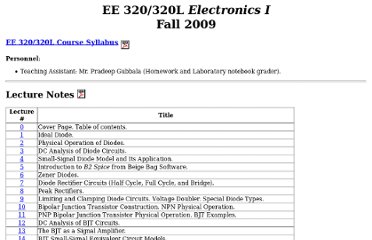 Common Base Configuration Here the base is the common terminal. Used frequently for RF applications, this stage has the following properties. Low input impedance, high output impedance, unity (or less) current gain and high voltage gain.
Lets take this as an example to design a transistor amplifier which achieves these three basic requirements.
Skip Intro Use Curves to Design Class-A Amplifiers Almost No Math!
Most published amplifier designs use a differential 'long-tailed-pair' input stage. This is partly because direct coupled outputs are used, so a low output offset voltage is needed, and the differential stage is used together with d.c. negative feedback to maintain a low offset.
Transconductance The ability of a JFET to amplify is described as trans-conductance and is merely the change in drain current divided by the change in gate voltage. It is indicated as Mhos or Siemens and is typically 2.5mmhos to 7.5mmhos for the MPF102 transistor.