Psychology
Get flash to fully experience Pearltrees
Hallucinations of schizophrenics typically produce ideas and voices that arrive from an unspecified direction or from some distant place outside the subject's mind, and only rarely involve a particular person. For example, the subject experiences various voices coming from a group of people in a neighboring building. The building, and not the individual people, is the source of the voices.
Introduction The media plays a large part in our everyday lives. We are bombarded by the medias interpretation of how we should act, what we should buy, and how we should think. This is the reason I decided to create a page on how the media portrays girls. I love all things pop culture and at some point in my life have seen the shows that I talk about, and have read the books and magazines that I reference. At first I bought what the media was selling me.
DISCLAIMER: The information contained in this website is presented for the purpose of educating consumers on emotional wellness and disease management topics. The screening test on this web site is intended to help you recognize possible signs of dissociation. It is not designed to provide a diagnosis of a dissociative disorder. Accurate diagnosis and treatment for a dissociative disorder and other psychiatric disorders can only be made by a physician or mental health professional after a complete evaluation of your experiences and symptoms. The information should not be considered complete, nor should it be relied on to suggest a course of treatment for a particular individual.
What is social anxiety disorder / social phobia? Matthew's story Matthew skipped class today. It's the first day of the new semester, and he's afraid that the professor will go around the class and have the students introduce themselves.
What's a cognitive distortion and why do so many people have them? Cognitive distortions are simply ways that our mind convinces us of something that isn't really true. These inaccurate thoughts are usually used to reinforce negative thinking or emotions — telling ourselves things that sound rational and accurate, but really only serve to keep us feeling bad about ourselves.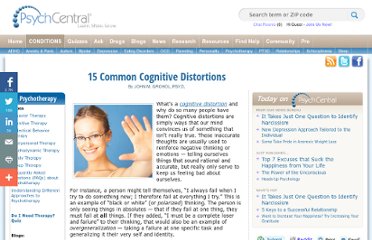 This new 22-question self-test differentiates between two distinct components of ADHD diagnosis (namely, inattention together with hyperactivity-impulsivity ) and is also sensitive to factors which typically preclude a diagnosis of ADHD. Photo by Rennett Stowe - http://flic.kr/p/5y2Uqm Completing this Psychological Screening Test This is a screening quiz for adult ADHD which may help you identify aspects of your experience typically associated with ADHD. It is not a diagnostic test. (Please be sure to check the Additional Information and Note on Validity below.)
The Disney Bloodline The Illuminati have refined the art of deception far beyond what the common man has imagined. The very life & liberty of humanity requires the unmasking of their deceptions. That is what this book is about. Honesty is a necessary ingredient for any society to function successfully.
This free test is based on Carl Jung's and Isabel Briggs Myers' typological approach to personality * . Upon completion of the questionnaire, you will: Obtain your 4-letter type formula according to Carl Jung's and Isabel Briggs Myers' typology , along with the strengths of preferences and the description of your personality type Discover careers and occupations most suitable for your personality type along with examples of educational institutions where you can get a relevant degree or training See which famous personalities share your type Access free career development resources and learn about premium ones Be able to use the results of this test as an input into the Jung Marriage Test™ and the Demo of the Marriage Test™ , to assess your compatibility with your long-term romantic partner Instructions: When responding to the statements, of the two responses please choose the one you agree with most.
The Diagnostic and Statistical Manual of Mental Disorders, Fourth Edition (1994) identifies those with BPD as having: A pervasive pattern of instability of interpersonal relationships, self-image, and affects, and marked impulsivity beginning by early adulthood and present in a variety of contexts, as indicated by five (or more) of the following: It is called "Borderline" because at the time of conceptualization of BPD the symptoms patients exhibited were in between the borders of neurosis (mild mental illness) and psychosis (severe mental disorder where contact is lost with reality).
i 6 Votes Many people enter the therapy process with minimal awareness of their trauma history. When the trauma survivors are dissociative, they have the ability to block out an awareness of their trauma. They may know that their family had problems, or that their family was dysfunctional, etc, but they may believe they were never abused.