Music
KAMELOT - Official Website | www.kamelot.com
Sonata Arctica | Official website
Vader on MySpace Music - Free Streaming MP3s, Pictures & Music D
There are very few bands that have managed to weave a web of mystery around them. Very few have survived and kept going strong until today. When faced with the question 'which' people tend to mention American death-mongers with the likes of MORBID ANGEL, DEICIDE or CANNIBAL CORPSE ...
CAIN'S OFFERING - the official homepage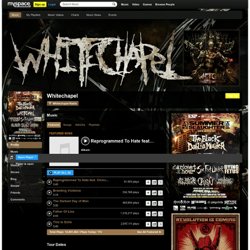 Phil Bozeman - Vocals Ben Savage - Guitar Zach Householder - Guitar Alex Wade - Guitar Gabe Crisp - Bass As the death metal genre continues to explode, Knoxville's Whitechapel stand bloody head and bruised shoulders above the pack. With a ruthlessly brutal aural assault built upon merciless blastbeats and spine-destroying breakdowns, their three guitarists deliver immense riffs and monstrous leads while vocalist Phil Bozeman vomits out lyrics that avoid clichés and give fans something to think about as they scream them back. Basically stated, this is as shit-your-pants exhilarating as modern metal gets.
Whitechapel (NEW SONG UP NOW!) on MySpace Music - Free Streaming
Brother Von Doom on MySpace Music - Free Streaming MP3s, Picture
Burning Skies on MySpace Music - Free Streaming MP3s, Pictures &
Dethklok.org - Your #1 Source for everything Dethklok
HYPOCRISY official website - NEWS
Founded in 2007, ground(ctrl) is an independently-owned company based in Sacramento, California. This is the part of our website where we are supposed to use a lot of dressed up words that don't actually mean anything in an effort to describe what we do and why we do it. The reality is this: We have a passion for music, and this passion inspires us to create better experiences for fans both online and in the real world.
Home : Jet
Rolling Stone: Metallica Explain How 'Through the Never' Became 'Sonically Awesome' February 3, 2014 When Metallica's monolithic statue of Lady Justice detonates and collapses around the band midway through their feature film, Metallica: Through the Never, its pieces thud and crash in ways that moviegoers could hear and feel. It's the sort of sensory overload the metal group was going for with the whole film, which follows a roadie on a drug-fueled surrealistic quest to retrieve a bag for the band, as Metallica play a concert to a packed arena.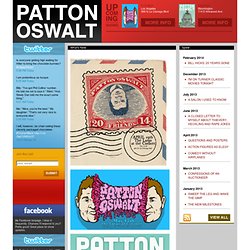 Is everyone getting high waiting for Hitler to bring the chocolate bunnies? #HappyEaster 5:08 PM Today I am pretentious as fucque. 8:35 AM Today Billy: "I've got Phil Collins' number. He told me not to lose it."
Tantric on MySpace Music - Free Streaming MP3s, Pictures & Music