PPC Platforms
Does DKI Really Work? [Case Study]
As dynamic series week continues, we've covered how to use dynamic parameters in Bing, dynamic ads with scripts and next we will dive into the question across many search engine marketing professionals minds when it comes to ad testing – Does DKI really work?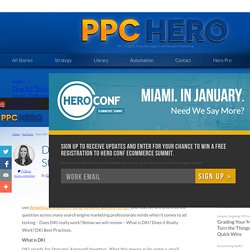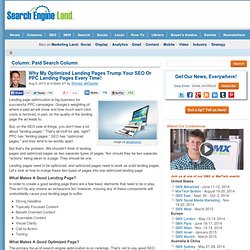 Why My Landing Pages Trump Your SEO and PPC Pages Everytime
Landing page optimization is big business for successful PPC campaigns. Google's weighting of where a paid ad will show and how much each click costs is factored, in part, on the quality of the landing page the ad leads to.
Today's post comes from PPC Hero Ally, Tyler Jordan of PPC Associates.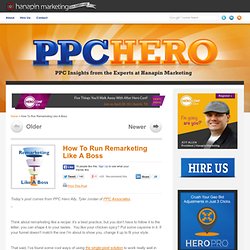 How To Run Remarketing Like A Boss
Exploring the Google Display Network: How to Generate More Leads from Display Ads.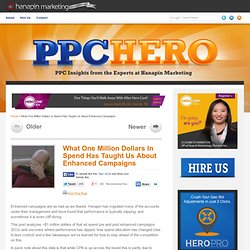 Enhanced Campaigns Migration Spikes CPA
Enhanced campaigns are as bad as we feared.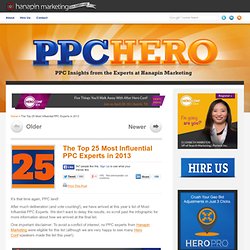 It's that time again, PPC land! After much deliberation (and vote counting!), we have arrived at this year's list of Most Influential PPC Experts.
The Top 25 Most Influential PPC Experts 2013
What Is Considered A 'Good' CTR?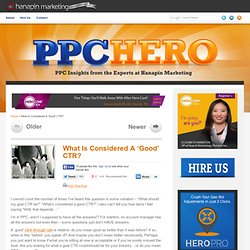 I cannot count the number of times I've heard this question in some variation – "What should my goal CTR be?" "What's considered a good CTR?" I also can't tell you how lame I feel saying "Well, that depends…"
AdWords To End Product Extensions As PLAs Take Over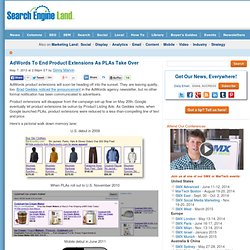 AdWords product extensions will soon be heading off into the sunset. They are leaving quietly, too.
Google Makes a Big Impression and Bing Adds Sitelinks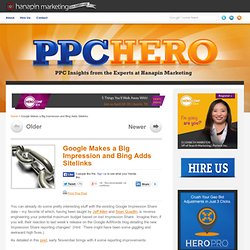 You can already do some pretty interesting stuff with the existing Google Impression Share data – my favorite of which, having been taught by Jeff Allen and Sean Quadlin, is reverse engineering your potential maximum budget based on lost Impression Share. Imagine then, if you will, their reaction to last week's release on the Google AdWords blog detailing the new Impression Share reporting changes!
inShare6 This is another one that I've been guilty of myself: thinking that ads should be in the top 3 ad positions at all times. Thinking the top three positions is the only place you can see good returns is a total myth.
How To Find Your Optimal Ad Position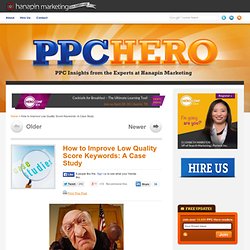 How to Improve Low Quality Score Keywords: A Case Study
Google is judging your keywords for quality, judging them hard.
Facebook Ads Improve Results for Search Campaigns
Do Facebook ads work?
As part of our ongoing series on automation and time-saving, we felt that talking about AdWords' Cost-Per-Acquisition bidding was a must. Aside from the Display Campaign Optimizer, which is a whole post in and of itself that will happen at some point in the future (though sadly not in this series), CPA bidding is the most automated you can get within all of the different AdWords bidding methods.
Deeper Understanding of CPA Bidding
Photos de Anthony F. Coleman
MC Hammer, pictured at a party sponsored by Motorola Xoom, has a team developing a search engine called WireDoo.
MC Hammer launching his own search engine
Google's agreed to pay out $500 million to settle claims that it profited from ads for illegal Canadian pharmacies.
Google forfeits $500 million for running illegal pharmacy ads
Quality Score in High Resolution
About the author: Craig Danuloff is Founder and President of ClickEquations Inc. developer of the ClickEquations paid search management platform. Since 2004 he has been a respected strategist, writer, and speaker working with companies in the Fortune 100, Internet Retailer 100, and presenting at conferences across the United States and Europe.
Marketing Transformation Week
Yahoo-Bing Gaining On Google In Some Paid Search Metrics: Report
PPC Academy Final Exam: Test Your Paid Search Knowledge
Is Google Changing Quality Score Rules Again?
Google Adwords
MSN adCenter
Facebook Ad Manager
Yahoo Sponsored Search