PPC Platforms
Does DKI Really Work? [Case Study] Why My Landing Pages Trump Your SEO and PPC Pages Everytime. Landing page optimization is big business for successful PPC campaigns.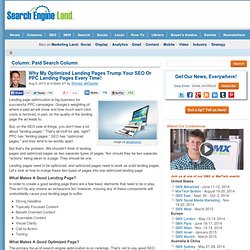 Google's weighting of where a paid ad will show and how much each click costs is factored, in part, on the quality of the landing page the ad leads to. But, on the SEO side of things, you don't hear a lot about "landing pages." That's all stuff for ads, right? PPC has "landing pages," SEO has "optimized pages," and they tend to be worlds apart. But that's the problem. How To Run Remarketing Like A Boss. Exploring the Google Display Network: How to Generate More Leads from Display Ads. Enhanced Campaigns Migration Spikes CPA. The Top 25 Most Influential PPC Experts 2013. What Is Considered A 'Good' CTR? AdWords To End Product Extensions As PLAs Take Over. AdWords product extensions will soon be heading off into the sunset.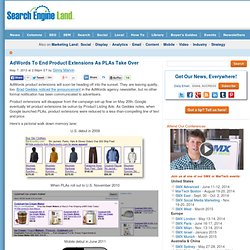 They are leaving quietly, too. Brad Geddes noticed the announcement in the AdWords agency newsletter, but no other formal notification has been communicated to advertisers. Product extensions will disappear from the campaign set-up flow on May 20th. Google eventually let product extensions be outrun by Product Listing Ads. As Geddes notes, when Google launched PLAs, product extensions were reduced to a less-than-compelling line of text and price. Google Makes a Big Impression and Bing Adds Sitelinks. How To Find Your Optimal Ad Position. How to Improve Low Quality Score Keywords: A Case Study. Facebook Ads Improve Results for Search Campaigns. Do Facebook ads work?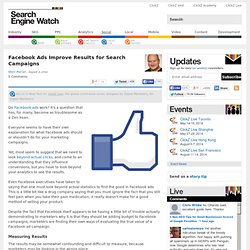 It's a question that has, for many, become as troublesome as a Zen koan. Everyone seems to have their own explanation for what Facebook ads should or shouldn't do for your marketing campaigns. Yet, most seem to suggest that we need to look beyond actual clicks, and come to an understanding that they influence conversions, but you have to look beyond your analytics to see the results. Deeper Understanding of CPA Bidding. Photos de Anthony F. Coleman. MC Hammer launching his own search engine. MC Hammer, pictured at a party sponsored by Motorola Xoom, has a team developing a search engine called WireDoo.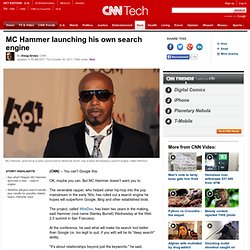 Say what? Rapper MC Hammer launches a new ... search engineWireDoo will give search results, plus results for possibly related topics, Hammer says (CNN) -- You can't Google this. OK, maybe you can. Google forfeits $500 million for running illegal pharmacy ads. Google's agreed to pay out $500 million to settle claims that it profited from ads for illegal Canadian pharmacies.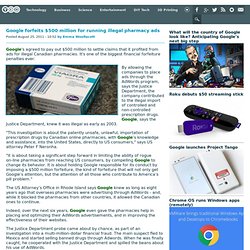 It's one of the biggest financial forfeiture penalties ever. By allowing the companies to place ads through the AdWords program, says the Justice Department, the company contributed to the illegal import of controlled and non-controlled prescription drugs. Google, says the Justice Department, knew it was illegal as early as 2003. Quality Score in High Resolution. About the author: Craig Danuloff is Founder and President of ClickEquations Inc. developer of the ClickEquations paid search management platform.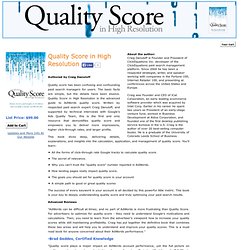 Since 2004 he has been a respected strategist, writer, and speaker working with companies in the Fortune 100, Internet Retailer 100, and presenting at conferences across the United States and Europe. Craig was Founder and CEO of iCat Corporation, an early leading ecommerce software provider which was acquired by Intel Corp. Earlier in his career he spent two years as President of an early-stage venture fund, worked in Business Development at Aldus Corporation, and founded one of the first desktop publishing service bureaus in the U.S.
Craig is the author of over 20 best-selling computer books. He is a graduate of the University of Colorado Leeds School of Business. Marketing Transformation Week. Yahoo-Bing Gaining On Google In Some Paid Search Metrics: Report. The Yahoo-Bing paid search partnership has produced a couple positive trends for advertisers, according to new data shared by search marketing agency Efficient Frontier.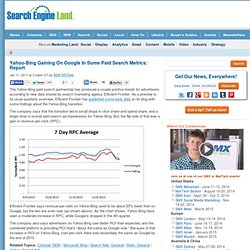 As a preview to its usual quarterly overview, Efficient Frontier has published some early data on its blog with some findings about the Yahoo-Bing transition. The company says that the transition led to small drops in click share and spend share, and a larger drop in overall paid search ad impressions for Yahoo-Bing. But, the flip side of that was a gain in revenue-per-click (RPC). PPC Academy Final Exam: Test Your Paid Search Knowledge. Here we are.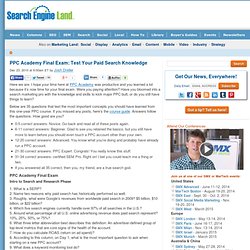 I hope your time here at PPC Academy was productive and you learned a lot because it's now time for your final exam. Were you paying attention? Have you bloomed into a search marketing pro with the knowledge and skills to kick major PPC butt, or do you still have things to learn? Below are 35 questions that test the most important concepts you should have learned from this one-year PPC course. If you missed any posts, here's the course guide. Is Google Changing Quality Score Rules Again? In the past few months, two significant issues have been messing with AdWords quality scores—or at least with how many of us perceive quality scores.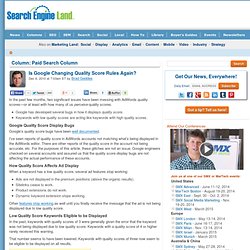 Google has developed several bugs in how it displays quality score.Keywords with low quality scores are acting like keywords with high quality scores. Google Quality Score Display Bugs. Google Adwords. MSN adCenter. Facebook Ad Manager. Yahoo Sponsored Search.
---