Design
20 Ways to Use Color Psychology in Your Home. When you approach home design, you likely do so in a couple of different ways – choosing objects and colors that simply look attractive or using an existing pattern or decor theme to govern your decisions.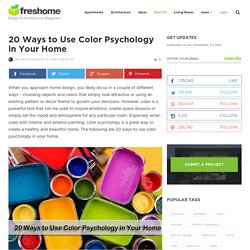 However, color is a powerful tool that can be used to inspire emotions, create space illusions or simply set the mood and atmosphere for any particular room. Especially when used with interior and exterior painting, color psychology is a great way to create a healthy and beautiful home. The following are 20 ways to use color psychology in your home. 1.) Create the illusion of space with bright colors: If you want your home to look larger than it really is – especially when it is about to go on the market – you can use bright and vibrant colors like yellows and eggshells to add space to your home exterior. Decorate | Lonnymag.com. Inspired Entertaining: DIY Chalkboard Wine Glasses. Last month I got an email from one of those "deal of the day" websites featuring a very cute set of wine glasses with chalkboard stems from a company called Chalkboard China.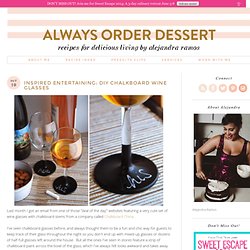 I've seen chalkboard glasses before, and always thought them to be a fun and chic way for guests to keep track of their glass throughout the night so you don't end up with mixed-up glasses or dozens of half-full glasses left around the house. But all the ones I've seen in stores feature a strip of chalkboard paint across the bowl of the glass, which I've always felt looks awkward and takes away from the beauty of the wine or beverage in the glass. 10 Must-See Room for Color Entries: Week One | Apartment Therapy New York. Welcome to our biggest color event of the year, the Room for Color contest.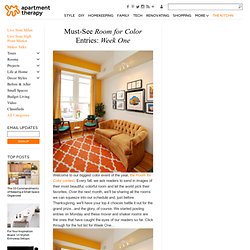 Every fall, we ask readers to send in images of their most beautiful, colorful room and let the world pick their favorites. Over the next month, we'll be sharing all the rooms we can squeeze into our schedule and, just before Thanksgiving, we'll have your top 4 choices battle it out for the grand prize...and the glory, of course. Everett - mediterranean - kitchen - other metros - by Summerour Architects.
Look forward to the indoor season, equipped with a cozy environment at home. DIY: Furniture Makeovers. I'm obsessed with making-over old, worn out furniture.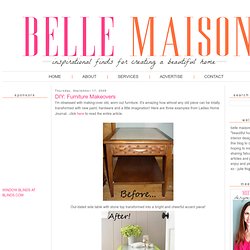 It's amazing how almost any old piece can be totally transformed with new paint, hardware and a little imagination! Here are three examples from Ladies Home Journal...click here to read the entire article. The Selby + Simple Creative Home. Posted by rd on Wednesday, October 19, 2011 · I recently discovered The Selby, and here is a home, more or less 1000 sq ft., bursting with neutral colors making it 'bigger' than it actually is.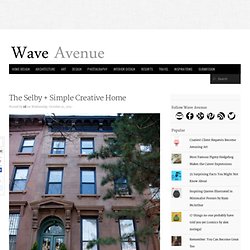 I really love the combination of open planning and simple palette in this home.. Everything's seems within reach but doesn't appear too crowded.. Every area is properly spaced.. First thing that caught my eye was the loft guest bed (sleeps overs not a problem!)..
---