Arts & Crafts
An Ikea Rug Makeover | A Little Bite of Everything. UPDATE: I've added the stencil to DIY your own Moroccan rug in this other post.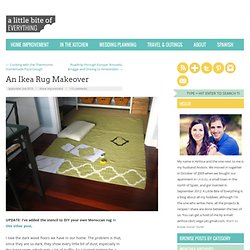 I love the dark wood floors we have in our home. The problem is that, since they are so dark, they show every little bit of dust, especially in the living room, which gets a lot of traffic. So I started looking for a rug but they were all so expensive, and didn't really convince me. After months of looking I found one at Ikea, the Erslev, which I liked both for the price and the color, but it was too… simple. Friendship Bracelets. Macraméd friendship bracelets were all the rage when I was growing up in the eighties.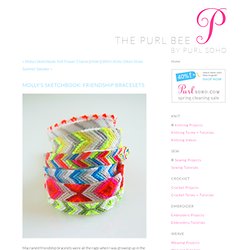 All the girls at my school would obsessively make them for one another in a dizzying variety of colors, widths, and patterns. It's amazing, thinking back, that such young girls could make such beautifully intricate accessories. 12 Days Handmade Christmas Tutorials Day 8|Alphabet Crayons » lifeingrace. If you're new to the '12 Days', you may visit the previous days by clicking on the day you like: Day 1 Crayon Roll Day 2 Zippered Pouches Day 3 Appliqued Placemats Day 4 Quilted Potholders.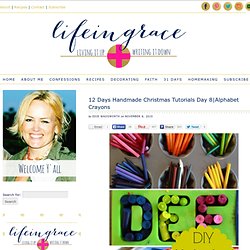 iCandy Handmade. Hi friends!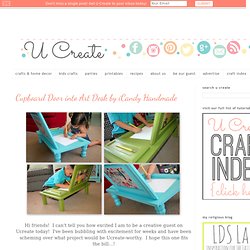 I can't tell you how excited I am to be a creative guest on Ucreate today! I've been bubbling with excitement for weeks and have been scheming over what project would be Ucreate-worthy. Personalized Wood Photo Letter Blocks Made to Order by QuoteChick. These letter blocks are completely handmade and have a couple of great features: • Completely personalized using your 4x6 digital photographs• Wooden blocks are made from hand-selected repurposed, not brand new, wood finds.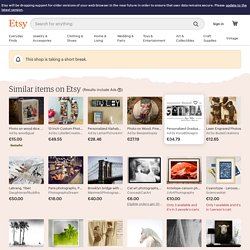 This saves you money on the entire project while rescuing wood scraps from landfills.• Your input lends itself to the creative process, ensuring a top rate final project. Each wooden block is hand sawed, shaped and sanded to ensure that your block sits flat on a level surface and each photo best fits the block. Each letter is also carefully placed on your photo block around the subject.
Personalized Wood Photo Blocks FAMILY Set by handmadebykrysten. <div id="javascript-nag" class="notice"><p> Take full advantage of our site features by enabling JavaScript.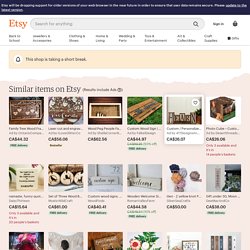 <a href=" more</a>. </p></div> Help. The Designer Pad - Straight To The HeART. I consider myself a very crafty person and love everything handmade.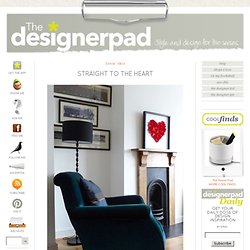 I'm always delighted to see how others use their creativity to transform everyday materials into something unexpected and beautiful. When I stumbled upon these lovely heart pieces in Bloesem I was immediately seduced by them, especially by their sculptural vive. These personalized handmade Hearts are the creation of Brit artist Veronika, founder of the design studio Sarah & Bendrix. How To Make A Stylish Photo Frame For Several Photos. Here is a simple yet stylish photo frame that can accomodate quite many photos at once.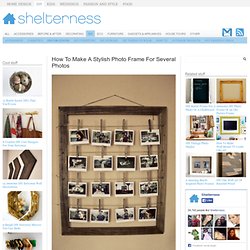 The idea is very simple. Fasten twines on the empty frame and hang photos using clothes pins on them. You can use a frame you bought or a frame you made by yourself. To make it you just need to find some wood strips, sand them, paint or stain them and fasten together with the staples and nails. Crafting MacGyver: Circular Logic. Paper Flower Key Holder / Mark Montano. Difficulty Rating: Beginner Tags If you need a quick 'just because' gift for someone, this is it!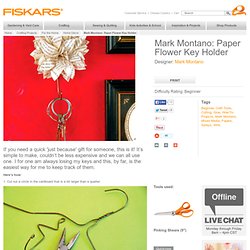 You knew i was going to make one. They are all over pinterest....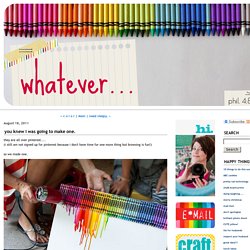 (i still am not signed up for pinterest because i don't have time for one more thing but browsing is fun!) So we made one. i took a box of 64 crayons and took out the blacks and browns.i used another small box and doubled up on the good colors i liked and hot glued them to the top of our canvas. then we turned our blow dryer to hot on high. not long after you set the hair dryer by the crayons they get shiny and then the wax starts to melt!
---