Straw bale
whole wall performance
Carol,Though this is far from my field of expertise here are a few observations that I hope will prove useful: -1) Whilst with a leaky envelop airtightness could play a part in the convection process at PH standards I would have thought that this is unlikely. 2) One thing to consider would be ensuring that a wind barrier is used on the outer face of the bale, thus preventing cold external air penetrating into the straw bale. Does the Danish report mention anything like this?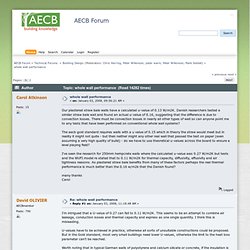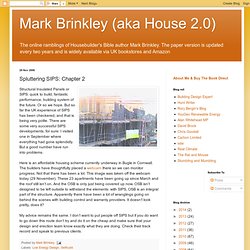 Structural Insulated Panels or SIPS: quick to build, fantastic performance, building system of the future.
Mark Brinkley (aka House 2.0): Spluttering SIPS: Chapter 2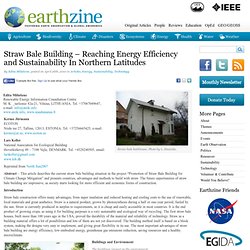 Straw Bale Building – Reaching Energy Efficiency and Sustainability in Northern Latitudes | Earthzine
By Edita Milutiene, posted on April 26th, 2010 in Articles, Energy, Sustainability, Technology Straw bale bathhouse. Photo by L.
Ecofab - High Performance, Sustainable, Pre-fab Building Systems, Home
In this section you will find some of our Standard design details.
Technical Details | Straw Bale Building
Free information about straw bale, hempcrete, net zero energy, natural and green building materials
At Endeavour, we work with a wide range of innovative materials and systems like straw bale, earthen plasters and floors, hempcrete, geothermal heating, composting toilets and more.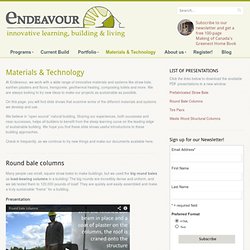 LILI blog - Grand Designs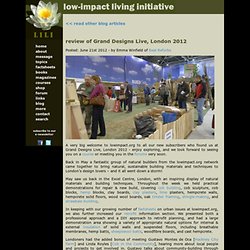 << read other blog articles Posted: June 21st 2012 - by Emma Winfield of Real Refurbs
With depleting oil reserves, increasing global warming, and a variable climate, we have to rethink the way we create our built environment. While our first responsibility is to save and retrofit existing, suitable buildings, when new construction is necessary, it should be constructed of materials with the lowest embodied energy, with a passive solar design, the best possible insulation, and be created with longevity in mind.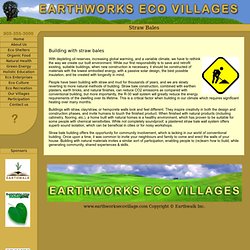 Straw Bales at Earthworks Eco Village
Where does Strawbale Building Work?
Q: I am investigating the feasibility of bringing a straw bale building workshop to my city, Thunder Bay Ontario Canada. I'd like to do it at some point this summer.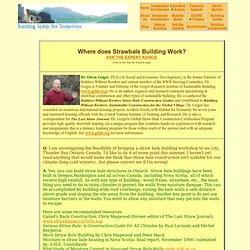 PLANS | Strawbale.com Store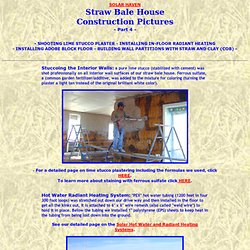 Pictures of Straw Bale House Construction (Part 4): Shooting Lime Stucco Plaster, Installing In-Floor Radiant Heating, Making an Adobe Block Floor, Building Wall Partitions with Straw and Clay (COB)<br>
Stuccoing the Interior Walls: a pure lime stucco (stabilized with cement) was shot professionally on all interior wall surfaces of our straw bale house. Ferrous sulfate, a common garden fertilizer/additive, was added to the mixture for coloring (turning the plaster a light tan instead of the original brilliant white color). - For a detailed page on lime stucco plastering including the formulas we used, click HERE.
wrightjoinery_timber windows
High capacity without compromising quality Wright Joinery specialises in the volume manufacture of high performance, pre-finished timber double-glazed windows. Our standard range includes casement windows, sash windows, reversible windows for easy cleaning and mock-sash windows, all of which can be manufactured to any size or configuration you require. In addition we have the resources in technology and traditional skills to manufacture non-standard, bespoke windows to your own design specification.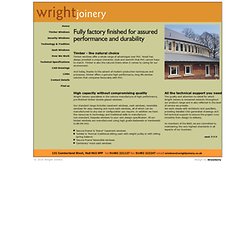 Arkin Tilt Architects - Ecological Planning & Design
Sep24 Advertisement This incredible straw bale house is located two blocks from the ocean in Santa Cruz, California, designed by Arkin Tilt Architects.
Sustainable straw bale house in Santa Cruz
StrawBale Construction
Business: Construction and Maintenance: Building Types: Sustainable Architecture: Straw Bale Construction
unnamed pearl
Straw Bale Louisville workshop Part 1
Provided by Craig White; Director of White Design
Straw-bale construction