Straw bale
Whole wall performance. Carol,Though this is far from my field of expertise here are a few observations that I hope will prove useful: -1) Whilst with a leaky envelop airtightness could play a part in the convection process at PH standards I would have thought that this is unlikely. 2) One thing to consider would be ensuring that a wind barrier is used on the outer face of the bale, thus preventing cold external air penetrating into the straw bale.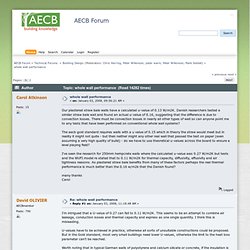 Does the Danish report mention anything like this? If not this could account for some of the reduced performance. (Tried to download from the link you posted but it didn't work for me. Perhaps you could email me a copy? Msiddall(at)dewjoc-newcastle.com )3) With the above said it seems to me that the main issue is the convection within the straw bale. Mark Brinkley (aka House 2.0): Spluttering SIPS: Chapter 2. Structural Insulated Panels or SIPS: quick to build, fantastic performance, building system of the future.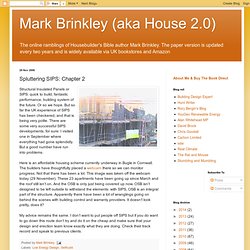 Or so we hope. But so far the UK experience of SIPS has been checkered, and that is being very polite. There are some very successful SIPS developments, for sure: I visited one in September where everything had gone splendidly. But a good number have run into problems. Straw Bale Building – Reaching Energy Efficiency and Sustainability in Northern Latitudes | Earthzine. By Edita Milutiene, posted on April 26th, 2010 in Articles, Energy, Sustainability, Technology Straw bale bathhouse.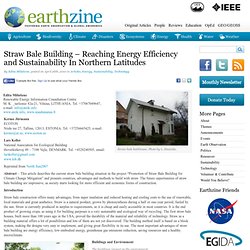 Photo by L. Ecofab - High Performance, Sustainable, Pre-fab Building Systems, Home. Technical Details | Straw Bale Building. In this section you will find some of our Standard design details.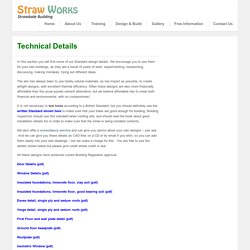 We encourage you to use them for your own buildings, as they are a result of years of work, experimenting, researching, discussing, making mistakes, trying out different ideas. The aim has always been to use totally natural materials, as low impact as possible, to create airtight designs, with excellent thermal efficiency. Often these designs are also more financially affordable than the usual poured cement alternative, but we believe affordable has to mean both financial and environmental, with no compromises! We also offer a consultancy service, and can give you advice about your own designs, just ask. And we can give you these details as CAD files on a cd or by email if you wish, so you can add them easily into your own drawings – but we make a charge for this.
Free information about straw bale, hempcrete, net zero energy, natural and green building materials. At Endeavour, we work with a wide range of innovative materials and systems like straw bale, earthen plasters and floors, hempcrete, geothermal heating, composting toilets and more.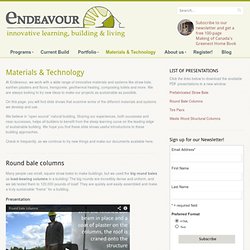 We are always looking to try new ideas to make our projects as sustainable as possible. On this page, you will find slide shows that examine some of the different materials and systems we develop and use. We believe in "open source" natural building. LILI blog - Grand Designs. << read other blog articles Posted: June 21st 2012 - by Emma Winfield of Real Refurbs A very big welcome to lowimpact.org to all our new subscribers who found us at Grand Designs Live, London 2012 - enjoy exploring, and we look forward to seeing you on a course or meeting you in the forums very soon.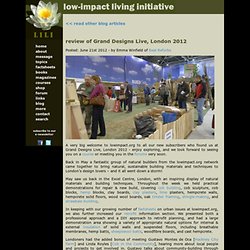 Back in May a fantastic group of natural builders from the lowimpact.org network came together to bring natural, sustainable building materials and techniques to London's design lovers – and it all went down a storm! May saw us back in the Excel Centre, London, with an inspiring display of natural materials and building techniques. Throughout the week we held practical demonstrations for repair & new build, covering cob building, cob sculpture, cob blocks, hemp blocks, clay boards, clay plasters, lime plasters, hempcrete walls, hempcrete solid floors, wood wool boards, oak timber framing, shingle-making, and strawbale building.
Straw Bales at Earthworks Eco Village. With depleting oil reserves, increasing global warming, and a variable climate, we have to rethink the way we create our built environment.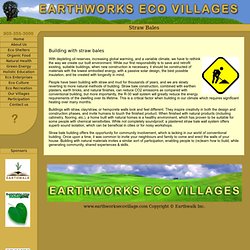 While our first responsibility is to save and retrofit existing, suitable buildings, when new construction is necessary, it should be constructed of materials with the lowest embodied energy, with a passive solar design, the best possible insulation, and be created with longevity in mind. People have been building with straw and mud for thousands of years, and we are slowly reverting to more natural methods of building. Straw bale construction, combined with earthen plasters, earth bricks, and natural finishes, can reduce CO2 emissions as compared with conventional building, but more importantly, the R-30 wall system will greatly reduce the energy requirements of the dwelling over its lifetime. This is a critical factor when building in our climate which requires significant heating over many months. Where does Strawbale Building Work? Q: I am investigating the feasibility of bringing a straw bale building workshop to my city, Thunder Bay Ontario Canada.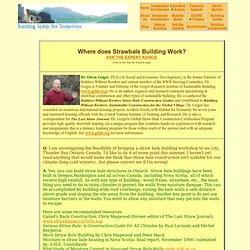 I'd like to do it at some point this summer. I haven't yet read anything that would make me think that straw bale construction isn't suitable for our climate (long cold winters)...but please correct me if I'm wrong! A: Yes, you can build straw bale structures in Ontario. Straw bale buildings have been built in Oregon,Washington and all across Canada, including Nova Scotia, all of which receive high rainfall. As with any type of building - wood frame, strawbale, etc., the main thing you need to do in rainy climates is protect the walls from moisture damage. PLANS | Strawbale.com Store. Pictures of Straw Bale House Construction (Part 4): Shooting Lime Stucco Plaster, Installing In-Floor Radiant Heating, Making an Adobe Block Floor, Building Wall Partitions with Straw and Clay (COB)<br> Stuccoing the Interior Walls: a pure lime stucco (stabilized with cement) was shot professionally on all interior wall surfaces of our straw bale house.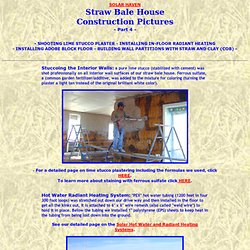 Ferrous sulfate, a common garden fertilizer/additive, was added to the mixture for coloring (turning the plaster a light tan instead of the original brilliant white color). - For a detailed page on lime stucco plastering including the formulas we used, click HERE. Wrightjoinery_timber windows. High capacity without compromising quality Wright Joinery specialises in the volume manufacture of high performance, pre-finished timber double-glazed windows.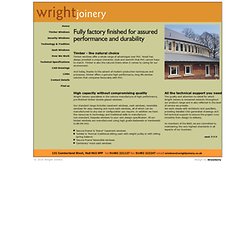 Our standard range includes casement windows, sash windows, reversible windows for easy cleaning and mock-sash windows, all of which can be manufactured to any size or configuration you require. In addition we have the resources in technology and traditional skills to manufacture non-standard, bespoke windows to your own design specification. Arkin Tilt Architects - Ecological Planning & Design. Sustainable straw bale house in Santa Cruz. Sep24 Advertisement This incredible straw bale house is located two blocks from the ocean in Santa Cruz, California, designed by Arkin Tilt Architects.
StrawBale Construction. Business: Construction and Maintenance: Building Types: Sustainable Architecture: Straw Bale Construction. Untitled. Straw Bale Louisville workshop Part 1. Straw-bale construction. Provided by Craig White; Director of White Design What, Why, When, How, Extras What is it? Straw bales have been used to construct buildings since the middle of the 19th century with the advent of the baling machine.
---