Xmind
Tutoriel Xmind 1ere : le centre et les éléments. Tutoriel Xmind 2e : le Workbook. Manuel d'utilisation Xmind Version 1.0. XMind - Organisation d'idées. XMind est un logiciel de "mind mapping", c'est à dire qu'il permet d'organiser ses idées sous la forme de cartes heuristiques, et de les exporter sous forme d'image, de page web et autre.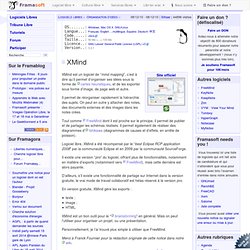 Il permet de réorganiser rapidement la hiérarchie des sujets. On peut en outre y attacher des notes, des documents externes et des images dans les notes crées. Tout comme FreeMind dont il est proche sur le principe, il permet de publier et de partager les schémas réalisés. Construire carte conceptuelle _ video. XMIND - Wikipedia. XMind is a brainstorming and mind mapping software tool developed by XMind Ltd. of Hong Kong.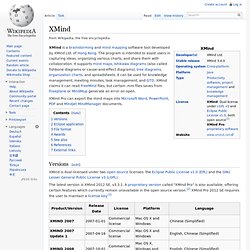 The program is intended to assist users in capturing ideas, organizing various charts, and share them with collaboration. It supports mind maps, Ishikawa diagrams (also called fishbone diagrams or cause-and-effect diagrams), tree diagrams, organization charts, and spreadsheets. It can be used for knowledge management, meeting minutes, task management, and GTD. XMind claims it can read FreeMind files, but certain .mm files saves from Freeplane or MindMup generate an error on open. Download XMind. Xmind. Video Demos - XMind.
---