Portefolio
An electronic portfolio (also known as an eportfolio, e-portfolio, digital portfolio, or online portfolio[1]) is a collection of electronic evidence assembled and managed by a user, usually on the Web. Such electronic evidence may include inputted text, electronic files, images, multimedia, blog entries, and hyperlinks. E-portfolios are both demonstrations of the user's abilities and platforms for self-expression, and, if they are online, they can be maintained dynamically over time. Some e-portfolio applications permit varying degrees of audience access, so the same portfolio might be used for multiple purposes. According to Anderson, e-portfolios can then go viral and be passed on to be easily viewed by many on the web.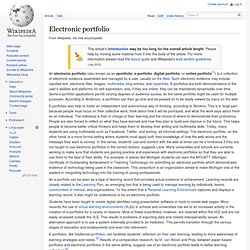 MAPS - Managed Assessment Portfolio / ePortfolio | Delivering solutions that evidence skills and capabilities
Students record progress and capability by telling the story of their learning in an online journal. They can create text, upload digital photographs, capture audio and video or upload computer files (e.g. Word, Excel) created on any digital device - a desk or laptop PC, a mobile phone, etc. They can then map this evidence to assessment activities that have been assigned to them.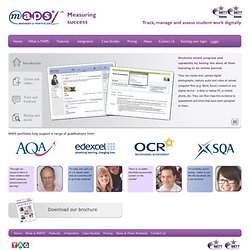 It is with great pleasure that we launch version 3.0 of Eduportfolio.org, an electronic portfolio created by Thierry Karsenti of the Université de Montréal and available in 8 languages (French, English, Spanish, Arabic, Greek, Catalan, Korean and Malagasy). Version 3.0 continues to innovate with URL customization and the capacity to create multiple showcase to display different content. Would you like to create a professional portfolio while maintaining the one you used for your studies? Do you need a showcase for one of your courses? You can now create multiple showcases in which to display elements you have already used in your portfolio as well as new content. Version 3.0 presents a variety of content and facilitates information organization, exchange, and search.