Thesaurus construction tools & software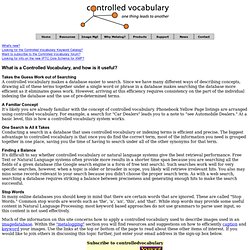 Controlled Vocabulary: your site for information on Keyword, Hierarchical Classification, Thesauri, Taxonomy and Subject Heading systems used to describe images in databases (Thesaurus, facet classification, hierarchy)
What is a Controlled Vocabulary, and how is it useful? Takes the Guess Work out of Searching A controlled vocabulary makes a database easier to search. Since we have many different ways of describing concepts, drawing all of these terms together under a single word or phrase in a database makes searching the database more efficient as it eliminates guess work. However, arriving at this efficiency requires consistency on the part of the individual indexing the database and the use of pre-determined terms. A Familiar Concept It's likely you are already familiar with the concept of controlled vocabulary.
Constructing Controlled Vocabularies: TOC
==> Curriculum Vitae | Short Bio search and find from: Google Scholar Textbook: Zeng, Marcia Lei & Jian Qin. 2008.6.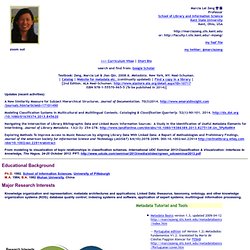 Standards
multites.com - Home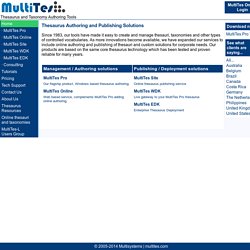 Thesaurus Authoring and Publishing Solutions Since 1983, our tools have made it easy to create and manage thesauri, taxonomies and other types of controlled vocabularies. As more innovations become available, we have expanded our services to include cloud based publishing of thesauri and custom solutions for corporate needs. Tools to author and publish thesauri Our products are based on the same core thesaurus technology which has been tested and proven reliable for many years.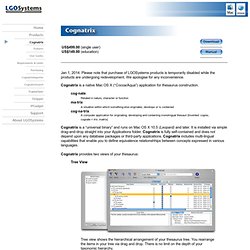 tems Product: Cognatrix
Jan 1, 2014: Please note that purchase of LGOSystems products is temporarily disabled while the products are undergoing redevelopment. We apologise for any inconvenience. Cognatrix is a native Mac OS X ("Cocoa/Aqua") application for thesaurus construction.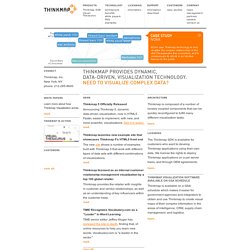 Thinkmap 5 Officially Released Announcing Thinkmap 5, dynamic data-driven visualization, now in HTML5. Faster, easier to implement, with new, and more powerful, visualizations. See it in action. Thinkmap launches new example site that showcases Thinkmap 5's HTML5 front end
This page is rather out of date and is not being actively maintained. It is retained here because some of the information is still valid, but users should check with suppliers of software packages for current information. We are discussing the transfer of this page to someone else who will maintain it, and when that happens a link to the new site will be given here. - Leonard Will.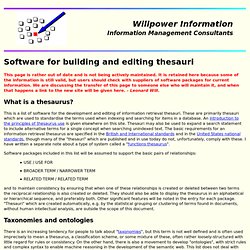 Software for building and editing thesauri
WordNet is supported by the National Science Foundation under Grant Number 0855157. Any opinions, findings, and conclusions or recommendations expressed in this material are those of the creators of WordNet and do not necessarily reflect the views of the National Science Foundation. About WordNet WordNet® is a large lexical database of English.