Thesaurus construction tools & software
Controlled Vocabulary: your site for information on Keyword, Hierarchical Classification, Thesauri, Taxonomy and Subject Heading systems used to describe images in databases (Thesaurus, facet classification, hierarchy) Constructing Controlled Vocabularies: TOC. ==> Curriculum Vitae | Short Bio search and find from: Google Scholar Textbook: Zeng, Marcia Lei & Jian Qin. 2008.6.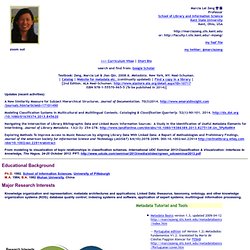 Standards. Multites.com - Home. Tems Product: Cognatrix. Jan 1, 2014: Please note that purchase of LGOSystems products is temporarily disabled while the products are undergoing redevelopment.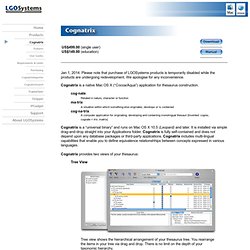 We apologise for any inconvenience. Cognatrix is a native Mac OS X ("Cocoa/Aqua") application for thesaurus construction. Thinkmap visualization software facilitates communication, learning, and discovery. Software for building and editing thesauri. This page is rather out of date and is not being actively maintained.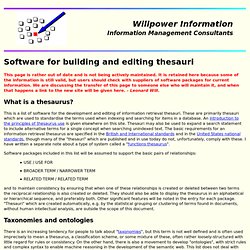 It is retained here because some of the information is still valid, but users should check with suppliers of software packages for current information. We are discussing the transfer of this page to someone else who will maintain it, and when that happens a link to the new site will be given here. - Leonard Will. About WordNet - WordNet - About WordNet.
---