6.2.4 Photoshop Resources
Adobe Photoshop is the tool of choice for many designers and artists.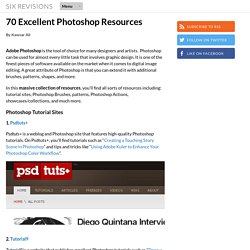 Freebies
Exploring Geometry: 30 Exceptional Polygonal Art Illustrations Now and then different modern artists create artworks that force you to look at ordinary pictures in a whole new way. With a strong hint at the cubist style, polygonal art illustrations become extremely popular nowadays. Just like the old-school video games, this art direction inspires by exceptional interconnection between simple geometric forms, mainly with sharp corners and offbeat color combination. At first sight, every artwork is a giant collection of triangular shapes which recreates a feeling of depth and volume by means of light and dark tone of the same color that is used as a background.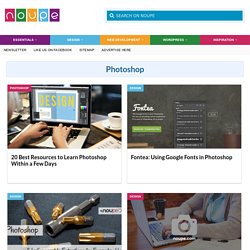 6.2.4.1 Ressources Photos
6.2.4.2 Photoshop Brushes
6.2.4.4 Textures patterns
Learn how to earn $125 or more per hour as a freelancer - Click Here In today's world, having access to information is a really big deal and part of that access is being able to express yourself through the Internet. Even though everyone is using social media sites for that, they don't always cover the full pallet of expression needs. And then you realize that what you need to do is get your very own website to showcase your work, be it artwork, articles or just a good business idea. But what do you do when you don't have any knowledge about coding, and you don't want to spend a fortune on a specialized web development company? The answer is simple – type in imcreator.com .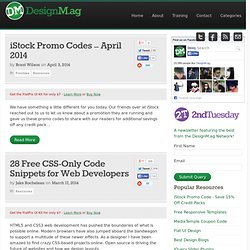 Web Design Resources - Tools for Designers
50 Free High Quality and Inspirational PSD Files for Download
Are you a beginner who is looking for an inspiration just like a web designer that is working on a new design? Then, this article is for you. Creativity and inspiration play a big role on having a successful design, especially when it is seen on the web. One of the resources where we can get techniques with, of course, is from the experts. Good thing that in the online community today, people, especially those who are already well-experienced are sharing their talents by uploading their designs and letting other people use them either for inspiration or for commercial or non-commercial use. PSD (Photoshop Document) files are one of those.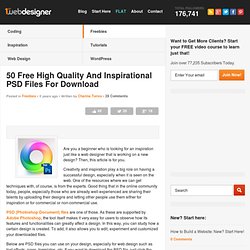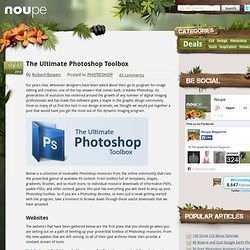 Sep 07 2010 For years now, whenever designers have been asked about their go-to program for image editing and creation, one of the top answers that comes back, is Adobe Photoshop. Its generations of evolution has centered around the growth of any number of digital imaging professionals and has made this software giant a staple in the graphic design community. Since so many of us find this tool in our design arsenals, we thought we would put together a post that would have you get the most out of this dynamic imaging program. Below is a collection of invaluable Photoshop resources from the online community that runs the proverbial gamut of available PS content.