2.3.8 Music Classical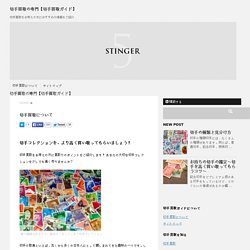 New MIDI and MP3 files added on December 22, 2013. See the Recent Additions Page The Classical MIDI Connection is an endeavor to provide the classical music enthusiast with an easy method of accessing MIDI sequences of classical music. You can browse the site and listen to any of the sequences available.
oe1.ORF.at Musik
Bartók Rádió - mr3
Direkt zu ... BR-Navigation Suche Hauptnavigation
BR-KLASSIK | BR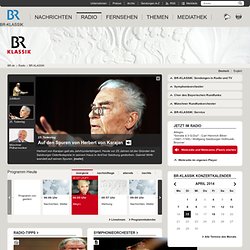 Maria Callas in Verdi's La Traviata "Callas seems to me the superior artist, without any question. For one thing she has the extraordinary gift of vocal suggestion, to colour her voice to imply all the irony of the part; where Violetta must pretend (so often the point) to be cheerful, pretend to be recovered when the wing of death has already stroked her...
Pristine Classical - The Front Page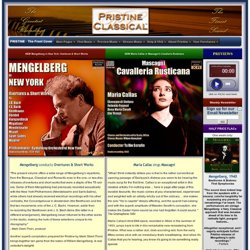 Progetto Martha Argerich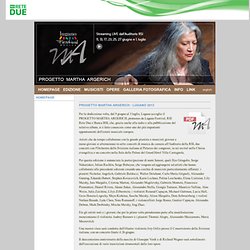 Per la dodicesima volta, dal 9 giugno al 3 luglio, Lugano accoglie il PROGETTO MARTHA ARGERICH, promosso da Lugano Festival, RSI Rete Due e Banca BSI, che, grazie anche alla radio e alla pubblicazione del relativo album, si è fatto conoscere come uno dei più importanti appuntamenti dell'estate musicale europea. Artisti che da tempo collaborano con la grande pianista e musicisti giovani e meno giovani si alterneranno in sette concerti di musica da camera all'Auditorio della RSI, due concerti con l'Orchestra della Svizzera italiana al Palazzo dei congressi, in sei recital nella Chiesa evangelica e un concerto nella Sala delle Palme del Grand Hotel Villa Castagnola.
SR Klassiskt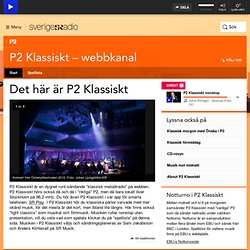 P2 Klassiskt är en dygnet runt-sändande "klassisk melodiradio" på webben. P2 Klassiskt hörs också då och då i "riktiga" P2, men då bara lokalt över Stockholm på 96,2 mHz. Du hör även P2 Klassiskt i vår app för smarta telefonen, SR Play. I P2 Klassiskt hör du klassiska pärlor varvade med mer okänd musik, för det mesta är det kort, men ibland lite längre. Här finns också "light classics" som musikal och filmmusik. Musiken rullar nonstop utan presentation, vill du veta vad som spelats klickar du på "spellista" på denna sida.
De Nederlandse Publieke Omroep maakt gebruik van cookies. We maken een onderscheid tussen functionele cookies en cookies voor het beheer van webstatistieken, advertenties en social media. De cookies bevatten geen persoonsgegevens en zijn dus niet tot een individu te herleiden.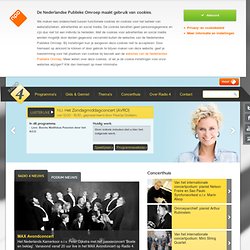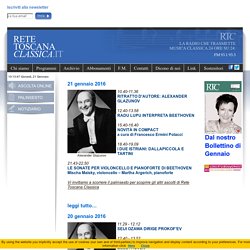 10.40 – 11.05 LA CANTATA DI BACH PER LA DOMENICA DELLE PALME direttore Ton Koopman 15.40 – 18.32 LA PASSIONE SECONDO MATTEO Musiche di Johann Sebastian Bach direttore Claudio Abbado 22.08– 22.55 POLIFONIA INGLESE Musiche di John Taverner
Rete Toscana Classica
Week of April 7, 2014 Houston Symphony Orchestra John Williams — Conductor Yo-Yo Ma — Cello SymphonyCast 04/07/2014 (Hour 1) SymphonyCast 04/07/2014 (Hour 2)
SymphonyCast from American Public Media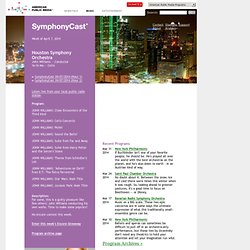 Radio Clásica-Home
Radio Horizonte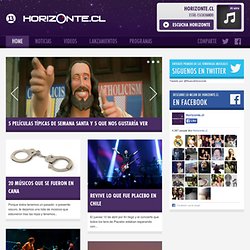 20 músicos que se fueron en cana Porque todos tenemos un pasado- o presente-oscuro, te dejamos una lista de músicos que estuvieron tras las rejas y tenemos... Revive lo que fue Placebo en Chile El jueves 10 de abril por fin llegó y el concierto que todos los fans de Placebo estaban esperando con... Segunda Fecha #HazAlgo: Matias Cena + Prójimo Bil El miércoles 9 de abril se realizó en la SCD Bellavista la segunda fecha del ciclo que Horizonte.cl y Algo...
Radio New Zealand : Concert
107,3 Radio Stephansdom
Radio Suisse Classique - Programme musical
Russian State Musical and TV Radio Centre
music
Classicaradio
KLASSIK
unnamed pearl
Filodiffusione
Klara
Tonalitats
IBA HomePage :: דף הבית של רשות השידור
Filarmonía 102.7 - La Radio Cultural del Perú
Programme radio : Opéra
DAS LAND DES LACHELNS ("O País do Sorriso") (Lehár) Horário: 07:55 Munique, 26-30/4/1982. Maestro: Willi Boskovsky. Elenco: Siegfried Jerusalem, Helen Donath, Brigitte Lindner, Martin Finke, Klaus Hirte. SUSANNAH (Floyd) Horário: 10:55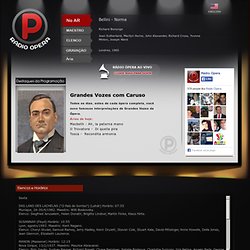 Rádio Ópera
Sir David McVicar speaks about RUSALKA The internationally celebrated director of Lyric Opera's company premiere of RUSALKA discusses the opera and his new production with Roger Pines, the company's dramaturg and broadcast commentator. Download (right click and "Save Target As" / "Save Link As")
Watch & Listen - Opera Videos, Podcasts & Interactive Content - Lyric Opera of Chicago
Classical Online Music Radio - Free classical streaming live radio
Jump to Navigation Donate Now Listen Live Part of the NPR digital network Connect with UPR: Questions and comments
Opera
Geminiani, Francesco - Sonata No.5 in F Major for cello and continuo Allegro moderato - Jiwa