1.9 Virtual learning experience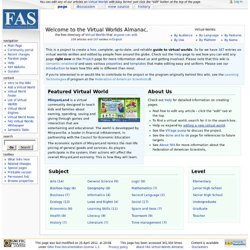 MinyanLand is a virtual community designed to teach kids and families about earning, spending, saving and giving through games and interaction that are entertaining and educational. The world is developped by Minyanville, a leader in financial infotainment, in partnership with the Council for Economic Education The economic system of MinyanLand mimics the real-life pricing of general goods and services. As players participate in the system, their actions will affect the overall MinyanLand economy. This is how they will learn.
Main Page - FAS Virtual Worlds Almanac
100 Interactive Panoramic Views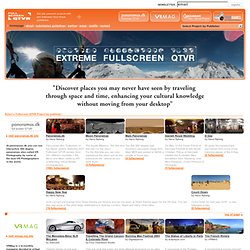 visit panoramas.dk site At panoramas.dk you can see interactive 360 degree panoramas also called VR Photography by some of the best VR Photographers in the world. Panoramas.dk by Hans Nyberg Panoramas.dk's "Fullscreen of the Week" gallery: featuring 200+ Fullscreen QTVR movies, from 29+ different countries + the Moon and Mars, made by 65+ outstanding Virtual Reality photographers. [100+ fullscreens] Moon Panoramas by Hans Nyberg The Apollo Missions.