1.7.1.A Robotique - électronique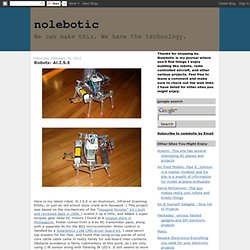 Robots: Al.I.S.E
Here is my latest robot. Al.I.S.E is an Aluminum, Infrared Scanning Entity; or just an old-school style crank arm hexapod :) This project was based on the mechanicals of the " Hexapod Monster" kit I built and reviewed back in 2008. I scaled it up a little, and added 2 super torquey gear head DC motors I found at a surplus store in Minneapolis . Power comes from a 9.6v RC transmitter pack, along with a separate 9v for the BS2 microcontroller.
Main Page - IPRE Wiki
Nxtbot.com
Edurobot | Robotique & Pédagogie
Tinkernology
Robotique 03-12
Mardi 8 janvier 2013, par Patrick Touchette // Amicale robotique 2013 DÉFI ROBOT MATH 2013 Inscrivez votre équipe à l'Amicale de robotique 2013... cliquez ici ! Bienvenue sur le site de l'amicale de robotique, édition 2013. L'amicale se déroulera le vendredi 05 avril 2013 au Musée de la civilisation à Québec Saviez-vous que certains bateaux transportent jusqu'à 12000 conteneurs à la fois ! Dans certains ports maritimes, pour limiter les erreurs et augmenter l'efficacité, ce sont des robots qui transportent les conteneurs... Cette année, vous devez construire un (...)
Bienvenue - www.vieartificielle.com
Squishy circuits are a project from the Thomas Lab at the University of St. Thomas . The goal of the project is to design tools and activities which allow kids of all ages to create circuits and explore electronics using play dough.
Robotique
Le site du G.D.R. Robotique :. Accueil :. Aujourd'hui nous sommes le mardi 13 septembre 2011
Paru le 26 janvier 2007 Les didacticiels sont également inclus dans le téléchargement. Télécharger Microsoft Robotics Studio pour utiliser les didacticiels hors connexion.
Découvrez Microsoft Robotics Studio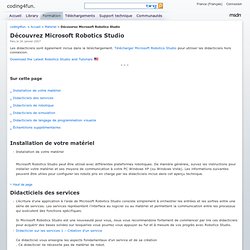 FunnyRobotics
BioRobotics
Page d'accueil - Zone Robotique