Aea
Ce que je dis après avoir dit bonjour. "Il faut être enthousiaste de son métier pour y exceller." DIDEROT
BAC PRO Gestion Administration
Mis à jour le , publié le Aaron Swart lors d'un rassemblement au sujet de Wikipedia, le 19 août 2009 à Boston (Massachussets) Tout autour du monde, bon nombre d'internautes sont inconsolables.
Les internautes pleurent Aaron Swartz, cofondateur de Reddit disparu vendredi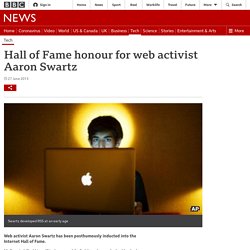 Hall of Fame honour for web activist Aaron Swartz
27 June 2013 Last updated at 09:54 GMT Swartz developed RSS at an early age Web activist Aaron Swartz has been posthumously inducted into the Internet Hall of Fame. Mr Swartz killed himself in January while fighting charges he had hacked an online archive of academic papers. A programmer from an early age, Mr Swartz helped create the RSS standard and co-founded social news site Reddit. After he left Reddit, he campaigned on internet freedom, which he said had motivated him to try to open up access to the papers in the academic archive.
Figure du militantisme en faveur du partage de l'information sur internet et jeune prodige du web, Aaron Swartz s'est donné la mort à l'âge de 26 ans. Il a été retrouvé pendu à son domicile de New-York, a-t-on appris auprès des autorités américaines. Aaron Swartz a participé dès ses 14 ans à l'élaboration de la spécification 1.0 du format RSS.
Aaron Swartz, jeune prodige du web et militant en faveur du partage de l'information, s'est suicidé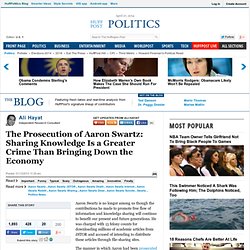 Aaron Swartz is no longer among us though the contributions he made to promote free flow of information and knowledge sharing will continue to benefit our present and future generations. He was charged with 13 felony counts for downloading millions of academic articles from JSTOR and accused of intending to distribute these articles through file-sharing sites. The manner in which Aaron had been prosecuted offers a sharp contrast to the manner in which our legal system dealt with corporate America after the 2008 financial crisis, where there were no prosecutions of top corporate figures. Sadly, the contrast highlights that trying to disseminate knowledge, quite literally by making academic journal articles available online, is a greater crime than bringing down the United States economy through " corporate mismanagement and heedless risk-taking ." Driven by a desire to make knowledge accessible Aaron has been attributed to author the " Guerilla Open Access Manifesto ."
Ali Hayat: The Prosecution of Aaron Swartz: Sharing Knowledge Is a Greater Crime Than Bringing Down the Economy
Dan Kennedy: Aaron Swartz, Carmen Ortiz and the American System of Justice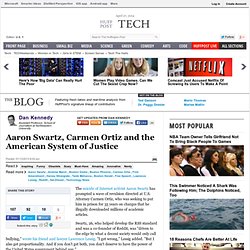 The suicide of Internet activist Aaron Swartz has prompted a wave of revulsion directed at U.S. Attorney Carmen Ortiz, who was seeking to put him in prison for 35 years on charges that he illegally downloaded millions of academic articles. Swartz, 26, who helped develop the RSS standard and was a co-founder of Reddit, was "driven to the edge by what a decent society would only call bullying," wrote his friend and lawyer Lawrence Lessig . "I get wrong," Lessig added. "But I also get proportionality. And if you don't get both, you don't deserve to have the power of the United States government behind you."
Il y a quelques mois, j'ai eu la chance de passer plusieurs jours au Massachusetts Institute of Technology (MIT) , à Cambridge – aux portes de Boston –, pour un reportage au sein d'un des nombreux laboratoires de recherche . Un plaisir de journaliste, et une grosse claque ! Car déambuler dans les bâtiments dernier cri du campus, parler avec les étudiants, les chercheurs, les enseignants, c'est d'abord se trouver joyeusement confronté à une réalité à peine imaginable en France : sur les bords de la Charles River, dans ce coin de paradis pour cerveaux survoltés, l'esprit de corps est un bien commun non-négociable. Vivre, réfléchir, chercher, entreprendre au MIT, c'est d'abord partager.
Avec le suicide d'Aaron Swartz, le MIT a-t-il perdu son âme ? - L'actu Médias / Net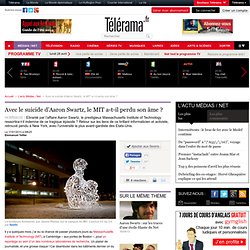 Internet : Aaron Swartz, le père du RSS, est mort
Pédagogie et Formation Professionnelle
Le Tour du Chocolat
The problem, of course, is squeezing in as many of these indulgent visits as possible while also giving the rest of the city its due. My solution: devote one full day to chocolate boutiques, and do it in style. So, on my last visit to , I took to the city's Vélib' system and mastered a two-wheeled circuit of eight of the chocolatiers that had the best reputations and most glowing reviews in city guidebooks and online message boards.
Ann Mah