Venturer
5 Ways to Think Like a Venture Capitalist. Some people think women in Silicon Valley have it tough.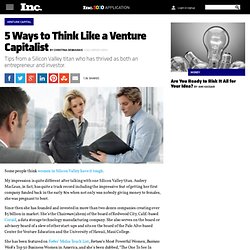 My impression is quite different after talking with one Silicon Valley titan. Audrey MacLean, in fact, has quite a track record including the impressive feat of getting her first company funded back in the early 80s when not only was nobody giving money to females, she was pregnant to boot. Surprise hit Pinterest a top 10 most-trafficked social network. Move over Google+ and Tumblr, there's a new star in social media town.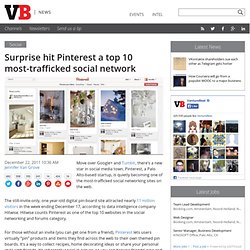 Pinterest, a Palo Alto-based startup, is quietly becoming one of the most-trafficked social networking sites on the web. The still-invite-only, one year-old digital pin-board site attracted nearly 11 million visitors in the week ending December 17, according to data intelligence company Hitwise. Hitwise counts Pinterest as one of the top 10 websites in the social networking and forums category. For those without an invite (you can get one from a friend), Pinterest lets users virtually "pin" products and items they find across the web to their own themed pin boards. It's a way to collect recipes, home decorating ideas or share your personal style with friends. Seed Funding - Business Finance. Seed funding helps companies with a new product launch.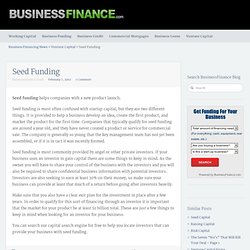 Seed funding is most often confused with startup capital, but they are two different things. It is provided to help a business develop an idea, create the first product, and market the product for the first time. Companies that typically qualify for seed funding are around a year old, and they have never created a product or service for commercial sale. The company is generally so young that the key management team has not yet been assembled, or if it is in tact it was recently formed. Seed funding is most commonly provided by angel or other private investors. A Swedish/British entrepreneur in Berlin, trying to make it happen — Alexander Ljung. Sean Parker: Agent Of Disruption. Founders Fund.
---