Start Up
Andrea d'Agostini (mrdagostini) Drop-In-Simple Social Platform for Your App. Great as a ShareKit Alternative | Socialize | Socialize. AppMakr :: iPhone App Maker | Make your own iPhone App | Free iPhone App Maker. The 5 Most Innovative New Online Business Models in 2010 : Marke. Skinn Deep. Tina Hui. East Coast vs. West Coast: The Odio Brothers' Story in the Washington Business Journal | Daniel R. Odio - Hardcore LifeHacker Entrepreneur in Silicon Valley. Here's a great article by Washington Business Journal reporter Bill Flook profiling my & Sam's transition out to San Francisco.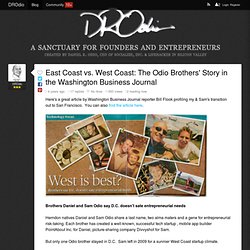 You can also find the article here. Brothers Daniel and Sam Odio say D.C. doesn't sate entrepreneurial needs Herndon natives Daniel and Sam Odio share a last name, two alma maters and a gene for entrepreneurial risk-taking. Each brother has created a well-known, successful tech startup , mobile app builder PointAbout Inc. for Daniel, picture-sharing company Divvyshot for Sam. Brian Wong - FounderShowcase. LavaCon Panel & Presentation: Conference on Digital Media and Content Strategies | Daniel R. Odio - Hardcore LifeHacker Entrepreneur in Silicon Valley.
How I Moderate Panels + Previous Panel Examples Here's how I like to moderate panels: (I might send you this link if you're a panelist on an upcoming panel I'm moderating) Here are some of the panels & presentations I've participated in or moderated: Changing the Conversation: Should Mobililty Rewire Your Social Strategy?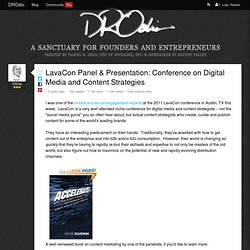 2013 | Keynote + Mobile Outlook 2013 | Digital Hollywood 2012 | How Mobile Disrupts Social As We Know It 2012 | Mobile Marketing: Beyond The Hype 2012 | Designing for Mobile Apps 2012 | Tablets & Media Panel at Canadian MUsic Week 2012 | Keynote at MobileX Cincinnati 2012 | 'What's App' Panel at NTCA 2012 | Dept of Homeland Security Mobile Panel at CES 2012 | LavaCon 2011 | Napa App Economy Event 2011| VentureBeat's MobileBeat 2011 | Disruptathon 2011 | Startup Mixology 2011 | Digital Media Conference 2011 | NAB Panel: HTML5 vs. Brendan Baker. Newspepper. Newspepper covers the OSJ 2013 Awards!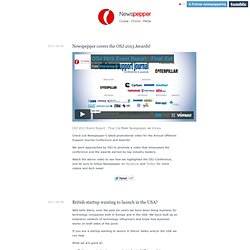 OSJ 2013 Event Report - Final Cut from Newspepper on Vimeo. Check out Newspepper's latest promotional video for the Annual Offshore Support Journal Conference and Awards! TechZulu - At The Center of Tech.
---