Start Up
Andrea d'Agostini (mrdagostini) on Twitter
Introduce yourself to your users and start having conversations with them. We help you identify, target and reward your most valuable users. When a user authenticates with a social network through Socialize, we provide you detailed data on that user, including GeoData, device type, Klout score, social reach, number of friends and followers and much more.
Drop-In-Simple Social Platform for Your App. Great as a ShareKit Alternative | Socialize | Socialize
Skinn Deep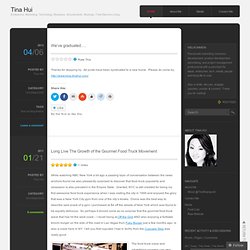 While watching NBC New York a bit ago a passing topic of conversation between the news anchors found me also pleasantly surprised to discover that food truck popularity and obsession is also prevalent in the Empire State. Granted, NYC is still credited for being my first awesome food truck experience when I was visiting the city in 1999 and enjoyed the glory that was a New York City gyro from one of the city's kiosks. Divine was the best way to describe said snack of a gyro I purchased at $4 off the streets of New York which was found to be equally delicious. So perhaps it should come as no surprise that the gourmet food truck wave that has hit the west coast – I recall being at Off the Grid AND also enjoying a furikake kimchi burger on the side of the road in Las Vegas from Fuku Burger just a few months ago- is also a craze here in NY. I tell you that cupcake I had in SoHo from the Cupcake Stop was really good.
Tina Hui
Here's a great article by Washington Business Journal reporter Bill Flook profiling my & Sam's transition out to San Francisco. You can also find the article here. Brothers Daniel and Sam Odio say D.C. doesn't sate entrepreneurial needs Herndon natives Daniel and Sam Odio share a last name, two alma maters and a gene for entrepreneurial risk-taking. Each brother has created a well-known, successful tech startup , mobile app builder PointAbout Inc. for Daniel, picture-sharing company Divvyshot for Sam.
East Coast vs. West Coast: The Odio Brothers' Story in the Washington Business Journal | Daniel R. Odio - Hardcore LifeHacker Entrepreneur in Silicon Valley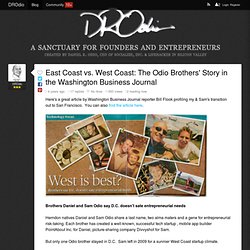 Brian Wong - FounderShowcase on Vimeo
LavaCon Panel & Presentation: Conference on Digital Media and Content Strategies | Daniel R. Odio - Hardcore LifeHacker Entrepreneur in Silicon Valley
How I Moderate Panels + Previous Panel Examples Here's how I like to moderate panels: (I might send you this link if you're a panelist on an upcoming panel I'm moderating) Here are some of the panels & presentations I've participated in or moderated: Changing the Conversation: Should Mobililty Rewire Your Social Strategy? 2013 | Keynote + Mobile Outlook 2013 | Digital Hollywood 2012 | How Mobile Disrupts Social As We Know It 2012 | Mobile Marketing: Beyond The Hype 2012 | Designing for Mobile Apps 2012 | Tablets & Media Panel at Canadian MUsic Week 2012 | Keynote at MobileX Cincinnati 2012 | 'What's App' Panel at NTCA 2012 | Dept of Homeland Security Mobile Panel at CES 2012 | LavaCon 2011 | Napa App Economy Event 2011| VentureBeat's MobileBeat 2011 | Disruptathon 2011 | Startup Mixology 2011 | Digital Media Conference 2011 | NAB Panel: HTML5 vs.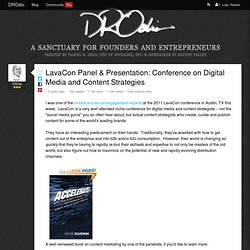 (This is from a post on Quora . It's received a lot of love (thank you!), so I'll add it here too.
Brendan Baker
Newspepper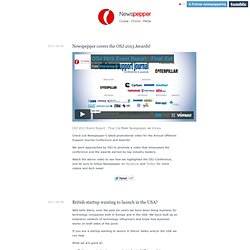 Newspepper covers the OSJ 2013 Awards! OSJ 2013 Event Report - Final Cut from Newspepper on Vimeo. Check out Newspepper's latest promotional video for the Annual Offshore Support Journal Conference and Awards!
TechZulu - At The Center of Tech