Photography
Shutterstock. 80+ Photoshop Actions for Giving Your Pictures a Vintage Look. 353 shares Inspiring Architecture and City Photography I believe that architecture and general city landscapes are pretty inspiring.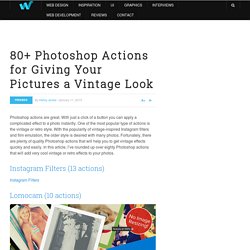 If we stop to pay attention to it, it is amazing the amount of textures, angles, symmetry, depth and other details we can find on the streets surrounding us. This is why today we gathered some inspiring photography to inspire you to look around… Read More. 100 Free Photoshop Actions (And How to Make Your Own) Photoshop actions can be extremely useful timesavers when you find yourself performing the same steps over and over on an image.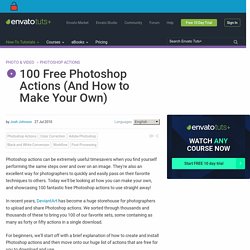 They're also an excellent way for photographers to quickly and easily pass on their favorite techniques to others. Today we'll be looking at how you can make your own, and showcasing 100 fantastic free Photoshop actions to use straight away! In recent years, DeviantArt has become a huge storehouse for photographers to upload and share Photoshop actions. We sorted through thousands and thousands of these to bring you 100 of our favorite sets, some containing as many as forty or fifty actions in a single download. The Ultimate Collection Of Photoshop Custom Shapes.
Advertisement Photoshop users are able to benefit from the vast amount of high-quality resources that are freely available to the community. Brushes get a lot of attention, but custom shapes are also extremely useful in the right situations.
Stock Photos. Wedding photographs. How to... Handmade Jewelry on Etsy - Necklaces, rings, earrings, bracelets. <div id="javascript-nag" class="notice"><p> Take full advantage of our site features by enabling JavaScript.
<a href=" more</a>. </p></div>
---