Newsletters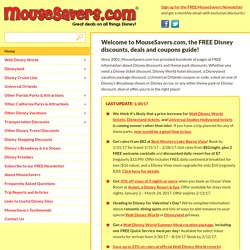 Since 2001, MouseSavers.com has provided hundreds of pages of FREE information about Disney discounts, including Disney ticket discounts. Whether you need a Disney World hotel discount, a Disneyland vacation package discount, a deal on one of Disney's Broadway shows or Disney on Ice, or any other Disney discount, deal or offer, you're in the right place! LAST UPDATE: 1/17/14 Mary Waring is retiring from MouseSavers.com, but the site and newsletter will continue under the leadership of her brother Don and sister-in-law Sarah!
AttractionsMagazine
Passporter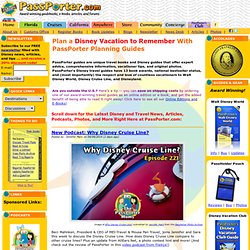 Q: What do our readers like best about PassPorter? "I love the fold out maps! Also, the itinerary pages. " -- comment submitted by Karen Litwin (2014-03-26 22:03:07) "It has complete reviews of every WDW hotel, restaurant and attraction.
MousePlanet.com is your resource for detailed park guides and daily news and stories from all over the Disney kingdom. The tabs above will help you begin digging down to the information for which you're looking. If you know what you're looking for, you may find more direct access in one of the options to the left.